Tkachuk's toughness shines through despite injury setback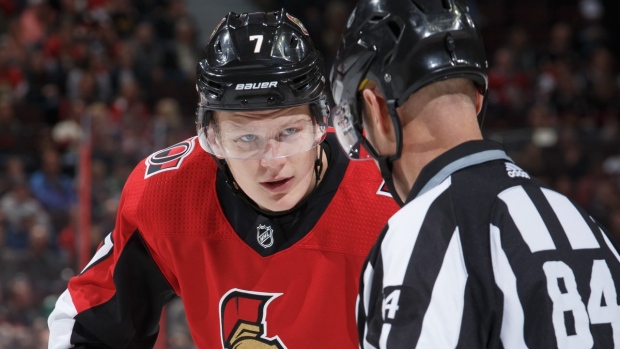 A handful of Ottawa Senators have carved out a place in history for being the toughest players to ever play for the franchise.
Daniel Alfredsson was often revered for his ability to play through pain – even suiting up for a playoff series against the Pittsburgh Penguins in 2008 with a torn meniscus in his knee.
Anton Volchenkov routinely sacrificed his body to block shots in front of his goalie and once wore a cage on his face just to make sure he could play through a serious facial injury.
And while he's only suited up in four games in his young career, it appears Brady Tkachuk has made an early bid to join the list of toughest Sens.
Tkachuk scored the game-winning goal against the Dallas Stars in the third period Monday night despite apparently suffering a torn ligament in his leg earlier in the game.
The club now believes their prized young teenager will miss the next month of action.
Tkachuk fell awkwardly into the boards to the right of Craig Anderson in the first period after hustling back in his own zone to finish a check on Stars forward Blake Comeau.
The entire Senators organization held its collective breath as Tkachuk was slow to get back to his feet and went directly to the bench after the injury, immediately fearing the worst.
But Tkachuk was able to play through the pain – likely fuelled by his teenage adrenaline – and managed to score the winner early in the third.
Tkachuk's stat line showed nothing out of the ordinary, as he led the team with five shots on goal and played 19 shifts for a total of 14:30 on the ice – more time than he logged in each of his previous two games.
Head coach Guy Boucher was asked on Wednesday if he was surprised to learn the severity of Tkachuk's injury, given the fact he was able to finish the game without any visible issues.
"Yeah it did, to be honest with you," Boucher admitted. "I knew there was something there, but he finished so well. If it were up to him he'd be on the ice today. He's a tough kid. And he's not somebody who wants to bail out. That's for sure."
Boucher was somewhat coy about the exact nature of the injury, only revealing that, "It's not the knee. It's somewhere in the leg."
The Senators were planning on unveiling a line featuring Chris Tierney, Mark Stone and Tkachuk for Saturday's game against the Montreal Canadiens, but that plan will have to be shelved until next month.
Based on the Senators schedule, Tkachuk could miss anywhere in the ballpark from 12-to-15 games if his return happens in the time frame they anticipate.
The timing of the Tkachuk injury is awful for the Senators, who were finally able to gain a bit of positive traction after several months of negative news stories swirling around the organization.
Tkachuk is the poster boy for the youth movement and his six points – including three goals – in his first four games gave Ottawa fans reason for optimism.
"That's a tough one for him. And it's a tough one for us because he was doing so well. He was definitely part of our identity," Boucher said.
That a teenager could already be described as being part of an NHL team's identity just four games into his career speaks volumes about Tkachuk's maturity.
In a limited sample size, Tkachuk brought a rare combination of skill, grit, intelligence and character that has somehow simultaneously appeased both the analytics and old-school hockey crowds.
Tkachuk's absence will undoubtedly be a blow to the Senators at the box office, as they will be without one of their biggest attractions for the month. Selling the Senators in this city has been tough for the past few months and the challenge will be even greater without arguably their most marketable personality in the lineup.