Top 25: Clemson cruises, 'Bama rolls LSU
Travis Etienne ran for 153 yards and two touchdowns and 350-pound defensive tackle Dexter Lawrence added a 2-yard scoring burst in No. 2 Clemson's 77-16 victory over Louisville on Saturday.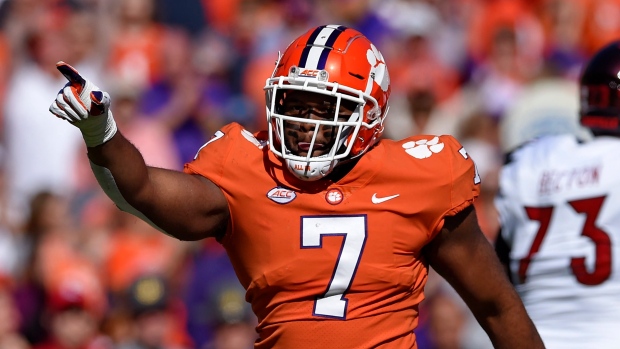 CLEMSON, S.C. -- Travis Etienne ran for 153 yards and two touchdowns and 350-pound defensive tackle Dexter Lawrence added a 2-yard scoring burst in No. 2 Clemson's 77-16 victory over Louisville on Saturday.
The Tigers (6-0 Atlantic Coast Conference, No. 2 CFP) improved to 9-0 for the third time in four seasons and can wrap up their fourth ACC Atlantic Division title next week at Boston College.
Trevor Lawrence threw a pair of early touchdown passes. Etienne went over the 1,000-yard rushing mark and scored his ACC-leading 15th touchdown. Tavien Feaster added 101 yards rushing.
Freshman Lyn-J Dixon ran for 116 yards, the second time this season Clemson has had three runners with 100 or more yards. They finished with a season high 492 yards rushing.
Linebacker Isaiah Simmons had a pick-six, the Tigers collected five sacks, coach Dabo Swinney's eldest son Will caught a TD pass and even "Big Dex," a junior defensive tackle projected as a can't-miss, NFL first-rounder got in on the fun in the Tigers' "Fridge Package" against overmatched Louisville (2-7, 0-6).
NO. 3 NOTRE DAME 31, NORTHWESTERN 21
EVANSTON, Ill. (AP) -- Ian Book threw for threw two touchdown passes and ran 23 yards for a score in the closing minutes to lead Notre Dame.
The Fighting Irish (9-0, No. 4 CFP) remained in line for a playoff spot and continued to build on their best start since the 2012 team went undefeated before losing to Alabama in the BCS championship game. The Wildcats (5-4) had won four in a row to grab the Big Ten West lead and they stayed in this one when it looked like Notre Dame was ready to pull away.
Book threw a 20-yard touchdown pass to a leaping Miles Boykin in the corner of the end zone and a 47-yarder to Michael Young in the third to give the Irish a 21-7 lead. He sealed it in the closing minutes when he turned up the left side for that 23-yard run.
NO. 5 MICHIGAN 42, NO. 14 PENN STATE 7
ANN Arbour, Mich. (AP) -- Shea Patterson accounted for three touchdowns and Michigan put together a dominant performance on defence.
The Wolverines (8-1, 6-0 Big Ten, No. 5 CFP) moved a step closer toward their goals of winning a conference championship for the first time since 2004 and earning their first spot in the College Football Playoff. The Nittany Lions (6-3, 3-3, No. 14 CFP) scored with 1:59 left, avoiding getting shut out for the first time since 2001 against Michigan.
Karan Higdon ran for 132 yards and a score that put the Wolverines up 35-0 early in the fourth quarter. Michigan held Penn State to 186 yards and forced three turnovers, including Tommy Stevens' interception that was returned 62 yards by Brandon Watson for a touchdown.
NO. 6 GEORGIA 34, NO. 11 KENTUCKY 17
LEXINGTON, Ky. (AP) -- D'Andre Swift ran for a career-high 156 yards and two touchdowns on 16 carries against Kentucky's vaunted defence and Georgia wrapped up its second straight Southeastern Conference Eastern Division title.
Swift had an 83-yard breakaway in the third quarter that gave Georgia (8-1, 6-1, No. 6 College Football Playoff) a 28-3 lead. He also had a nifty 20-yard scoring run in the second period when the game was close. Elijah Holyfield ran for a career-high 115 yards on 18 carries, scoring on a 4-yarder in the third quarter.
Georgia rushed for a season-high 331 yards to earn a spot in the SEC championship game Dec. 1 in Atlanta. Kentucky (7-2, 5-2, No. 9 CFP) has never reached the SEC championship game, which has been played every year since 1992.
NO. 8 OHIO STATE 36, NEBRASKA 31
COLUMBUS, Ohio (AP) -- J.K. Dobbins ran for three touchdowns and Dwayne Haskins Jr. passed for two more scores to help Ohio State beat Nebraska.
After Nebraska quarterback Adrian Martinez threw a 17-yard touchdown pass to JD Spielman to pull within five with 3 minutes left, Dobbins pounded away for two first downs to run out the clock.
Before the late Nebraska score, Dobbins broke through the right side and romped for a 42-yard touchdown with 5 minutes left to give Ohio State (8-1, 5-1 Big Ten, No. 10 CFP) breathing room.
Dobbins rushed for a season-high 163 yards -- only his second 100-yard game this season. Running back Mike Weber added 91 yards on the ground.
Martinez threw for 266 yards and touchdown and rushed for two scores for Nebraska (2-7, 1-5).
NO. 12 WEST VIRGINIA 42, NO. 15 TEXAS 41
AUSTIN, Texas (AP) -- Will Grier threw a 33-yard touchdown pass to Gary Jennings with 16 seconds left, and then ran in the 2-point conversion to lift West Virginia past Texas.
Grier broke his finger on a run to the pylon in the first quarter of a loss to Texas last year, and his winning run came on a similar scramble. But there was no defender near him this time as he held the ball up while crossing the goal line untouched.
The 2-point conversion came moments after Grier connected with David Sills. Texas had called timeout just before the ball was snapped so the Mountaineers had to line up again. Grier dropped back, took a step into the pocket, and then swung out to his left to break for the corner of the end zone.
Grier drove the Mountaineers (7-1, 5-1 Big 12, No. 13 CFP) to the win after Texas grabbed a 41-34 lead on Sam Ehlinger's touchdown throw to Devin Duvernay with 2:34 to play.
Grier finished with 346 yards passing and three touchdowns, two to Sills.
Ehlinger passed for 356 yards and three scores and also ran for a touchdown for Texas (6-3, 4-2, No. 17 CFP), which has lost two in a row.
MISSOURI 38, NO. 13 FLORIDA 17
GAINESVILLE, Fla. (AP) -- Drew Lock picked apart Florida's defence for the second straight year, throwing three touchdown passes to lead Missouri.
Lock completed 24 of 32 passes for 250 yards, with scoring throws to Albert Okwuegbunam, Kam Scott and Emanuel Hall that stunned the Swamp. Fortunately for the Gators (6-3, 4-3 Southeastern Conference), they won't have to face the senior and possible first-round draft pick again.
They might have seen the last of Feleipe Franks, too.
Coach Dan Mullen benched Franks late in the third quarter -- the home crowd cheered wildly -- and backup Kyle Trask promptly directed a 75-yard touchdown drive in which he converted two fourth downs. Trask found Josh Hammond in the end zone on the second one for a 7-yard score that made it 35-17.
The Tigers (5-4, 1-4) responded with a field goal that essentially sealed their first SEC win of the season and sent fans scrambling for the exits.
ARIZONA STATE 38, NO. 16 UTAH 20
TEMPE, Ariz. (AP) -- Manny Wilkins threw three touchdown passes to N'Keal Harry and Arizona State beat Utah, knocking the No. 16 Utes out of sole possession of first place in Pac-12 South.
The Utes (6-3, 4-3 Pac-12) lost quarterback Tyler Huntley to a broken collarbone in the third quarter. The loss snapped Utah's four-game winning streak.
Huntley was injured when he was hit while forcing a throw with 5:33 left in the third quarter. Freshman Jason Shelly replaced him and the offence struggled after that.
Harry caught nine passes for 161 yards, including TD catches of three, 23 and 61 yards. His three TD catches were a career high. Wilkins completed 19 of 24 for 285 yards and three scores with one interception. Eno Benjamin rushed for 175 yards, including a 44-yard TD run that sealed the victory with 4:12 to play. Arizona State (5-4, 3-3) gained 536 yards against a Utah defence that had been ranked No. 1 in the Pac-12.
PURDUE 38, NO. 19 IOWA 36
WEST LAFAYETTE, Ind. (AP) -- Spencer Evans made a 25-yard field goal with 8 seconds left, lifting Purdue pasrt Iowa and back in the Big Ten's West Division title hunt.
David Blough threw three touchdown passes to Terry Wright and topped the 300-yard mark for the fifth time this season. The Boilermakers (5-4, 4-2 Big Ten) have won five of their last six and beat their third ranked team this season -- the first time they've achieved that feat since 2003 -- to move within one game of division leader Northwestern.
The Hawkeyes (6-3, 3-3) lost their second straight road game despite Nate Stanley's big day. The junior quarterback threw for 275 yards with one TD and ran for another but the conference's No. 2 scoring defence allowed a season-high point total.And when the Hawkeyes needed one last stop, Blough drove Purdue 43 yards to set up Evans for the winning kick.
NO. 22 SYRACUSE 41, WAKE FOREST 24
WINSTON-SALEM, N.C. (AP) -- Eric Dungey rushed for 119 yards and a touchdown, Jarveon Howard ran for two scores and Syracuse beat Wake Forest.
Dungey -- whose average of 294.1 total yards per game ranks second in the ACC -- was 23 of 35 for 157 yards and also ran for a 26-yard score to help the Orange (7-2, 4-2, No. 19 CFP) win their first game as a Top 25 team since the Dwight Freeney days in 2001.
Moe Neal added an 8-yard score, Chris Elmore had a 5-yard TD run and Andre Szmyt kicked two field goals for Syracuse, which earned its first conference road victory in more than two years.
Sam Hartman was 21 of 37 for 275 yards for the Demon Deacons (4-5, 1-4) with two touchdown passes.
NO. 21 MISSISSIPPI STATE 45, LOUISIANA TECH 3
STARKVILLE, Miss. (AP) -- Nick Fitzgerald threw for 243 yards and four touchdowns and Mississippi State beat Louisiana Tech.
Mississippi State (6-3, No. 18 CFP) didn't have much trouble, scoring 21 points in the first quarter of what quickly turned into a lopsided game. Fitzgerald completed 17 of 28 passes and threw his touchdowns to Stephen Guidry, Deddrick Thomas, Kylin Hill and Jesse Jackson.
Fitzgerald also ran for 107 yards. Mississippi State has a 16-3 record during Fitzgerald's career when he breaks the 100-yard mark.
Louisiana Tech (6-3) was competitive in a loss to LSU this season, but its second game against a Southeastern Conference opponent didn't go well. J'Mar Smith completed 14 of 30 passes for 98 yards.
NO. 24 BOSTON COLLEGE 31, VIRGINIA TECH 21
BLACKSBURG, Va. (AP) -- Travis Levy ran for two touchdowns and Boston College beat Virginia Tech to set up a huge home game against Clemson next week.
BC (7-2, 4-1 Atlantic Coast Conference, No. 22 CFP) limited the Hokies to 32 yards in the third quarter and erased a 14-7 deficit with 21 unanswered points after halftime. First-place in the ACC Atlantic Division will be on the line when the second-ranked Tigers visit Boston College.
Ryan Willis threw for 281 yards with three touchdown passes for Virginia Tech (4-4, 3-2), but the Hokies lost their third straight at home for the first time since 1992. It came on a day when they could have moved into a share of first place in the Coastal Division with a victory.
AUBURN 28, NO. 25 TEXAS A&M 24
AUBURN, Ala. (AP) -- Seth Williams caught an 11-yard touchdown pass from Jarrett Stidham with 1:41 left and Auburn rallied to beat Texas A&M.
The Tigers (6-3, 3-3 Southeastern Conference) had a 14-point outburst over the final 5:14 and the defence came up with big stops. Stidham delivered big on both final drives.
Kellen Mond and the Aggies (5-4, 3-3) pushed the ball into Auburn territory on their final drive, converting a fourth-and-5. Then a holding call pushed them back across midfield and Mond's desperation pass into the end zone was incomplete. Officials put a second back on the clock, and Mond was sacked by Nick Coe on the final play.
------