Top moments and storylines from memorable curling season
A compelling 2018-19 curling season is coming to a close with the Curling World Cup Grand Finale in Beijing, China. Let's take a look at some of the most interesting storylines from this past year.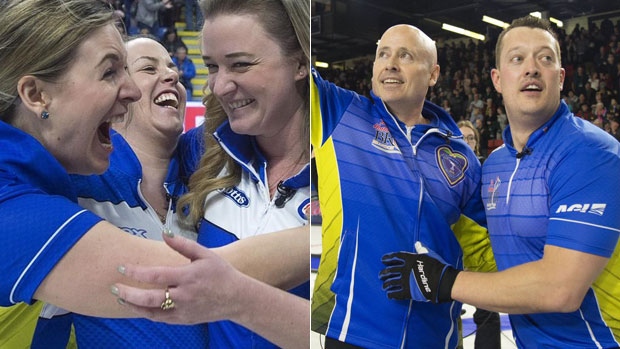 A compelling 2018-19 curling season is coming to a close with the Curling World Cup Grand Finale in Beijing, China.
The granite throwing season is longer than it's ever been with events now happening from late August to early May, providing even more opportunity for great shots and memorable moments.
Let's take a look at some of the most interesting storylines from this past year:
King Koe
This season at the Scotties Tournament of Hearts and the Tim Hortons Brier, TSN revealed Canada's Greatest Curlers after a panel of 31 experts voted for the best curler in each position as well as the top 10 overall for both men and women.
Kevin Koe finished outside of the top five in the male skip category and 11th in the top 10 overall list. However, there's a very good chance Koe would have moved up a few spots if the voting was done again following his performance at the 2019 Canadian championship.
The 44-year-old led his new rink of BJ Neufeld, Colton Flasch and Ben Hebert to a perfect 13-0 showing in Brandon, Man., capping it off with a last-shot victory over Edmonton's Brandon Bottcher in the final to claim his fourth career Brier title.
Koe joined curling legends Ernie Richardson, Randy Ferbey and Kevin Martin as the only skips to win the Brier four times. His foursome is fully committed for another Olympic run, meaning the sharpshooter should still have plenty of opportunities to add some hardware to the mantel.
Despite falling short at the world championship in Lethbridge and a disappointing result at the Olympics last season, Koe is simply one of the best rock throwers of all time after this season. No question about it.
"I mean he's top three, he's ridiculous, what that guy has done in his career. He has one blemish – not winning a medal at an Olympic Games," said Hebert on his skip after the Brier win. "Well, he won the Olympic trials, the hardest event there is to win. He's won four Briers with four different teams. So who's the common denominator there?
"I'm probably going to end up retiring with Kevin Koe."
His shot making proficiency was on full display at the world championships as he made two of the greatest shots you'll ever see in your life. Both displayed his ability to throw massive weight with great accuracy, making a sensational quad takeout in one shot and an incredible in-off in another one.
Carey's Comeback for the Ages
Coming back from a four-point deficit through five ends is no easy feat. When you have to do it against the great Rachel Homan in a Scotties final, it's almost impossible.
Nearly impossible, but not completely out of the question.
Alberta's Chelsea Carey was down 5-1 to Homan at the break before grabbing steals in three of the last five ends to send the final to an extra end. She stole another in the 11th after Homan came up light on a game-winning draw for the second straight end, completing Carey's improbable comeback. It was the Winnipeg's native second career Canadian championship and first for the front end duo of Rachel Brown and Dana Ferguson.
Team Carey had a rough go at the women's world curling championship a few weeks later in Denmark as Canada missed the playoffs for the first time in 20 years.
Despite the disappointing finish to the season, Carey's comeback in Sydney will go down as one of the most compelling moments in Scotties history and a top highlight of this season.
International Dominance
The curling world took notice last season when Canada failed to bring home a medal of any colour from the Winter Olympics in Pyeongchang.
If there was any doubt heading into this season, it should have been made quite clear when it was all over. The world has caught up to Canada in curling.
At the women's worlds, Canada missed the playoff round all together before Switzerland's Silvana Tirinzoni defeated Olympic champ Anna Hasselborg of Sweden in the gold-medal game. It was the fifth women's world title for the Swiss since 2012.
On the men's side, Swedish Viking Niklas Edin claimed another world championship, joining legend Ernie Richardson as the only skips to win four worlds.
And the names of legitimate contenders is growing every year with Japan's Yuta Matsumura and 20-year-old Kim Su-jin of South Korea making a names for themselves at the worlds.
Homan Makes Grand Slam History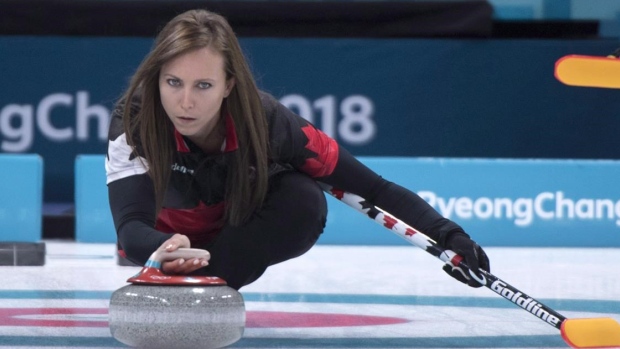 Rachel Homan didn't add a fourth Scotties title this season, but was still able to make history.
Homan and her Ottawa rink won three straight Grand Slams during the first half of the season (Tour Challenge, National and Canadian Open) with the latter marking the 10th of Homan's career, surpassing Jennifer Jones for most in women's curling history.
Overall, this past season has to be considered a positive bounce back after what happened in South Korea at the Olympics in February of 2018.
When Team Homan is on top of their game, you're probably not going to beat them and they seem primed for another run to the top of the Olympic podium.
Both Homan and second Joanne Courtney played a good portion of this season pregnant and are due in the near future. We'll have to wait and see when they decide to hit the ice for the first time next fall.
Bottcher Breaks Out…Again
In 2017-18, it was a young Brendan Bottcher who broke out onto the scene with a strong performance at the Olympic trials and a finals appearance at nationals.
The 27-year-old skipper took another step forward this past season.
Bottcher and his rink of Darren Moulding, Brad Thiessen and Karrick Martin may have suffered a similar fate at this year's Brier as they very impressively made another final, this time falling to Team Koe, but their performance on the Grand Slam circuit was truly remarkable.
The Edmonton foursome lost in the Tour Challenge final in November before making a world class run in the New Year. Team Bottcher beat Team John Epping for their first career Grand Slam title in January at the Canadian Open and then closed out the season by winning the coveted Players' Championship and Champions Cup in April, topping Brier nemesis Koe in the championship tilt both times.
If it wasn't already a forgone conclusion, Bottcher's late season run cemented the skip as one of the best in the game today and an instant top contender in every event his rink plays in.
With Koe wearing Team Canada colours next year at the Brier in Kingston, the door is wide open for Team Bottcher to represent Alberta after their Wild Card appearance this season.
Will Bottcher and company finally get over the national title hump in 2020?
Jones Misses Scotties Playoffs
For the first time since 2003, Jennifer Jones entered this season without Jill Officer as her full-time second.
Jocelyn Peterman came in to fill the void and the new foursome seemed sharp in the early going, making three straight Grand Slam playoffs before capturing the Canada Cup in December.
At the Scotties Tournament of Hearts, Jones had a chance to set a record by winning her seventh career national title in Sydney, however, things ended up going completely other way. Jones failed to make the playoff round for the first time in 14 appearances at the Canadian championship.
The nail in the coffin came when Jones shockingly missed a draw to the 12-foot that would have sent a game against Krista McCarville to an extra end.
It wasn't all bad news for Jones out East though. As part of Canada's Greatest Curlers project, Jones won best skip and top overall player, beating out the likes of Sandra Schmirler, Colleen Jones and Homan. Dawn McEwan won best lead and Jill Officer earned best second honours as well.
Furthermore, Jones still set a record for most Scotties wins with 141, passing Colleen Jones.
"Obviously a hugely disappointing week," Jones said in Sydney. "But it feels pretty good to have that record with all these amazing players out there."
With only two wins on tour, 2018-19 should probably be considered a down year for a player of Jones' calibre.
It's hard to see the same thing happen next winter for the future Hall of Fame curler.
Einarson and Silvernagle Make Some Noise
Winnipeg's Team Kerri Einarson were easily the most anticipated new squad coming into this season after four skips joined forces for a super team.
Would it work? Would there be too many cooks in the kitchen?
Einarson put that theory to bed pretty quickly with four wins on the World Curling Tour by early October. The four skip system was working just fine with Einarson looking sharp as the last rock thrower, Val Sweeting making a smooth transition to third and Shannon Birchard and Briane Meilleur finding chemistry with each other on the front end.
The foursome hit a bump in the road at playdowns when they blew a massive lead in the Manitoba final before falling to Casey Scheidegger at the Scotties Wild Card game. They finished on a high note, however, with a Players' Championship victory in Toronto and a finals appearance at the Champions Cup to close out the season.
In Saskatchewan, North Battleford's Robyn Silvernagle had a breakout campaign with her first Scotties appearance following back-to-back provincial finals losses. Team Silvernagle was solid all week in Sydney, posting an 8-3 record in the championship pool before losing to Homan in the semis.
Tardi for Three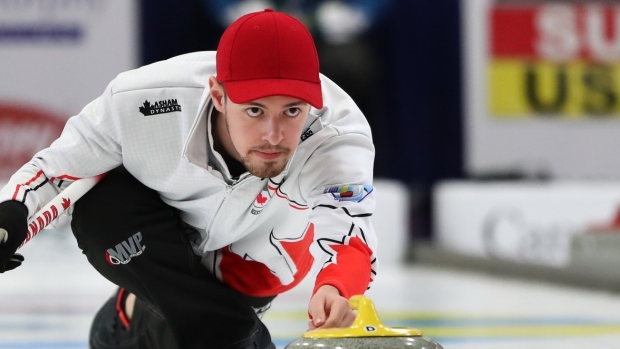 Tyler Tardi is Canada's most decorated junior curler of all time.
The British Columbia skip became the first to win three straight Canadian junior championships this season when he downed Manitoba's JT Ryan in the final. He added his second straight world junior title a few weeks later in Nova Scotia.
It will be great to see what this prodigy can accomplish at the pro level.
Major Shakeups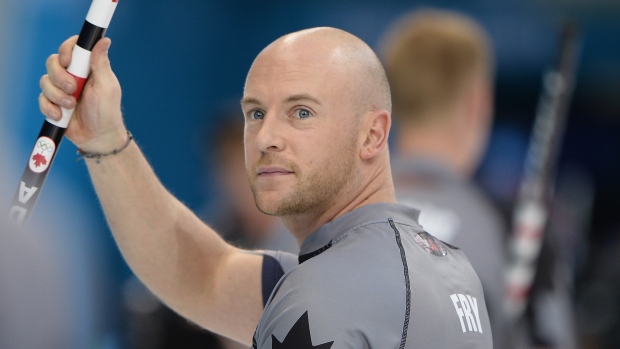 With the first season of the Olympic quadrennial officially in the books, teams are still making some lineup changes in an effort to find the perfect fit.
It might take some time getting used to the new faces in new places.
After taking a season off, two-time Olympian Marc Kennedy will return to full-time curling next season with Team Brad Jacobs after they parted ways with longtime third Ryan Fry. We already know this team will work after they claimed the Canada Cup in December with Kennedy filling in for Fry. Can Kennedy get Team Jacobs back to the top of the Brier podium?
Meanwhile, Fry has packed up his bags and moved from Calgary to Toronto where he will start anew with Ontario's Team John Epping. Epping, who missed out on the Brier after losing the Wild Card game, was forced to make the tough decision to cut popular lead Craig Savill to make room for Fry at third. A tough call for sure, but this move makes Team Epping a lot better as Fry was a first team All-Star at this year's Brier.
On the women's side there are some intriguing new rinks as well.
Michelle Englot, 55, is coming out of retirement to skip a new Saskatchewan-based rink which includes Sandra Schmirler's daughter Sara England.
In Alberta, Laura Walker has found a new group with Kate Cameron, Taylor McDonald and Nadine Scotland.