Tottenham presents tough test for unbeaten Man City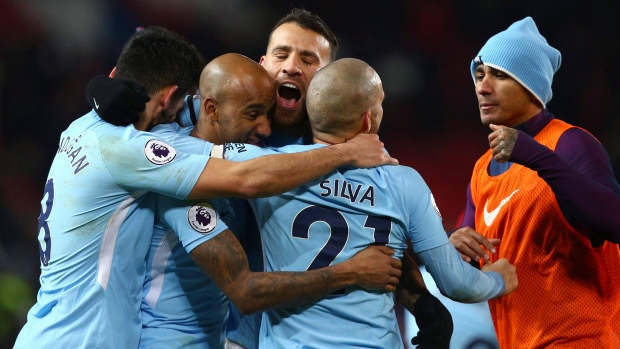 With an 11-point lead in the table, a victory over their rivals and riding an English football record 15-game winning streak, Manchester City's season is off to a dream start. Harry Kane and Tottenham will try to inject some reality when they visit Etihad Stadium on Saturday.
You can watch Manchester City face Tottenham LIVE Saturday at 12:30pm et/9:30am pt. on TSN3, TSN4 and TSN GO.
Victories this week, away in the Manchester Derby and in Wales against Swansea, helped City equal and surpass the all-time Football League winning streak, which was previously set at 14 games by Arsenal.
City's winning run is also the longest in any of Europe's top-flight leagues, trailing only Monaco (16), Real Madrid (16), Barcelona (16), Inter Milan (17) and the 2013-14 Bayern Munich team which holds the current record at 19 consecutive victories.
Both Barcelona and the record setting Bayern Munich teams were coached by current City manager Pep Guardiola.
City's unbeaten run, that has seen them off to the greatest start in Premier League history, has been as varied as it has been impressive.
The league leaders have built a +41 goal differential thanks to battering victories, including a 5-0 win against Liverpool, a 6-0 win home to Watford, a 5-0 win against Crystal Palace and a 7-2 thrashing of Stoke City.
They have also shown an ability to rescue wins, as they did with an 84th minute marker against Huddersfield Town, a stoppage time winner against Southampton and an 83rd minute difference maker against West Ham United.
To keep their record run alive they will have to topple Mauricio Pochettino's Spurs side that currently sits fourth in the table and is no stranger to putting an end to City winning streaks.
Last season City came flying out of the gate with six victories to open the season before a trip to White Hart Lane ended with a 2-0 Tottenham victory.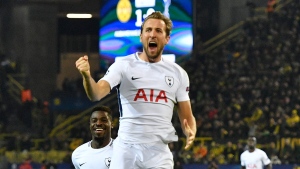 The North London squad are locked in their own battle as they try to maintain a spot in the Champions League, they are currently fourth thanks to a superior goal difference, tied with Liverpool and Burnley on 31 points.
Spurs have won two in a row in the League, victories over Stoke City and Brighton, after struggling through a four-match winless streak that began with a 2-0 defeat at the hands of their North London rivals Arsenal.
Harry Kane has continued to shine for Tottenham as his 12 goals have him second in the Premier League, one goal off the top position currently held by Liverpool's Mohamed Salah.
Christian Eriksen and Kieran Trippier are both among the League's assist leaders, both setting up four goals this season.
Tottenham picked up points in both meetings last season, the winning streak breaking 2-0 win at White Hart Lane and a January 2-2 draw at Etihad Stadium that saw the visitors score in the 58th and 77th minute to level the match.