Trade Bait: Boyle out, Henrique in
With Brian Boyle off the Trade Bait board, TSN Senior Hockey Reporter Frank Seravalli brings in another former Devil to consider with 19 days left until the trade deadline.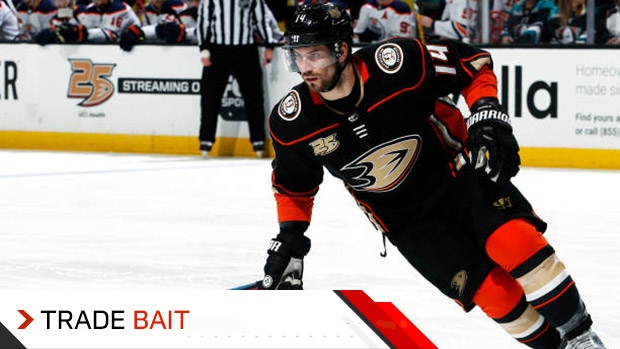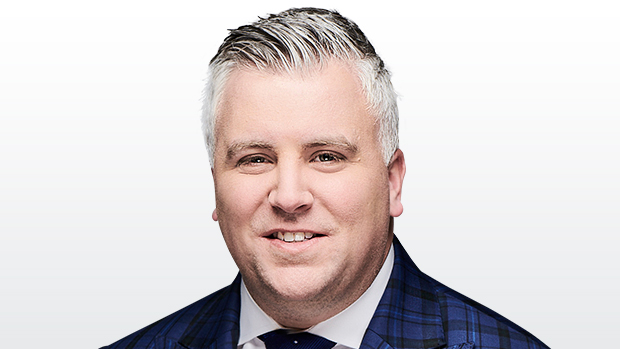 One former New Jersey Devil is replacing another on the TSN Trade Bait board.
New Jersey swapped centre Brian Boyle to the Nashville Predators on Wednesday in exchange for a 2019 second-round pick.
Boyle, 34, was No. 11 on the Trade Bait board. Anaheim Ducks centre Adam Henrique, a Devils mainstay for parts of eight seasons, joins the board in his stead at No. 14.
Wednesday marked a teary goodbye for Boyle, who preferred to stay with New Jersey but said he understood GM Ray Shero "had to do what he had to do" in moving the pending unrestricted free agent from a non-playoff team. The Predators were not on Boyle's eight-team limited no-trade list.
"I wanted to say publicly how thankful I am to have been a part of this organization," Boyle told reporters. "We'll never forget our time here. It's a place that will be very near and dear to us."
Boyle's two-year stay in New Jersey was a rollercoaster of emotions. He was diagnosed with chronic myelogenous leukemia (CML) in Sept. 2017, around the same time that his then three-year-old son, Declan, was receiving treatment for a rare arteriovenous malformation in his jaw.
That season, in 2017-18, Boyle returned to the ice, received a spine-tingling ovation in Tampa Bay as the Devils' All-Star representative, and was credited by Shero as a catalyst for the culture change that led the Devils back to the Stanley Cup playoffs.
Boyle announced in October that his cancer was officially in remission. That Boyle is on pace for a career-best 22-goal campaign this year made him a prime trade acquisition. He said breaking the news to Declan would be the hardest part of the trade.
"It will be tough. I will have to tell my little man and tell him we're moving on," Boyle told reporters. "He really enjoys his life here and we enjoyed our life here. We made some great memories in a short time here. It's difficult. It's a range of emotions with the opportunity I have now down in Nashville to help that club."
The Predators also re-acquired rough and tumble forward Cody McLeod from the New York Rangers for a seventh-round pick on Wednesday to add to the muscle on their fourth line.
Henrique, who turned 29 on Wednesday, has been mentioned in conversation with other teams as Ducks GM Bob Murray attempts to shake up a team that has just two wins since Dec. 18. The Ducks have lost 17 of 19 and have been outscored 27-6 over their last five games.
Henrique signed a five-year, $29.5 million extension with the Ducks last summer but that does not kick in until next season. The deal includes a modified no-trade clause, so the Feb. 25 trade deadline may be one of Murray's last opportunities to deal Henrique without hindrance.
Elsewhere, top five mainstay Micheal Ferland slides down to No. 9, with news that the Carolina Hurricanes have cooled on dealing the rugged winger.
Here is the latest TSN Hockey Trade Bait board, which always seeks to blend a player's prominence with his likelihood of a trade:
The Top 50
| Trend | Player | Pos | Age | GP | G | PTS | Cap Hit | Years |
| --- | --- | --- | --- | --- | --- | --- | --- | --- |
| | 1. Artemi Panarin, CBJ | LW | 27 | 49 | 20 | 59 | $6M | UFA |
| | 2. Matt Duchene, OTT | C | 28 | 43 | 21 | 48 | $6M | UFA |
| | 3. Wayne Simmonds, PHI | RW | 30 | 52 | 16 | 24 | $3.98M | UFA |
| | 4. Jets' 1st-Round Pick | | | | | | | |
| | 5. Mark Stone, OTT | RW | 26 | 52 | 22 | 51 | $7.35M | UFA |
| | 6. Mats Zuccarello, NYR | RW | 31 | 37 | 9 | 28 | $4.5M | UFA |
| | 7. Dougie Hamilton, CAR | RD | 25 | 52 | 9 | 21 | $5.75M | 2 |
| | 8. Gustav Nyquist, DET | RW | 29 | 53 | 12 | 45 | $4.75M | UFA |
| | 9. Micheal Ferland, CAR | LW | 26 | 43 | 13 | 27 | $1.75M | UFA |
| | 10. Sergei Bobrovsky, CBJ | G | 30 | 36 | 3.01 | .901 | $7.43M | UFA |
| | 11. Cam Talbot, EDM | G | 31 | 28 | 3.34 | .893 | $4.17M | UFA |
| | 12. Jimmy Howard, DET | G | 34 | 35 | 2.73 | .916 | $5.3M | UFA |
| | 13. Kevin Hayes, NYR | C | 26 | 42 | 11 | 36 | $5.18M | UFA |
| | 14. Marcus Johansson, NJD | LW | 28 | 39 | 8 | 20 | $4.58M | UFA |
| | 15. Adam Henrique, ANA | C | 29 | 54 | 9 | 27 | $5.83M | 5 |
| | 16. Charlie Coyle, MIN | C | 26 | 52 | 9 | 26 | $3.2M | 1 |
| | 17. Brayden Schenn, STL | C | 27 | 46 | 9 | 30 | $5.13M | 1 |
| | 18. Jeff Carter, LAK | C | 33 | 50 | 10 | 25 | $5.27M | 3 |
| | 19. Brett Pesce, CAR | RD | 23 | 43 | 4 | 12 | $4.03M | 5 |
| | 20. Jack Roslovic, WPG | RW/C | 22 | 51 | 7 | 16 | $894K | 1 |
| | 21. Derick Brassard, FLA | C | 31 | 41 | 9 | 16 | $5M | UFA |
| | 22. Cody Ceci, OTT | RD | 24 | 48 | 5 | 15 | $4.3M | RFA |
| | 23. Jakub Silfverberg, ANA | RW | 28 | 43 | 12 | 20 | $3.75M | UFA |
| | 24. Andre Burakovsky, WSH | LW | 23 | 46 | 6 | 12 | $3M | RFA |
| | 25. Alec Martinez, LAK | RD | 31 | 37 | 3 | 11 | $4M | 2 |
| | 26. Chris Kreider, NYR | LW | 27 | 51 | 23 | 39 | $4.63M | 1 |
| | 27. Colton Parayko, STL | RD | 25 | 50 | 8 | 13 | $5.5M | 3 |
| | 28. Justin Faulk, CAR | RD | 26 | 52 | 4 | 19 | $4.83M | 1 |
| | 29. Alex Steen, STL | LW | 34 | 36 | 6 | 15 | $5.75M | 2 |
| | 30. Alex Edler, VAN | LD | 32 | 37 | 5 | 20 | $5M | UFA |
| | 31. Jay Bouwmeester, STL | LD | 35 | 46 | 2 | 10 | $5.4M | UFA |
| | 32. Andreas Johnsson, TOR | LW | 24 | 45 | 10 | 22 | $788K | RFA |
| | 33. Ryan Dzingel, OTT | LW | 26 | 50 | 20 | 39 | $1.8M | UFA |
| | 34. Patrick Maroon, STL | LW | 30 | 42 | 4 | 14 | $1.75M | UFA |
| | 35. Jesse Puljujarvi, EDM | RW | 20 | 41 | 4 | 9 | $925K | RFA |
| | 36. Adam McQuaid, NYR | RD | 32 | 27 | 0 | 3 | $2.75M | UFA |
| | 37. Ben Lovejoy, NJD | RD | 34 | 43 | 1 | 6 | $2.67M | UFA |
| | 38. Jamie McGinn, FLA | LW | 30 | 0 | 0 | 0 | $3.33M | UFA |
| | 39. Chris Tanev, VAN | RD | 29 | 47 | 2 | 10 | $4.45M | 1 |
| | 40. Vlad Namestnikov, NYR | LW | 25 | 47 | 4 | 16 | $4M | 1 |
| | 41. Nikolay Goldobin, VAN | LW | 23 | 45 | 6 | 24 | $863K | RFA |
| | 42. Luke Glendening, DET | C | 29 | 53 | 8 | 18 | $1.8M | 2 |
| | 43. Carl Hagelin, LAK | LW | 30 | 30 | 2 | 6 | $4M | UFA |
| | 44. Nathan Beaulieu, BUF | LD | 26 | 27 | 3 | 7 | $2.4M | RFA |
| | 45. Mikkel Boedker, OTT | LW | 29 | 51 | 6 | 28 | $4M | 1 |
| | 46. Tobias Rieder, EDM | LW | 26 | 38 | 0 | 9 | $2M | RFA |
| | 47. Bogdan Kiselvich, FLA | LD | 28 | 31 | 0 | 8 | $925K | UFA |
| | 48. Dale Weise, PHI | RW | 30 | 42 | 5 | 11 | $2.35M | 1 |
| | 49. Kasperi Kapanen, TOR | RW | 22 | 51 | 15 | 30 | $863K | RFA |
| | 50. Jeff Skinner, BUF | LW | 26 | 51 | 31 | 47 | $5.73M | UFA |
TRADED:
No. 5: Maple Leafs' first-round pick - Toronto to Los Angeles on Jan. 28
No. 8: Derick Brassard - Pittsburgh to Florida on Feb. 1
No. 11: Brian Boyle - New Jersey to Nashville on Feb. 6
No. 13: Chris Wideman - Ottawa to Edmonton on Nov. 22
No. 14: Tanner Pearson - Los Angeles to Pittsburgh on Nov. 14
No. 17: Jake Muzzin - Los Angeles to Toronto on Jan. 28
No. 27: Alex Petrovic - Florida to Edmonton on Dec. 29
No. 27: Nino Niederreiter - Minnesota to Carolina on Jan. 17
No. 28: Nick Bjugstad - Florida to Pittsburgh on Feb. 1
No. 28: Brandon Manning - Chicago to Edmonton on Dec. 29
No. 35: Michael Del Zotto - Vancouver to Anaheim on Jan. 16
No. 35: Jamie Oleksiak - Pittsburgh to Dallas on Jan. 29
No. 36: Luke Schenn - Anaheim to Vancouver on Jan. 16
Contact Frank Seravalli on Twitter: @frank_seravalli