Trade Bait: Chatter on Dzingel expected to heat up
All of the attention on Senators stars Matt Duchene and Mark Stone has left Ryan Dzingel on the backburner, Frank Seravalli writes, but trade talk for the Ottawa winger is expected to start picking up significantly.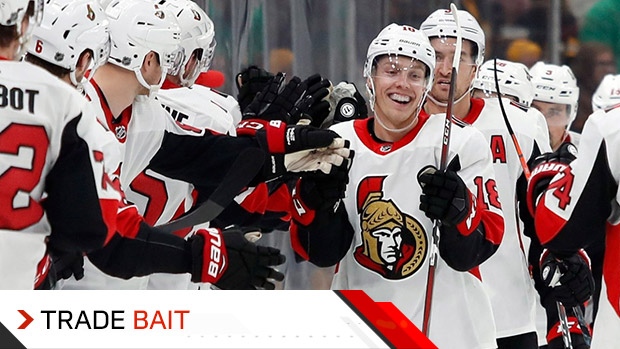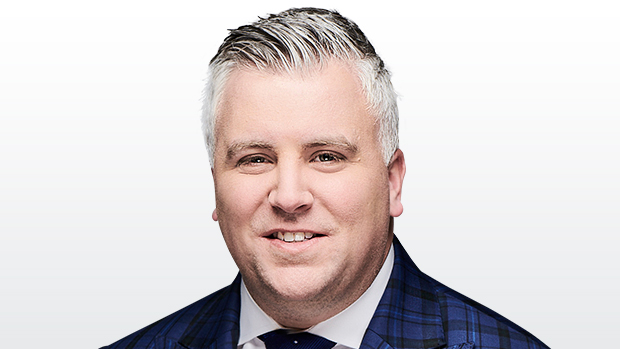 Exactly one year ago, the Ottawa Senators shipped alternate captain Dion Phaneuf and Nate Thompson to the Los Angeles Kings.
In the year since, Thompson has already been traded back east to Montréal. Phaneuf is still the second-highest paid defenceman on the Sens' payroll.
And Canada's capital city remains the nexus of Trade Bait.
The Senators have five players featured on the latest TSN Trade Bait board: Matt Duchene (2), Mark Stone (5), Ryan Dzingel (19), Cody Ceci (24) and Mikkel Boedker (46). It'd probably be more if there was a market for Bobby Ryan or Craig Anderson.
All of the attention, and rightly so, has so far been on the stars at the top of the list in Duchene and Stone.
These are critical hours for their tenures in Ottawa. GM Pierre Dorion is believed to be making a last push to ink them to contract extensions before ultimately fielding trade offers with the Feb. 25 deadline looming.
All of that attention on Stone and Duchene has more or less left Dzingel on the backburner.
Dzingel is represented by the same agency (Newport Sports) as Stone, so his representatives have been in constant communication with the Senators. But he hasn't received nearly as much fanfare.
Like Stone and Duchene, Dzingel is having a career year. Dzingel, 26, has already matched last year's career-high of 41 points, and he's only three goals away from setting a new high-water mark at 24 tallies.
Skating on Duchene's left wing, the seventh-round pick from 2011 has carved out a nice career for himself and he's ready to cash in a sizeable raise from his current $1.8 million cap hit at the perfect time.
Dorion and the Senators initially had little interest in trading Dzingel. But with the lack of progress in negotiations and the fact that his trade value is near its zenith, the expectation is that trade talks for Dzingel will heat up significantly over the next 12 days.
That's why Dzingel was the biggest mover on TSN Hockey's latest Trade Bait board, which always seeks to blend a player's prominence with his likelihood of a trade:
The Top 50
| Trend | Player | Pos | Age | GP | G | PTS | Cap Hit | Years |
| --- | --- | --- | --- | --- | --- | --- | --- | --- |
| | 1. Artemi Panarin, CBJ | LW | 27 | 53 | 22 | 64 | $6M | UFA |
| | 2. Matt Duchene, OTT | C | 28 | 47 | 25 | 53 | $6M | UFA |
| | 3. Wayne Simmonds, PHI | RW | 30 | 57 | 16 | 25 | $3.98M | UFA |
| | 4. Jets' 1st-Round Pick | | | | | | | |
| | 5. Mark Stone, OTT | RW | 26 | 56 | 26 | 57 | $7.35M | UFA |
| | 6. Kevin Hayes, NYR | C | 26 | 47 | 13 | 38 | $5.18M | UFA |
| | 7. Mats Zuccarello, NYR | RW | 31 | 42 | 9 | 34 | $4.5M | UFA |
| | 8. Gustav Nyquist, DET | RW | 29 | 57 | 14 | 47 | $4.75M | UFA |
| | 9. Dougie Hamilton, CAR | RD | 25 | 57 | 10 | 23 | $5.75M | 2 |
| | 10. Sergei Bobrovsky, CBJ | G | 30 | 39 | 2.9 | .903 | $7.43M | UFA |
| | 11. Jimmy Howard, DET | G | 34 | 38 | 2.76 | .914 | $5.3M | UFA |
| | 12. Charlie Coyle, MIN | C | 26 | 57 | 10 | 28 | $3.2M | 1 |
| | 13. Micheal Ferland, CAR | LW | 26 | 48 | 15 | 31 | $1.75M | UFA |
| | 14. Cam Talbot, EDM | G | 31 | 31 | 3.36 | .893 | $4.17M | UFA |
| | 15. Brett Pesce, CAR | RD | 23 | 48 | 5 | 15 | $4.03M | 5 |
| | 16. Marcus Johansson, NJD | LW | 28 | 44 | 10 | 22 | $4.58M | UFA |
| | 17. Adam Henrique, ANA | C | 29 | 56 | 10 | 28 | $5.83M | 5 |
| | 18. Jack Roslovic, WPG | RW/C | 22 | 56 | 7 | 16 | $894K | 1 |
| | 19. Ryan Dzingel, OTT | LW | 26 | 54 | 21 | 41 | $1.8M | UFA |
| | 20. Jonathan Huberdeau, FLA | LW | 25 | 55 | 13 | 52 | $5.9M | 4 |
| | 21. Eeli Tolvanen, NSH | RW | 19 | 4 | 1 | 2 | $894K | 2 |
| | 22. Artem Anisimov, CHI | C | 30 | 53 | 8 | 24 | $4.55M | 2 |
| | 23. Derick Brassard, FLA | C | 31 | 46 | 10 | 18 | $5M | UFA |
| | 24. Cody Ceci, OTT | RD | 24 | 52 | 5 | 19 | $4.3M | RFA |
| | 25. Jakob Silfverberg, ANA | RW | 28 | 47 | 12 | 20 | $3.75M | UFA |
| | 26. Luke Glendening, DET | C | 29 | 57 | 9 | 20 | $1.8M | 2 |
| | 27. Alex Chiasson, EDM | RW | 28 | 46 | 17 | 27 | $650K | UFA |
| | 29. Andre Burakovsky, WSH | LW | 23 | 51 | 7 | 16 | $3M | RFA |
| | 29. Brayden Schenn, STL | C | 27 | 51 | 10 | 35 | $5.13M | 1 |
| | 30. Justin Faulk, CAR | RD | 26 | 57 | 5 | 20 | $4.83M | 1 |
| | 31. Adam McQuaid, NYR | RD | 32 | 32 | 2 | 5 | $2.75M | UFA |
| | 32. Jeff Carter, LAK | C | 33 | 51 | 10 | 25 | $5.27M | 3 |
| | 33. Chris Kreider, NYR | LW | 27 | 56 | 24 | 42 | $4.63M | 1 |
| | 34. Colton Parayko, STL | RD | 25 | 55 | 9 | 18 | $5.5M | 3 |
| | 35. Alex Steen, STL | LW | 34 | 41 | 6 | 10 | $5.75M | 2 |
| | 36. Alec Martinez, LAK | RD | 31 | 42 | 3 | 13 | $4M | 2 |
| | 37. Jay Bouwmeester, STL | LD | 35 | 51 | 2 | 12 | $5.4M | UFA |
| | 38. Carl Hagelin, LAK | LW | 30 | 35 | 2 | 8 | $4M | UFA |
| | 39. Patrick Maroon, STL | LW | 30 | 47 | 4 | 15 | $1.75M | UFA |
| | 40. Alex Edler, VAN | LD | 32 | 38 | 5 | 20 | $5M | UFA |
| | 41. Ben Lovejoy, NJD | RD | 34 | 47 | 1 | 6 | $2.67M | UFA |
| | 42. Chris Tanev, VAN | RD | 29 | 52 | 2 | 12 | $4.45M | 1 |
| | 43. Vlad Namestnikov, NYR | LW | 25 | 52 | 4 | 16 | $4M | 1 |
| | 44. Nikolay Goldobin, VAN | LW | 23 | 50 | 6 | 25 | $863K | RFA |
| | 45. Nathan Beaulieu, BUF | LD | 26 | 27 | 3 | 7 | $2.4M | RFA |
| | 46. Mikkel Boedker, OTT | LW | 29 | 51 | 6 | 28 | $4M | 1 |
| | 47. Tobias Rieder, EDM | LW | 26 | 41 | 0 | 9 | $2M | RFA |
| | 48. Andreas Johnsson, TOR | LW | 24 | 50 | 14 | 30 | $788K | RFA |
| | 49. Kasperi Kapanen, TOR | RW | 22 | 56 | 18 | 34 | $863K | RFA |
| | 50. Jeff Skinner, BUF | LW | 26 | 56 | 34 | 51 | $5.73M | UFA |
TRADED:
No. 5: Maple Leafs' first-round pick - Toronto to Los Angeles on Jan. 28
No. 8: Derick Brassard - Pittsburgh to Florida on Feb. 1
No. 11: Brian Boyle - New Jersey to Nashville on Feb. 6
No. 13: Chris Wideman - Ottawa to Edmonton on Nov. 22
No. 14: Tanner Pearson - Los Angeles to Pittsburgh on Nov. 14
No. 17: Jake Muzzin - Los Angeles to Toronto on Jan. 28
No. 27: Alex Petrovic - Florida to Edmonton on Dec. 29
No. 27: Nino Niederreiter - Minnesota to Carolina on Jan. 17
No. 28: Nick Bjugstad - Florida to Pittsburgh on Feb. 1
No. 28: Brandon Manning - Chicago to Edmonton on Dec. 29
No. 35: Michael Del Zotto - Vancouver to Anaheim on Jan. 16
No. 35: Jamie Oleksiak - Pittsburgh to Dallas on Jan. 29
No. 36: Luke Schenn - Anaheim to Vancouver on Jan. 16
No. 48: Dale Weise - Philadelphia to Montreal on Feb. 9