Trade Bait: Flyers salute Simmonds after likely final game
Barring a last-minute tug at the heartstrings from general manager Chuck Fletcher to get him to accept a team-friendly deal and forego free agency, power forward Wayne Simmonds has likely played his last name as a member of the Philadelphia Flyers. TSN Senior Hockey Reporter Frank Seravalli looks at the ramifications of that with the latest TSN Trade Bait Board with just over 24 hours until the NHL's trade deadline remaining.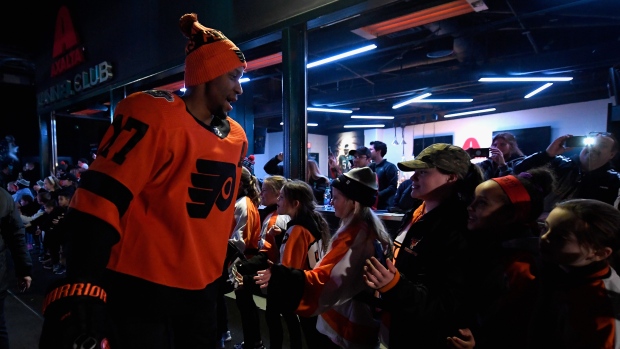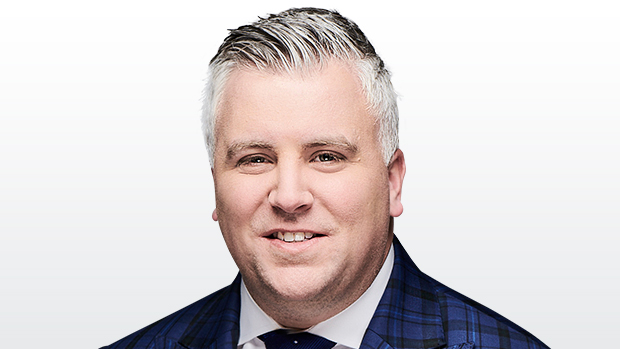 Claude Giroux was handed the Philadelphia Flyers' customary player-of-the-game helmet after his shake-and-bake overtime winner, but he said he couldn't accept it.
He passed it to Jake Voracek, who scored the goal with 19.7 seconds left that forced overtime in front of 69,602 rain-soaked fans in the 2019 Stadium Series.
But on that night, even after a spine-tingling comeback against the rival Penguins, Voracek and everyone in the room recognized what loomed before the trade deadline.
Saturday night was likely Wayne Simmonds' last game in a Flyers sweater.
"In this situation, we don't know what's going to happen Monday," Voracek said in the home of the Eagles, with cameras rolling. "But I've got to give it to one of my best friends. He deserves it for all of the years he's been here. Whatever happens, Simmy, we love you. Hopefully you're going to stay around. This one's for you, buddy."
The two shared an emotional hug.
"That was an unbelievable game, boys," Simmonds told the team. "It's been an honour and a pleasure. I hope I'm still here, but either way boys, keep making this push. Keep our hopes alive and our dreams alive."
Simmonds, 30, is a pending unrestricted free agent - a warrior who averaged 29 goals over each of the last five seasons - and is ranked No. 2 on the latest TSN Trade Bait board for a team looking to add muscle and a heavy winger for the playoff push.
Incoming GM Chuck Fletcher has given the Flyers every opportunity to claw back into the race with Simmonds. They sat in 31st place on Jan. 9, but an eight-game winning streak brought them within five points of a playoff spot. The problem is they have gotten no closer.
They are 13-3-1 in their last 17 games but still sit seven points back of the final spot now and do not hold any tiebreakers. It's an unrealistic summit to mount in the final quarter of the season.
Two things could keep Simmonds in Philadelphia: a last-minute tug at the heartstrings by Fletcher to forego free agency with a team-friendly deal, or trade offers that only net secondary assets in return.
In that case, Fletcher has vowed to keep Simmonds for the final push.
But the belief is that Simmonds, even with a less productive 16-goal season and recent injury history, could still bring back a conditional first-round pick and a prospect.
The Tampa Bay Lightning were one of the first teams to contact Fletcher about Simmonds in January. He would add bite to a stacked Lightning team that many believe got pushed around by the heavier Capitals in last year's Eastern Conference Final.
They are one of a handful of teams to express significant interest. Simmonds holds a 12-team, no-trade clause and the Flyers want to make sure one of their all-time fan favourites finds a comfortable landing spot after eight years of exemplary service.
Simmonds said he took time to soak it all in. If Saturday was the way it ended after 584 games, there may have been no sweeter send-off.
"Yeah, I looked around," Simmonds told reporters. "It's not often you get to play in front of 70,000 people. Obviously, you don't know what my future holds here. It was nice to stand out there and get that win and have all those cheers."
Here is TSN Hockey's latest Trade Bait board, which always seeks to blend a player's prominence with his likelihood of a trade:

THE TOP 50
Trend
Player
Pos
Age
GP
G
PTS
Cap Hit
Years
1.

Mark Stone

, OTT

RW

26

59

28

62

$7.35M

UFA

2.

Wayne Simmonds

, PHI

RW

30

62

16

27

$3.98M

UFA

3.

Kevin Hayes

, NYR

C

26

51

14

42

$5.18M

UFA

4. Jets' 1st-Round Pick

5.

Gustav Nyquist

, DET

RW

29

60

15

48

$4.75M

UFA

6.

Marcus Johansson

, NJD

LW

28

48

12

27

$4.58M

UFA

7.

Adam McQuaid

, NYR

RD

32

36

2

5

$2.75M

UFA

8.

Derick Brassard

, FLA

C

31

50

10

19

$5M

UFA

9.

Jimmy Howard

, DET

G

34

42

2.88

0.91

$5.3M

UFA

10.

Artemi Panarin

, CBJ

LW

27

58

24

68

$6M

UFA

11.

Jack Roslovic

, WPG

RW/C

22

60

7

17

$894K

1

12.

Micheal Ferland

, CAR

LW

26

52

16

33

$1.75M

UFA

13.

Dougie Hamilton

, CAR

RD

25

61

10

24

$5.75M

2

14.

Jason Zucker

, MIN

LW

27

61

14

30

$5.5M

4

15.

Eeli Tolvanen

, NSH

RW

19

4

1

2

$894K

2

16. Josh Ho-Sang, NYI

RW

23

10

1

2

$863K

RFA

17.

Mike Hoffman

, FLA

RW

29

60

26

51

$5.19M

1

18.

Adam Henrique

, ANA

C

29

62

12

32

$5.83M

5

19.

Alexander Wennberg

, CBJ

C

24

59

2

23

$4.9M

4

20.

Jonathan Huberdeau

, FLA

LW

25

60

17

60

$5.9M

4

21.

Artem Anisimov

, CHI

C

30

58

10

28

$4.55M

2

22.

Cody Ceci

, OTT

RD

24

57

5

20

$4.3M

RFA

23.

Alec Martinez

, LAK

RD

31

43

4

15

$4M

2

24.

Jeff Carter

, LAK

C

33

55

10

25

$5.27M

3

25.

Sergei Bobrovsky

, CBJ

G

30

44

2.82

0.906

$7.43M

UFA

26.

Brett Pesce

, CAR

RD

23

53

5

16

$4.03M

5

27.

Luke Glendening

, DET

C

29

62

9

20

$1.8M

2

28.

Alex Chiasson

, EDM

RW

28

52

17

27

$650K

UFA

29.

Andre Burakovsky

, WSH

LW

23

56

8

18

$3M

RFA

30.

Eric Staal

, MIN

C

34

61

18

39

$3.5M

UFA

31.

Justin Faulk

, CAR

RD

26

62

7

24

$4.83M

1

32.

Ryan Callahan

, TBL

RW

33

44

6

15

$5.8M

1

33.

Chris Kreider

, NYR

LW

27

61

25

46

$4.63M

1

34. Alex Steen, STL

LW

34

45

7

20

$5.75M

2

35.

Markus Granlund

, VAN

C

25

60

9

19

$1.48M

RFA

36.

Patrik Nemeth

, COL

LD

27

54

1

7

$2.5M

UFA

37.

Michael Del Zotto

, ANA

LD

28

35

1

7

$3M

UFA

38. Vlad Namestnikov, NYR

LW

25

57

7

21

$4M

1

39.

Nikolay Goldobin

, VAN

LW

23

53

6

25

$863K

RFA

40.

Jesse Puljujarvi

, EDM

RW

20

46

4

9

$925K

RFA

41.

Mikkel Boedker

, OTT

LW

29

54

6

29

$4M

1

42.

Tobias Rieder

, EDM

LW

26

47

0

11

$2M

RFA

43. Alex Petrovic, EDM

RD

26

35

0

2

$1.95M

UFA

44.

Nathan Beaulieu

, BUF

LD

26

30

3

7

$2.4M

RFA

45.

Bogdan Kiselevich

, FLA

LD

28

32

0

8

$925K

UFA

46.

John Hayden

, CHI

RW

24

45

3

4

$750K

1

47.

Jamie McGinn

, FLA

LW

30

2

1

1

$3.33M

UFA

48.

Andreas Johnsson

, TOR

LW

24

54

17

33

$788K

RFA

49.

Kasperi Kapanen

, TOR

RW

22

61

18

38

$863K

RFA

50.

Jeff Skinner

, BUF

LW

26

61

36

55

$5.73M

UFA
TRADED:
No. 2: Matt Duchene - Ottawa to Columbus on Feb. 22
No. 5: Maple Leafs' first-round pick - Toronto to Los Angeles on Jan. 28
No. 6: Mats Zuccarello - New York Rangers to Dallas on Feb. 23
No. 6: Cam Talbot - Edmonton to Philadelphia on Feb. 15
No. 7: Ryan Dzingel - Ottawa to Columbus on Feb. 23
No. 8: Derick Brassard - Pittsburgh to Florida on Feb. 1
No. 9: Charlie Coyle - Minnesota to Boston on Feb. 20
No. 11: Brian Boyle - New Jersey to Nashville on Feb. 6
No. 11: Nick Jensen - Detroit to Washington on Feb. 22
No. 13: Chris Wideman - Ottawa to Edmonton on Nov. 22
No. 14: Tanner Pearson - Los Angeles to Pittsburgh on Nov. 14
No. 17: Jake Muzzin - Los Angeles to Toronto on Jan. 28
No. 21: Ben Lovejoy - New Jersey to Dallas on Feb. 23
No. 27: Alex Petrovic - Florida to Edmonton on Dec. 29
No. 27: Nino Niederreiter - Minnesota to Carolina on Jan. 17
No. 28: Nick Bjugstad - Florida to Pittsburgh on Feb. 1
No. 28: Brandon Manning - Chicago to Edmonton on Dec. 29
No. 35: Michael Del Zotto - Vancouver to Anaheim on Jan. 16
No. 35: Jamie Oleksiak - Pittsburgh to Dallas on Jan. 29
No. 36: Luke Schenn - Anaheim to Vancouver on Jan. 16
No. 39: Carl Hagelin - Los Angeles to Washington on Feb. 21
No. 48: Dale Weise - Philadelphia to Montreal on Feb. 9