Trade Bait: Leafs interested in Red Wings' Glendening again
Toronto is believed to have kicked the tires again on a Mike Babcock favourite from his time in Detroit, TSN Senior Hockey Reporter Frank Seravalli writes.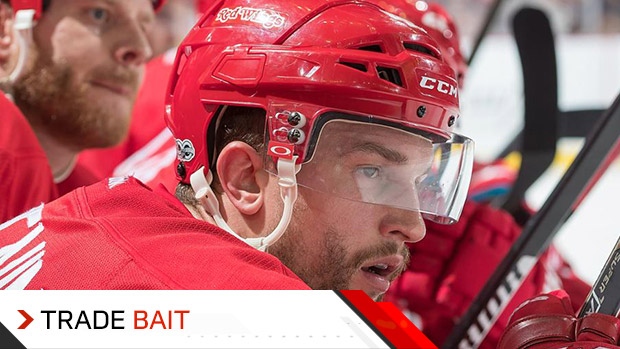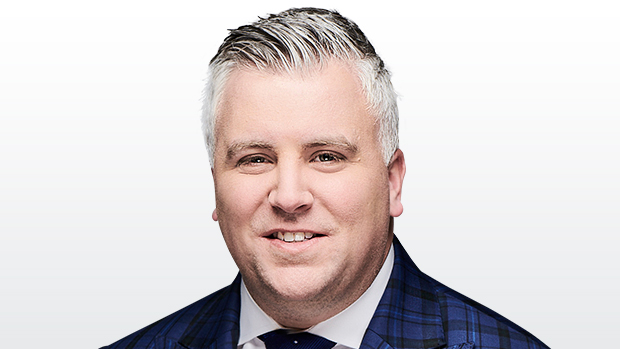 Mike Babcock hasn't exactly been shy with team brass when it comes to his trade deadline wish list for the Toronto Maple Leafs.
It's believed the Maple Leafs have kicked the tires again on Red Wings centre Luke Glendening this year, a Babcock favourite from his time in Detroit.
Glendening, 29, is the biggest mover on the latest edition of the TSN Trade Bait board, climbing up to No. 25.
He played under Babcock for parts of two seasons in Detroit, the type of scrappy fourth-line centre who has seen his minutes rise at playoff time.
Toronto has traded its second-round pick each of the last two springs for fourth line centre help in Brian Boyle (2017) and Tomas Plekanec (2018).
Last year, the asking price from the Red Wings was believed to be a second-round pick, a price that was too rich for then-GM Lou Lamoriello's blood.
This year, that price would seem to be the starting point, given that older rental Boyle – who has not scored in his last two playoff runs – fetched a second-round pick from Nashville earlier this week.
The Red Wings view Glendening as a big part of their team culture. With eight goals and 10 assists for 18 points, Glendening is on pace to set new career-highs in goals, assists, points and time on ice (15:51).
The hang-up for the Maple Leafs is two-fold: 1) How much of an upgrade is he over Frederik Gauthier? 2) Glendening's contract.
Gauthier, 23, has two goals and 10 points playing just over half the ice time Glendening receives. He's also locked up next season near the league-minimum salary at $675,000.
Glendening has two years remaining at $1.8 million, which is about twice as much as the Leafs can afford for his position next season, when their salary cap crunch will become a daily struggle.
However, if the Red Wings could be enticed to retain half of Glendening's deal, he would provide cost certainty for the next two seasons at a manageable price for a player the coach clearly would be happy to pencil into his lineup.
Elsewhere, Minnesota Wild forward Charlie Coyle climbed into the Top 10 after a lifeless loss to the Edmonton Oilers, while Chicago Blackhawks centre Artem Anisimov joined the board for the first time.
Here is the latest TSN Hockey Trade Bait board, which always seeks to blend a player's prominence with his likelihood of a trade:
The Top 50
| Trend | Player | Pos | Age | GP | G | PTS | Cap Hit | Years |
| --- | --- | --- | --- | --- | --- | --- | --- | --- |
| | 1. Artemi Panarin, CBJ | LW | 27 | 51 | 20 | 60 | $6M | UFA |
| | 2. Matt Duchene, OTT | C | 28 | 45 | 24 | 51 | $6M | UFA |
| | 3. Wayne Simmonds, PHI | RW | 30 | 54 | 16 | 24 | $3.98M | UFA |
| | 4. Jets' 1st-Round Pick | | | | | | | |
| | 5. Mark Stone, OTT | RW | 26 | 54 | 23 | 54 | $7.35M | UFA |
| | 6. Mats Zuccarello, NYR | RW | 31 | 39 | 9 | 30 | $4.5M | UFA |
| | 7. Dougie Hamilton, CAR | RD | 25 | 54 | 9 | 21 | $5.75M | 2 |
| | 8. Gustav Nyquist, DET | RW | 29 | 54 | 13 | 46 | $4.75M | UFA |
| | 9. Charlie Coyle, MIN | C | 26 | 54 | 10 | 28 | $3.2M | 1 |
| | 10. Sergei Bobrovsky, CBJ | G | 30 | 38 | 2.98 | .902 | $7.43M | UFA |
| | 11. Micheal Ferland, CAR | LW | 26 | 45 | 14 | 28 | $1.75M | UFA |
| | 12. Cam Talbot, EDM | G | 31 | 30 | 3.3 | .895 | $4.17M | UFA |
| | 13. Jimmy Howard, DET | G | 34 | 36 | 2.77 | .914 | $5.3M | UFA |
| | 14. Kevin Hayes, NYR | C | 26 | 44 | 12 | 37 | $5.18M | UFA |
| | 15. Brett Pesce, CAR | RD | 23 | 45 | 5 | 13 | $4.03M | 5 |
| | 16. Marcus Johansson, NJD | LW | 28 | 41 | 8 | 20 | $4.58M | UFA |
| | 17. Adam Henrique, ANA | C | 29 | 55 | 9 | 27 | $5.83M | 5 |
| | 18. Jack Roslovic, WPG | RW/C | 22 | 53 | 7 | 16 | $894K | 1 |
| | 19. Brayden Schenn, STL | C | 27 | 48 | 10 | 32 | $5.13M | 1 |
| | 20. Artem Anisimov, CHI | C | 30 | 51 | 8 | 24 | $4.55M | 2 |
| | 21. Derick Brassard, FLA | C | 31 | 43 | 9 | 17 | $5M | UFA |
| | 22. Cody Ceci, OTT | RD | 24 | 50 | 5 | 17 | $4.3M | RFA |
| | 23. Jakub Silfverberg, ANA | RW | 28 | 46 | 12 | 20 | $3.75M | UFA |
| | 24. Andre Burakovsky, WSH | LW | 23 | 48 | 7 | 13 | $3M | RFA |
| | 25. Luke Glendening, DET | C | 29 | 54 | 8 | 18 | $1.8M | 2 |
| | 26. Justin Faulk, CAR | RD | 26 | 54 | 5 | 20 | $4.83M | 1 |
| | 27. Jeff Carter, LAK | C | 33 | 51 | 10 | 25 | $5.27M | 3 |
| | 28. Chris Kreider, NYR | LW | 27 | 53 | 24 | 40 | $4.63M | 1 |
| | 29. Colton Parayko, STL | RD | 25 | 52 | 9 | 15 | $5.5M | 3 |
| | 30. Alex Steen, STL | LW | 34 | 38 | 6 | 15 | $5.75M | 2 |
| | 31. Alec Martinez, LAK | RD | 31 | 40 | 3 | 11 | $4M | 2 |
| | 32. Jay Bouwmeester, STL | LD | 35 | 48 | 2 | 10 | $5.4M | UFA |
| | 33. Andreas Johnsson, TOR | LW | 24 | 47 | 13 | 27 | $788K | RFA |
| | 34. Ryan Dzingel, OTT | LW | 26 | 52 | 20 | 40 | $1.8M | UFA |
| | 35. Patrick Maroon, STL | LW | 30 | 44 | 4 | 14 | $1.75M | UFA |
| | 36. Alex Edler, VAN | LD | 32 | 38 | 5 | 20 | $5M | UFA |
| | 37. Adam McQuaid, NYR | RD | 32 | 29 | 1 | 4 | $2.75M | UFA |
| | 38. Ben Lovejoy, NJD | RD | 34 | 44 | 1 | 6 | $2.67M | UFA |
| | 39. Jamie McGinn, FLA | LW | 30 | 0 | 0 | 0 | $3.33M | UFA |
| | 40. Chris Tanev, VAN | RD | 29 | 50 | 2 | 11 | $4.45M | 1 |
| | 41. Vlad Namestnikov, NYR | LW | 25 | 49 | 4 | 16 | $4M | 1 |
| | 42. Nikolay Goldobin, VAN | LW | 23 | 48 | 6 | 24 | $863K | RFA |
| | 43. Carl Hagelin, LAK | LW | 30 | 33 | 2 | 8 | $4M | UFA |
| | 44. Nathan Beaulieu, BUF | LD | 26 | 27 | 3 | 7 | $2.4M | RFA |
| | 45. Mikkel Boedker, OTT | LW | 29 | 51 | 6 | 28 | $4M | 1 |
| | 46. Tobias Rieder, EDM | LW | 26 | 40 | 0 | 9 | $2M | RFA |
| | 47. Jesse Puljujarvi, EDM | RW | 20 | 43 | 4 | 9 | $925K | RFA |
| | 48. Dale Weise, PHI | RW | 30 | 42 | 5 | 11 | $2.35M | 1 |
| | 49. Kasperi Kapanen, TOR | RW | 22 | 53 | 15 | 31 | $863K | RFA |
| | 50. Jeff Skinner, BUF | LW | 26 | 53 | 33 | 49 | $5.73M | UFA |
TRADED:
No. 5: Maple Leafs' first-round pick - Toronto to Los Angeles on Jan. 28
No. 8: Derick Brassard - Pittsburgh to Florida on Feb. 1
No. 11: Brian Boyle - New Jersey to Nashville on Feb. 6
No. 13: Chris Wideman - Ottawa to Edmonton on Nov. 22
No. 14: Tanner Pearson - Los Angeles to Pittsburgh on Nov. 14
No. 17: Jake Muzzin - Los Angeles to Toronto on Jan. 28
No. 27: Alex Petrovic - Florida to Edmonton on Dec. 29
No. 27: Nino Niederreiter - Minnesota to Carolina on Jan. 17
No. 28: Nick Bjugstad - Florida to Pittsburgh on Feb. 1
No. 28: Brandon Manning - Chicago to Edmonton on Dec. 29
No. 35: Michael Del Zotto - Vancouver to Anaheim on Jan. 16
No. 35: Jamie Oleksiak - Pittsburgh to Dallas on Jan. 29
No. 36: Luke Schenn - Anaheim to Vancouver on Jan. 16