Trade Bait: Stone's days numbered in Ottawa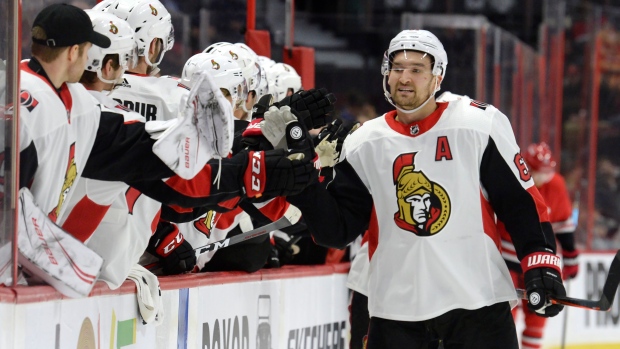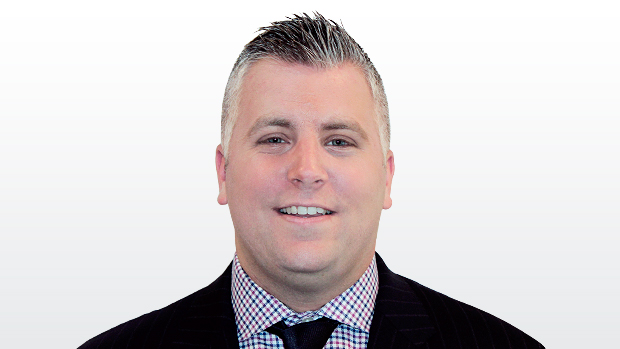 Mark Stone now stands alone as the most sought-after player ahead of TradeCentre 2019.
Stone leapfrogged Senators teammate Matt Duchene and Columbus' Artemi Panarin into the No. 1 spot on the latest TSN Trade Bait board with news that he was scratched for Thursday night's game in New Jersey with Ottawa opting to protect the trade asset.
Stone sitting out signals his apparent decision to forego a contract extension with the Senators in favour of testing the open market.
The Sens were believed to have made a significant contract offer in the last week that Stone had been mulling in the meantime.
Now, Stone's days in Canada's capital are numbered – because GM Pierre Dorion will have no choice but to trade Stone, Duchene and likely winger Ryan Dzingel (No. 9), who all did not play on Thursday night to avoid injury.
Unlike uber-talented Blue Jackets winger Panarin, whom the Blue Jackets could keep as an own rental for the playoffs, the Senators are in 31st place and 20 points out of a playoff spot.
Also unlike Panarin, Stone has not closed the door on potential negotiation on a contract extension with an acquiring team, opening the field of teams willing to pay top dollar since he may not be solely a rental. Panarin is on-record as set on making it to the Free Agent Frenzy.
Stone, 26, is believed to be No. 1 on the wish list of his hometown Winnipeg Jets. Nonetheless, numerous teams will be lining up to acquire one of the rare wingers in the NHL who can drive play on his own. Stone is a complete, two-way player north of a point-per-game this season who will garner Selke Trophy votes.
As much as the Senators have made a push to keep Stone, Duchene and Dzingel, they may have hit the jackpot in terms of maximizing their potential return to jumpstart the rebuild.
Stone, Duchene and Dzingel are all having career years. Stone already has a career-best 28 goals and is two points away from matching his high of 64. Duchene is on track for a career-high 82 points. Dzingel has already set a new high of 44 points and is one away from matching his high-water mark in goals (23).
The downside is that the return for Duchene may be less than the king's ransom Dorion paid in Nov. 2017 and the Sens will still need to ice a team next season.
Because by the time Monday night rolls around, Bobby Ryan, J-G Pageau, Zack Smith and Craig Anderson might be the only players left from their run to the Eastern Conference final just two years ago.
Former Senator Mike Hoffman, a Trade Bait staple, has been added to the board with news that the Panthers recently asked him for his no-trade list. He joined in the stead of Carl Hagelin, who was the 17th asset traded off the board on Thursday. The Devils also scratched Marcus Johansson (No. 14) and Ben Lovejoy (41) for Thursday night's game, essentially making it a preseason matchup.
Here is TSN Hockey's latest Trade Bait board, which always seeks to blend a player's prominence with his likelihood of a trade:
The Top 50
| Trend | Player | Pos | Age | GP | G | PTS | Cap Hit | Years |
| --- | --- | --- | --- | --- | --- | --- | --- | --- |
| | 1. Mark Stone, OTT | RW | 26 | 59 | 28 | 62 | $7.35M | UFA |
| | 2. Matt Duchene, OTT | C | 28 | 50 | 27 | 58 | $6M | UFA |
| | 3. Artemi Panarin, CBJ | LW | 27 | 56 | 24 | 67 | $6M | UFA |
| | 4. Wayne Simmonds, PHI | RW | 30 | 60 | 16 | 27 | $3.98M | UFA |
| | 5. Jets' 1st-Round Pick | | | | | | | |
| | 6. Kevin Hayes, NYR | C | 26 | 50 | 14 | 42 | $5.18M | UFA |
| | 7. Mats Zuccarello, NYR | RW | 31 | 45 | 11 | 37 | $4.5M | UFA |
| | 8. Gustav Nyquist, DET | RW | 29 | 60 | 15 | 48 | $4.75M | UFA |
| | 9. Ryan Dzingel, OTT | LW | 26 | 57 | 22 | 44 | $1.8M | UFA |
| | 10. Jimmy Howard, DET | G | 34 | 42 | 2.88 | 0.91 | $5.3M | UFA |
| | 11. Nick Jensen, DET | RD | 28 | 60 | 2 | 15 | $813K | UFA |
| | 12. Sergei Bobrovsky, CBJ | G | 30 | 43 | 2.89 | 0.904 | $7.43M | UFA |
| | 13. Micheal Ferland, CAR | LW | 26 | 51 | 16 | 33 | $1.75M | UFA |
| | 14. Marcus Johansson, NJD | LW | 28 | 48 | 12 | 27 | $4.58M | UFA |
| | 15. Dougie Hamilton, CAR | RD | 25 | 60 | 10 | 24 | $5.75M | 2 |
| | 16. Jack Roslovic, WPG | RW/C | 22 | 59 | 7 | 17 | $894K | 1 |
| | 17. Alexander Wennberg, CBJ | C | 24 | 59 | 2 | 23 | $4.9M | 4 |
| | 18. Adam Henrique, ANA | C | 29 | 60 | 12 | 32 | $5.83M | 5 |
| | 19. Eeli Tolvanen, NSH | RW | 19 | 4 | 1 | 2 | $894K | 2 |
| | 20. Jonathan Huberdeau, FLA | LW | 25 | 58 | 15 | 56 | $5.9M | 4 |
| | 21. Artem Anisimov, CHI | C | 30 | 57 | 10 | 28 | $4.55M | 2 |
| | 22. Derick Brassard, FLA | C | 31 | 49 | 10 | 19 | $5M | UFA |
| | 23. Cody Ceci, OTT | RD | 24 | 55 | 5 | 20 | $4.3M | RFA |
| | 24. Jason Zucker, MIN | LW | 27 | 59 | 14 | 29 | $5.5M | 4 |
| | 25. Mike Hoffman, FLA | RW | 29 | 57 | 26 | 49 | $5.19M | 1 |
| | 26. Brett Pesce, CAR | RD | 23 | 51 | 5 | 15 | $4.03M | 5 |
| | 27. Luke Glendening, DET | C | 29 | 61 | 9 | 20 | $1.8M | 2 |
| | 28. Alex Chiasson, EDM | RW | 28 | 50 | 17 | 27 | $650K | UFA |
| | 29. Andre Burakovsky, WSH | LW | 23 | 54 | 7 | 17 | $3M | RFA |
| | 30. Brayden Schenn, STL | C | 27 | 50 | 11 | 39 | $5.13M | 1 |
| | 31. Eric Staal, MIN | C | 34 | 59 | 17 | 37 | $3.5M | UFA |
| | 32. Justin Faulk, CAR | RD | 26 | 60 | 5 | 21 | $4.83M | 1 |
| | 33. Adam McQuaid, NYR | RD | 32 | 35 | 2 | 5 | $2.75M | UFA |
| | 34. Jeff Carter, LAK | C | 33 | 53 | 10 | 25 | $5.27M | 3 |
| | 35. Chris Kreider, NYR | LW | 27 | 59 | 24 | 44 | $4.63M | 1 |
| | 36. Colton Parayko, STL | RD | 25 | 59 | 10 | 19 | $5.5M | 3 |
| | 37. Alex Steen, STL | LW | 34 | 43 | 6 | 19 | $5.75M | 2 |
| | 38. Patrik Nemeth, COL | LD | 27 | 52 | 1 | 5 | $2.5M | UFA |
| | 39. Jay Bouwmeester, STL | LD | 35 | 55 | 2 | 12 | $5.4M | UFA |
| | 40. Patrick Maroon, STL | LW | 30 | 51 | 4 | 16 | $1.75M | UFA |
| | 41. Ben Lovejoy, NJD | RD | 34 | 51 | 2 | 7 | $2.67M | UFA |
| | 42. Vlad Namestnikov, NYR | LW | 25 | 55 | 7 | 20 | $4M | 1 |
| | 43. Nikolay Goldobin, VAN | LW | 23 | 52 | 6 | 25 | $863K | RFA |
| | 44. Jesse Puljujarvi, EDM | RW | 20 | 46 | 4 | 9 | $925K | RFA |
| | 45. Mikkel Boedker, OTT | LW | 29 | 52 | 6 | 29 | $4M | 1 |
| | 46. Tobias Rieder, EDM | LW | 26 | 45 | 0 | 10 | $2M | RFA |
| | 47. Sven Andrighetto, COL | RW | 25 | 42 | 4 | 9 | $1.4M | RFA |
| | 48. Andreas Johnsson, TOR | LW | 24 | 52 | 15 | 31 | $788K | RFA |
| | 49. Kasperi Kapanen, TOR | RW | 22 | 59 | 18 | 37 | $863K | RFA |
| | 50. Jeff Skinner, BUF | LW | 26 | 59 | 36 | 54 | $5.73M | UFA |
TRADED:
No. 5: Maple Leafs' first-round pick - Toronto to Los Angeles on Jan. 28
No. 6: Cam Talbot - Edmonton to Philadelphia on Feb. 15
No. 8: Derick Brassard - Pittsburgh to Florida on Feb. 1
No. 9: Charlie Coyle - Minnesota to Boston on Feb. 20
No. 11: Brian Boyle - New Jersey to Nashville on Feb. 6
No. 13: Chris Wideman - Ottawa to Edmonton on Nov. 22
No. 14: Tanner Pearson - Los Angeles to Pittsburgh on Nov. 14
No. 17: Jake Muzzin - Los Angeles to Toronto on Jan. 28
No. 27: Alex Petrovic - Florida to Edmonton on Dec. 29
No. 27: Nino Niederreiter - Minnesota to Carolina on Jan. 17
No. 28: Nick Bjugstad - Florida to Pittsburgh on Feb. 1
No. 28: Brandon Manning - Chicago to Edmonton on Dec. 29
No. 35: Michael Del Zotto - Vancouver to Anaheim on Jan. 16
No. 35: Jamie Oleksiak - Pittsburgh to Dallas on Jan. 29
No. 36: Luke Schenn - Anaheim to Vancouver on Jan. 16
No. 39: Carl Hagelin - Los Angeles to Washington on Feb. 21
No. 48: Dale Weise - Philadelphia to Montreal on Feb. 9
Contact Frank Seravalli on Twitter: @frank_seravalli​