Trade-deadline additions of Stastny, Morrow paying big dividends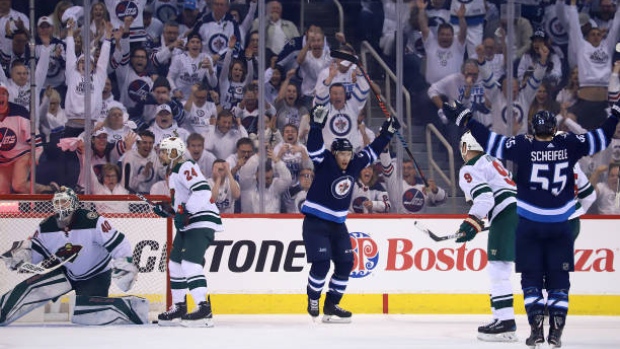 WINNIPEG — Being traded to the Winnipeg Jets this season has turned into a highlight for Paul Stastny and Joe Morrow.
While the February moves disrupted their lives, they've been able to contribute to the success of a team that's heading into the second round of the Stanley Cup playoffs.
Stastny waived his no-trade clause with the St. Louis Blues, who were struggling to keep their heads above water before ultimately missing the playoffs, to continue his 12th NHL season with the Jets.
"Sometimes decisions like that aren't the easiest ones," the veteran centre said Tuesday after Winnipeg practised for its upcoming Western Conference series against Nashville.
"You've almost got to take a step back and kind of really put into perspective what's best for you, what's best for your family, what's best for your career."
The answer has been joining the Jets.
"You look top to bottom, this team has lots of talent, lots of depth," Stastny said. "That's what makes it so intriguing and such a kind of easy decision to come over here and play here.
"I felt like I made the right move, for sure. I have absolutely no regrets."
The Jets have reaped the rewards of Stastny's decision. The 32-year-old played 19 regular-season games following the trade, posting four goals and 13 points as the steadying force on a line with young wingers Nikolaj Ehlers and Patrik Laine.
In Winnipeg's five games against the Minnesota Wild in the opening-round series, Stastny notched one goal and three assists.
Even some of the St. Louis players he spent almost four seasons with have been cheering for the father of two young children.
"They knew (the trade) was tough," Stastny said. "I was close with a lot of those guys. They keep in touch. A lot of them are rooting for me to do well."
Morrow has learned to look on the bright side of all the new addresses he's had in his career.
The Pittsburgh Penguins' 2011 first-round draft pick (23rd overall) was shipped to the Dallas Stars in 2013 and traded the same year to Boston. Last July, he signed as a free agent with the Canadiens and got into 38 games.
"When you get traded, it essentially means another team wanted you," Morrow, 25, said. "When that's the case, you can feed off that positivity. I have been very, very fortunate to be here."
The Jets have been lucky to have him.
Injuries to their blue line propelled the Edmonton native into the lineup right away and he played 18 games, collecting one goal and four assists.
In the post-season, he was the unlikely hero of Game 1 against the Wild when he scored the go-ahead goal late in the third period of a 3-2 victory.
"It's always nice to get rewarded with something like that and such a big stage and scenario for this team, gets its first franchise win in the post-season," Morrow said.
"It's been great to be a part of this city and a part of this team, too."
Even though he's not a well-known face of the franchise, Morrow said fans have recognized him when he's out and about.
"It just shows me that the dedication level of these fans is through the roof," he said.
"They pay attention to more than just the hockey aspect of things when they can recognize you without your gear on and say hi to you and be comfortable in that kind of situation."
The Jets will play their first game against the Predators in Nashville on Friday, but Morrow might find himself in the press box.
Veteran defenceman Toby Enstrom participated fully in Tuesday's practice for the first time since he was injured March 23. He could get into the lineup, bumping out Morrow or Ben Chiarot.
The Jets received good news about Blake Wheeler Tuesday afternoon. The captain is a finalist for the Mark Messier Leadership Award along with Deryk Engelland of the Vegas Golden Knights and Wayne Simmonds of the Philadelphia Flyers.