Trade deadline: Who is the next domino to fall?
With Dustin Byfuglien and Dion Phaneuf off the market, there could be a run on blueliners ahead of the trade deadline, TSN Senior Hockey Reporter Frank Seravalli writes.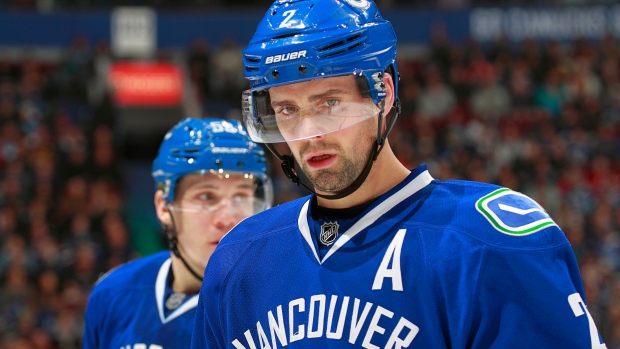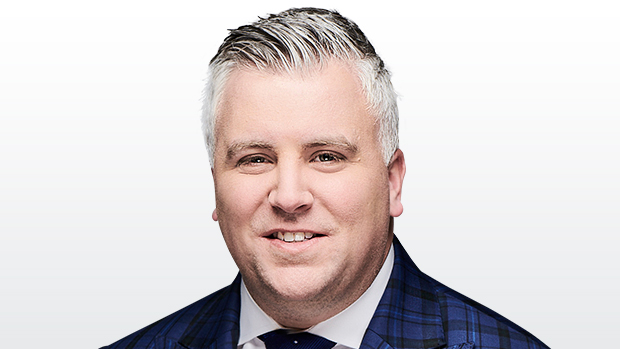 Less than 24 hours after Winnipeg took the premier defenceman available off the market by re-signing Dustin Byfuglien, the belief was the trade deadline powder keg could explode, starting with Jets' captain Andrew Ladd.
Instead, the Senators moved quickly on Dion Phaneuf.
The pool of available impact defencemen has now shrunk considerably in two days.
Will those two moves create a run on blueliners ahead of Feb. 29's trade deadline?
If so, who is the next domino to fall?
The focus has been on Travis Hamonic of the New York Islanders since his summer trade request became public in November, but GM Garth Snow does not seem to be in any hurry to fulfill Hamonic's desire to land with a Western Canadian team. A deal for Hamonic may have to wait until the summer with the Islanders gearing up for a playoff run.
That leaves Vancouver's Dan Hamhuis, Calgary's Kris Russell and Edmonton's Justin Schultz as the next echelon of available defencemen on the market.
No team has a more dire cap situation than the Canucks, which was exacerbated by Hamhuis' first game back on Saturday after two months on the injury list. They are also overloaded on the blueline, forced to sit Alex Biega as a healthy scratch just a few days after he signed a two-year contract extension.
As it stands, Vancouver cannot afford to add even a minimum salary NHL player at the trade deadline. Every other team in the league can bring in a player with a full season salary of at least $1.5 million, according to GeneralFanager.com.
Vancouver's situation needs fixing. An injury to Alex Edler on Tuesday night might provide the necessary cap space for now. But moving Hamhuis, 33, and his $4.5-million cap hit as an unrestricted free agent rental would provide a permanent solution.
The complicating factor with Hamhuis is that he owns a full no-trade clause. He can call his own shot for the rest of the season - and as a British Columbia native, he might want to stay close to home.
Russell, 28, hasn't put up as strong numbers for the Flames as last season. He doesn't have a single power-play assist this season after collecting 13 last year, but he is still a capable, do-it-all defender. He carries a $2.6-million salary cap hit as a pending UFA.
There has been talk all season that the Flames might be considering moving Dennis Wideman, who still has one year left at $5.25 million, but it is unclear how much his 20-game suspension might deter potential suitors. Commissioner Gary Bettman will hear Wideman's appeal on Wednesday in New York. Flames' GM Brad Treliving is expected to be a mover and shaker before the deadline with large contract extensions - perhaps starting at $6 million AAV each - looming for Johnny Gaudreau and Sean Monahan.
Then there is Schultz, the one restricted free agent on the list still under team control for next season, so long as his $3.9 million salary is matched with an equal qualifying offer this summer. Schultz, 25, has failed to live up to expectations despite numerous opportunities in Edmonton. His offensive output is half (0.23 points per game) of what it was (0.56) in the 2012-13 lockout-shortened season after he signed as a highly touted free agent from the University of Wisconsin.
Schultz has now moved into TSN's Top 10 on the annual Trade Bait list, where one team may hope to rejuvenate him. Schultz's former teammate, Nikita Nikitin, is also a possibility out of Edmonton, though he has been buried in the AHL most of the year. Toronto's Roman Polak is also generating interest.
After a torrid start to the week, teams may choose to sit back and evaluate. Prices dropped considerably last season as the hours counted down toward the trade deadline.
Cody Franson, Keith Yandle, Andrej Sekera and Kimmo Timonen all brought back sizable returns in the days and weeks leading up to it.
Aside from Braydon Coburn's swap from Philadelphia to Tampa Bay, which netted a first-round pick, third-round pick and Radko Gudas in the wee hours of deadline morning, the rest of the returns for defencemen were just marginal on March 2. Jeff Petry, James Wisniewski, Zbynek Michalek, Marek Zidlicky and Simon Despres were all acquired for relatively little.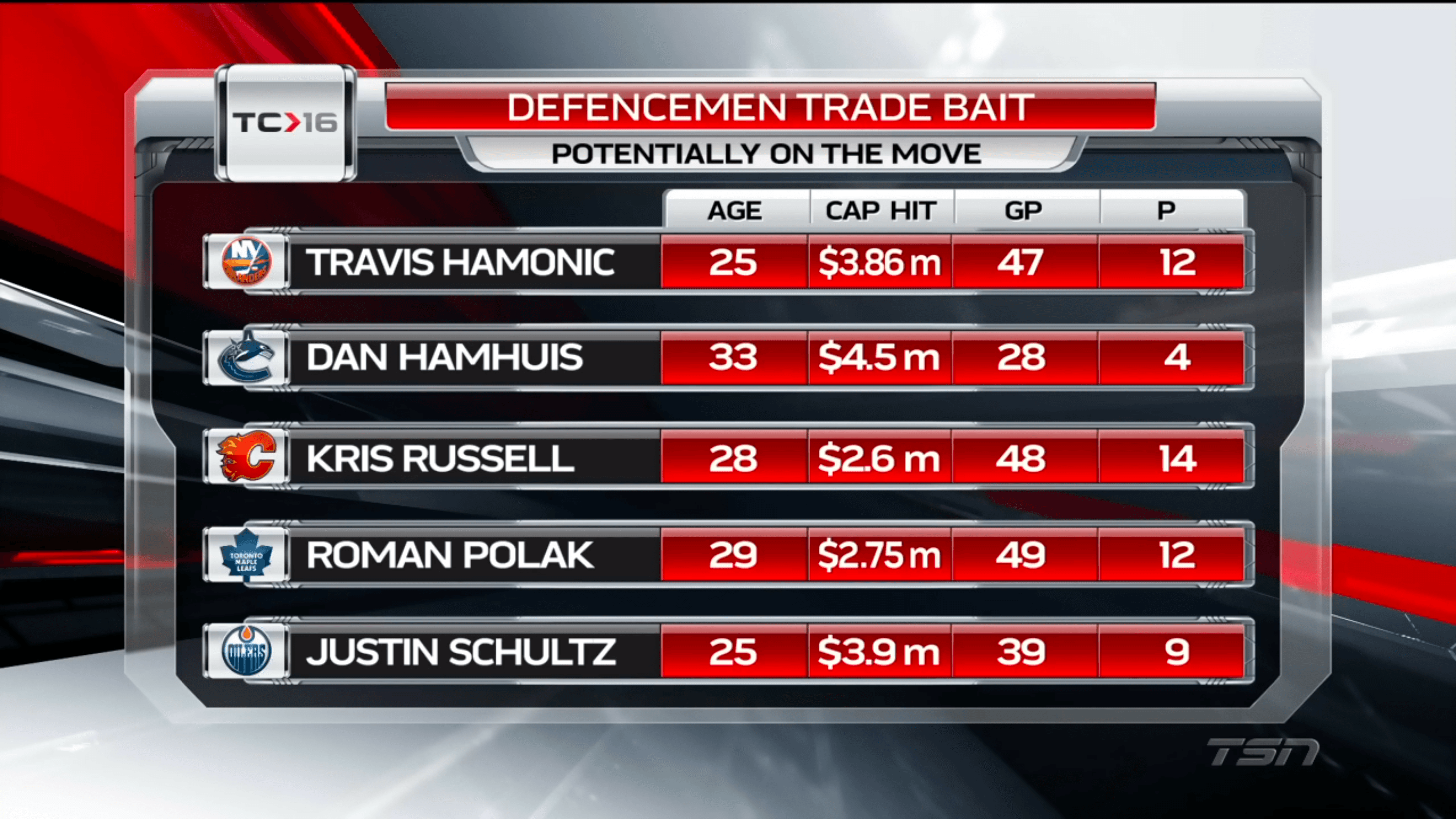 Frank Seravalli can be reached at frank.seravalli@bellmedia.ca