Trade Talk: How free are Nonis' hands in Toronto?
Will Dave Nonis be the architect of the Toronto Maple Leafs' future? Check out today's trade rumours and speculation from around the NHL beat. And follow TradeCentre on TSN and TSN.ca through Deadline Day for all the updates.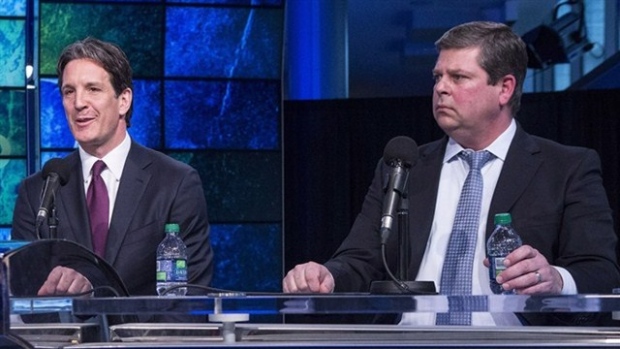 The NHL's Mar. 2 Trade Deadline is approaching and teams are making decisions on whether to buy or sell and decide which players can make the biggest difference and hold the greatest value. Check out today's trade rumours and speculation from around the NHL beat. And follow TradeCentre on TSN and TSN.ca through Deadline Day for all the updates.
Yes or No-nis
Is Dave Nonis going to be around to tackle the Toronto Maple Leafs rebuild?
Examining Leafs President Brendan Shanahan's options for the trade deadline and beyond, TSN Hockey Insider Bob McKenzie laid out three possible scenarios.
The first is to stand by Nonis now and to allow him to make moves that will impact both the present and the foreseeable future, a scenario McKenzie does not see happening at this particular time.
Option two is dismissing Nonis, but McKenzie also does not see that unfolding, arguing that if that were the plan it likely would have happened by now.
The third and most likely option, McKenzie believes, is Shanahan and Nonis seeing what moves can be made in effort to right the Leafs ship between now and the summer and to base Nonis' future with the club on his ability to get creative.
GM of the club since 2013, McKenzie stated that Nonis' fingerprints are all over the current state of the Leafs. While the acquisition of many of the Leafs' current core - Phil Kessel, Dion Phaneuf and Tyler Bozak, among others - occurred under Brian Burke's tenure, Nonis has been responsible for locking those same players into long-term deals, in addition to spending big on David Clarkson and engineering a trade for struggling netminder Jonathan Bernier.
Seventh in the Atlantic and 12 points out of the nearest playoff spot, the Leafs are believed to be sellers heading into the trade deadline, with pending unrestricted free agents Cody Franson, Mike Santorelli and Daniel Winnik among the most likely trade candidates.
McKenzie added that while he expects some surgery to be done to the Leafs' core, he doesn't expect it to happen immediately. "It's not a matter of 'if' some of these players are going to be traded," he said. "It's a matter of: When? How? and Where?"
End of the Road?
In a year where NHL fans saw Martin Brodeur suit up as a member of the St. Louis Blues, perhaps it's not unthinkable to imagine Patrik Elias in colours other than red and black.
A Devil since 1995-96 and the club's all-time leading scorer, Elias has one year remaining beyond this season on his three-year contract worth an average annual value of $5.5 million.
But with the Devils sixth in the Metropolitan Division and 13 points out of a playoff spot, the Czech vet may at least be considering a move elsewhere for one last kick at the can, according to Devils reporter Rich Chere.
"You want to give yourself a chance to compete for the Cup. That means getting into the playoffs," Elias told Chere. "Trust me, I know how hard it is. Especially the last few years. The way the salary cap is structured changed the game."
However, he also is in no rush to leave East Rutherford just for the sake of change.
"There are people who say to me, 'Listen, maybe it's time to try to go somewhere else and have another run at it,' " Elias aid. "But I think 90 percent of the people I know still feel it's pretty unique and pretty awesome to have played on one team.
Logjam Drivers
Ryan Murray's return from the injured reserve has created a surplus of blueliners in Columbus.
The Blue Jackets had only 10 forwards healthy enough to skate on Monday but still had enough D-men on the roster (nine, at present) to fill the void.
However, as Columbus Dispatch reporter Shawn Mitchell writes, the team is not looking to just give their wealth of blueliners away via the waiver wire.
The Jackets could look to move Jordan Leopold, Cody Goloubef and/or Kevin Connauton before Mar. 2, in a move to shore up the future.
"That doesn't at all mean that we've given up (on this season)," Jackets GM Jarmo Kekalainen told the Dispatch, "but the main focus is on doing what's best for the future of the club."