Trade Talk: Mr. Sharp goes to Washington?
Could Patrick Sharp be heading to the Washington Capitals? Which defencemen interest the Detroit Red Wings? Check out today's trade rumours and speculation from around the NHL beat, including the latest with the Blackhawks, Red Wings, Maple Leafs, and Flyers.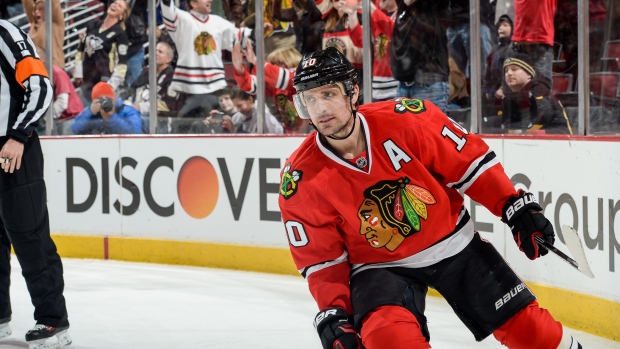 More tricks up his sleeve?
The Chicago Blackhawks got into the pre-trade deadline fun on Friday, landing former Philadelphia Flyers D Kimmo Timonen, but according to a report, aren't done there.
Tracy Myers of CSN Chicago reports Blackhawks GM Stan Bowman is still looking to make another acquisition before the deadline.
"We're not done making calls. It's been a long day today. I'm sure it will be tomorrow and the next couple of days. You can't predict where it'll go; it takes two sides to make a deal but we're going to keep trying," Bowman said. "We're looking for a forward. Hopefully it works out but if not we'll go with what we've got."
Adding to the speculation, TSN Hockey Insider Pierre LeBrun of ESPN.com tweeted the Blackhawks have looked in on players like Cam Atkinson, Erik Cole, and Curtis Glencross.
And Chris Kuc of the Chicago Tribune adds a potential blockbuster to the mix, reporting a source as saying the Blackhawks have had conversations with the Washington Capitals regarding Patrick Sharp.
The End of Oil
Jeff Petry appears to be done as an Edmonton Oiler.
The Edmonton Sun's Terry Jones reported that Petry will be a healthy scratch tonight against St. Louis, signifying that his exit from Oil Country is almost certainly a matter of "when" and no longer "if".
Edmonton has been testing the market on Petry and may be poised for a significant return with pending-UFA defencemen like Cody Franson and Andrej Sekera already off the market.
The 27-year-old has scored four goals and 11 assists in 59 games with the Oilers this season.
Potential Returns
Building off Kuc's tweet, Chuck Gormley of CSN Washington explores the potential Sharp to Washington trade.
Gormley lists possible players that could head back to Chicago to make the deal happen, including Joel Ward, Troy Brouwer, and Mike Green.
"And if Sharp is moved, whom might the Blackhawks want in return? Joel Ward, who is in the final year of his contract? Former Blackhawks right wing Troy Brouwer, who has one year and $3.75 million left on his deal with the Capitals and is 29 years old?"
"Maybe the Hawks are interested in Mike Green, who is in the final year of his contract and would look pretty good on a blue line that just added Kimmo Timonen."
Talk in Toronto
While most pre-deadline day talk has centred around Phil Kessel, Tyler Bozak's name has been passed around by GMs as well.
Rob Longley of the Toronto Sun reports that Toronto Maple Leafs GM Dave Nonis has shown he will make trades, and that Bozak could be the next player on the move.
"It will take a willing partner, of course, but as the deadline nears, whispers get louder that the Leafs are attracting interest in big names. The Rangers, we keep hearing, are poking around, wondering what it would take to secure centre Tyler Bozak.
Longley also mentions Leafs captain Dion Phaneuf, and the rumblings that the Los Angeles Kings could be interested.
Defence for Detroit
The Leafs may have one potential suitor for Phaneuf in the Kings, but it's unlikely they have another in the Detroit Red Wings.
Ansar Khan of MLive reports the Red Wings are likely to steer clear of Phaneuf and his big contract in their pursuit of a defenceman at the deadline.
"I think they'll stay clear of Phaneuf. He'd be an upgrade with his booming shot, albeit left-handed, and physical presence, but it makes no sense to assume that contract, which has six more years at a cap hit of $7 million."
"They have ample cap space now, but that isn't necessarily going to be the case next season or the year after. They've got several players up for new deals - Gustav Nyquist and Brendan Smith after this season; Darren Helm, Justin Abdelkader and Danny DeKeyser in 2016."
"And the Maple Leafs aren't just going to give away Phaneuf."
Khan also believes Columbus Blue Jackets defenceman James Wisniewski's contract will be too expensive for the Red Wings to pursue but added someone like Marek Zidlicky could better fit their plans.
"If they can acquire Marek Zidlicky from the New Jersey Devils at a reasonable price I could see that happening. He would need to waive his no-trade clause."
Long-term Solutions
The Ottawa Senators are willing to ship away some of their assets, but they're looking for keepers in return.
Bruce Garrioch of the Ottawa Sun reports Senators GM Bryan Murray isn't in the market for a rental player.
"While Murray is willing to discuss just about any deal, he doesn't anticipate acquiring another player who could help the Senators get back into the playoff race unless it was a contract-for-contract trade because he's not going to bring in any rental players either."
Names Garrioch mentions as available in Ottawa include Colin Greening, David Legwand, Erik Condra, Milan Michalek, Chris Neil, and Patrick Wiercioch.
Flooding the Market with D
Kimmo Timonen is in Chicago and the Philadelphia Flyers still have plenty of defencemen on the market.
Frank Seravalli of Philly.com reports the Flyers aren't yet done dealing defencemen.
"Hextall still has eight defensemen left on the roster - and six of them are already signed for next season, not including valuable restricted free agent Michael Del Zotto."
"That does not leave any room for the Flyers' top prospects who are knocking at the door of the NHL."
"In other words, the Flyers are not done dealing ahead of Monday's 3 o'clock deadline."
Three names Seravalli brings up as available from Philadelphia are Braydon Coburn, Luke Schenn, and Nick Grossmann.
Even Moore
Also on the market? New York Rangers' defenceman John Moore.
Brett Cyrgalis of the New York Post reports the Rangers are shopping the "ultra-talented but frustrating defenceman."
"The 24-year-old Moore is being speculated as prime trade bait because he carries a small $851,000 salary-cap hit this season and will be a restricted free agent this summer. That, and the fact the Rangers would like to solidify their depth lines up front — especially down the middle — and also make an upgrade on their third-pair defensive unit, which has been shaky with either Moore or Matt Hunwick back there."
Norway Out?
The New York Rangers appear likely to move forward Mats Zuccarello prior to Monday's deadline.
According to ESPN's Katie Strang, the Rangers have let competing clubs know that the diminutive winger is available.
The five-foot-seven winger signed a one-year deal prior to this season worth $3.5 million. Zuccarello has scored 12 goals and 23 assists in 58 games so far this season and was a playoff standout last year as the Rangers made it to the Cup Final.
Strang reports that Zuccarello and the Rangers have a "significant chasm to bridge" if they hope to reach a new deal prior to Monday.