Trade Talk: Would trading Yandle make sense for Rangers?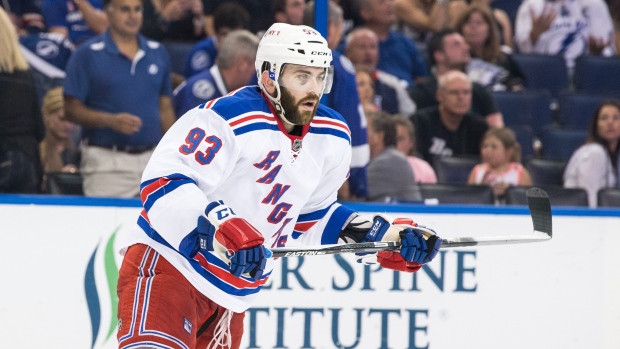 The NHL's Feb. 29 Trade Deadline is approaching and teams are making decisions on whether to buy or sell and decide which players can make the biggest difference and hold the greatest value. Check out today's trade rumours and speculation from around the NHL beat.
Bidding war
The New York Rangers need to figure out exactly how they want to use their defencemen down the stretch run and into the playoffs.
Larry Brooks of the New York Post breaks down the Rangers' possible plans leading up to the Trade Deadline. Brooks said the Rangers need to make a decision on Keith Yandle and how much they want to feature him. If they decide the best choice is to move him, Yandle could create a bidding way amongst Western Conference teams.
Brooks also says that if he could net Andrew Shaw from the Chicago Blackhawks, it would be a no-brainer.
Just want to play
Vancouver Canucks forward Brandon Prust has lost his regular spot in the team's lineup and could be a prime candidate to be moved at the Trade Deadline.
According to Brad Ziemer of the Vancouver Sun, Prust's agent Claude Lemieux said they haven't asked for a trade but would expect one if things don't change soon regarding his playing time.
Staying put?
Whether Steven Stamkos ultimately signs a contract extension with the Tampa Bay Lightning or not, the possibility of the star centre getting moved at the Trade Deadline seems unlikely.
TSN Hockey Insider Pierre LeBrun of ESPN.com said that Stamkos likely won't make this important career decision midway through a season and doesn't have to because he has a no movement clause. LeBrun added that while it may never have been an actual possibility, the Lightning are even less likely to trade Stamkos now that they are playing better and once again solid contenders in the Eastern Conference.
Speaking of players that may not be on the move come the Trade Deadline, TSN Hockey Insider Darren Dreger noted that the Winnipeg Jets moving Andrew Ladd isn't yet a sure thing. Dreger said that Ladd hasn't yet been told he's on the market and that the team could still be open to signing the left winger to a long-term deal, somewhere around six years and $6 million per.
And TSN Hockey Insider Bob McKenzie added that one player who could be moved on the rental market is Jiri Hudler. McKenzie said that despite the Calgary Flames' forward having an off-year, he could still be enticing to teams looking to make a playoff push.
A perfect fit
If Ladd is moved, LeBrun thinks the Florida Panthers would be a perfect fit.
The Panthers should shift their focus to the Trade Deadline with Aleksander Barkov locked up long term now, and Ladd would fit their need for a scoring winger.
Panthers GM Dale Tallon told LeBrun he wouldn't spend too much on a rental player but if Ladd is made available for a reasonable price, Tallon - who knows the winger from their time together in Chicago - could pounce.
Decision to make
LeBrun also touched on the Radim Vrbata situation in Vancouver. The Canucks are still very much in the playoff chase, which could mean they will hold on to the winger for the season, even if it means losing him for nothing as a free agent.
The Canucks, who will be flush with cap space this off-season, could be major players in free agency.