Travis hurt; named Jays' top player for April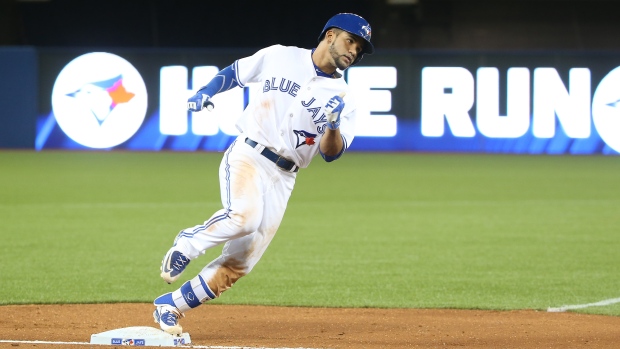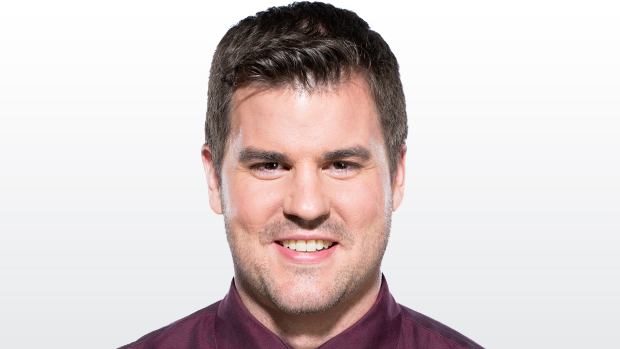 CLEVELAND - Devon Travis was held out of the Blue Jays' lineup Friday night with a bruised collarbone suffered when he was hit by a line drive one hopper in the third inning of Thursday's 5-1 win over the Indians.
"Immediately when I got hit I knew it hurt but I figured I'd better go get the ball, finish the play," said Travis. "After that, the rest of the game was not too much fun."
The news was the best case scenario, all things considered. Travis was given an X-ray, which provided an inconclusive read and so he had a follow up CT scan.
"That was pretty scary," said Travis. "I got the X-ray and I'm kind of just sitting in the room and (trainer George Poulis) comes back out and tells me there's a spot they want to get a CT scan on just to make sure they're seeing it right. Thankfully nothing's broken so that's good."
Until Friday, Travis had started all but one game this season. He was hit in the ribs by a Shelby Miller pitch in the first inning of the April 19 game versus Atlanta and left the game after a pickoff attempt at first base. Following an off-day he missed the April 21 series opener against the Orioles and returned the next night.
Knowing there's no crack, Travis is hopeful he'll return on Saturday.
"Bodies heal quick and George and (assistant trainer Mike Frostad) in there, they've already gone through two rounds of treatment today so I wouldn't see how I won't be able to get back in there tomorrow," said Travis.
Without both Jose Reyes, on the disabled list with a cracked rib and muscle strain, and Travis, manager John Gibbons bumped everyone up a spot. Josh Donaldson led off Friday's game followed by Jose Bautista, Edwin Encarnacion and Russell Martin hitting cleanup.
Even if the absence is brief, Travis will be missed.
He was announced as the Blue Jays' player of the month, voted on by the Toronto chapter of the Baseball Writers' Association of America.
Travis was an obvious choice. He hit .325 in April, leading the club in home runs (6), RBI (19), extra base hits (12), on-base percentage (.393) and slugging percentage (.625).
"None of it makes sense, man," said Travis. "It's been a dream, really, this first month. My whole life I grew up dreaming of playing in the big leagues and I don't think I could have drawn it up any better than this. It's way better than I could have imagined; if that's possible."
NORRIS DEMOTION PART OF BROADER PLAN
CLEVELAND - Didn't see this one coming.
The Blue Jays made a surprising move in advance of Friday night's game against the Indians, optioning rookie left-hander Daniel Norris to Triple-A Buffalo less than 24 hours after a rough outing against the Indians.
"He just needs to go down and iron it out a little bit," said manager John Gibbons. "He's too inconsistent right now. I think it's for his own good; go down and get back on track."
Canadian left-hander Andrew Albers, a native of North Battleford, Saskatchewan, was selected from Buffalo to take Norris' roster spot. He'll pitch in relief.
To make room on the 40-man roster for Albers, infielder Maicer Izturis was transferred to the 60-day disabled list. He injured his groin in spring training.
Right-hander Marco Estrada will replace Norris in the rotation and is scheduled to start on Tuesday against the Yankees.
As is the custom, Norris had cleared out his locker by the time the clubhouse opened to the media three-and-a-half hours before first pitch. But he sent a message to fans on his Twitter account, @danielnorris18, which said, "Challenge accepted."
He heads to Buffalo with the best ERA of anyone in the Jays' rotation but that 3.86 number is deceiving. He has a 5.12 FIP and a 1.500 WHIP, meaning he averages a base runner-and-a-half each inning. Norris' walk rate of 4.6 per nine innings didn't help, although he's hardly the lone offender on the staff in that department.
Norris' three scoreless innings on Thursday were laborious. He threw 78 pitches and barely escaped a bases loaded, one out jam in the second. In one eight hitter stretch, he went to a full count six times.
"He battles his delivery, repeating it," said Gibbons. "He's always been that way but he's gotten better and eventually he'll get even better."
Reading between the lines, it would seem the club his hoping for two things to happen. Yes, there's that word "hope" again.
First, that Estrada pitches well and eats enough innings to hold down his spot. He has a career 4.20 ERA in 71 games started but struggled last season in Milwaukee, giving up 27 home runs in 18 starts before a second half move to the bullpen salvaged his season.
He's been a fastball, changeup pitcher in relief. Estrada will have to expand his repertoire as a starter. He toyed with a cutter during spring training, a pitch he hadn't thrown regularly since 2011.
"The way we looked at it, we've been talking about that a little bit anyway the last couple of weeks and in spring training he was up for the job and then he got hurt," said Gibbons. "He's got experience doing it. Realistically, I like what he's been doing in the bullpen but he's kind of a natural fit and we'll give that a shot and see how it works. If we have to adjust we'll adjust."
The second part of the "hope" equation: Norris quickly finds his groove in Buffalo and is back in the Jays' rotation. A demotion to the Bisons last May worked nicely for Marcus Stroman.
"That point was brought up to him, too," said Gibbons.
If both of those scenarios play out the door is opened to move Aaron Sanchez to the bullpen.
When presented with the theory, Gibbons coyly smiled.
"You never know," said Gibbons. "You know I don't deal with hypotheticals."
Regardless, the Jays remain a team searching for the proper pitchers to fill the proper roles. It's the latest in a series of "hope" plays and, undoubtedly, the club is hoping this one works.