Treliving on Flames: 'I'm not ready to give last rites'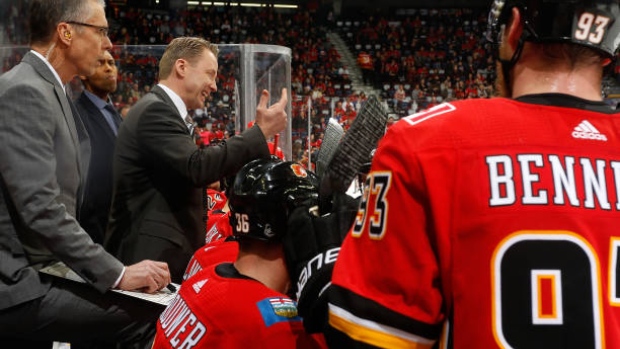 BOCA RATON, Fla. — Calgary Flames general manager Brad Treliving says he isn't going to rush into any decisions with his team's playoff hopes in tatters.
The Flames suffered a 5-2 road defeat to the lowly Arizona Coyotes on Monday night — their third straight regulation loss — to fall six points back of the second wild-card spot in the Western Conference with just eight games left on the schedule.
Calgary was sitting in a playoff position on Feb. 25, but is just 3-7-1 since over a miserable 11-game run to tumble down the standings.
"It's been a disappointing stretch," Treliving said at the NHL GMs meetings in Florida. "We've underperformed, no question. But I'm not ready to sit here and give last rites and do a post-mortem.
"There's still hockey to play, but it's certainly disappointing recently this slide that we're on."
To make matters worse for a club that's been outscored a combined 16-6 over its last three outings, every team ahead of the Flames in the chase for the final few playoff spots in the West has games in hand.
Calgary hosts the Anaheim Ducks on Wednesday night.
"It's been a tough stretch for us," Treliving said. "It's put us in a real tough spot. It's frustrating, so we'll get ready for our next one, but we certainly put ourselves in a position where the hill's is that much steeper and we're going to have to address some things."
One of those things could be the future of second-year head coach Glen Gulutzan, who guided Calgary to the playoffs last season before losing out in the first round.
Adding to that sting of likely missing post-season with a roster led by Johnny Gaudreau and Sean Monahan up front is that the Flames don't have a first- or second-round pick at the 2018 draft. Calgary dealt those selections along with a 2019 second rounder to the New York Islanders for defenceman Travis Hamonic last June.
It's conceivable that Calgary could miss the playoffs, win the draft lottery and not have a selection until the third round
"That's a fair statement," Treliving said when asked if that makes the prospect of not playing spring hockey even tougher.
Flames goalie Mike Smith, who was acquired from Arizona in the off-season, reflected on the disappointment he's feeling after Monday's game in the desert.
"As you get older you start to cherish the times that you have a chance to play on good teams and play on a playoff team," said Smith, who turns 36 on Thursday. "On paper you look at our team and we should be a lot further ahead than we are. I think that's the frustrating part about this season, how it's gone. We've underachieved by a lot.
"It's definitely been a season of up and downs ... we've definitely left a lot out there."
Treliving said being shocked about the Flames' current predicament doesn't do him or anyone else in the organization any good.
"We are where we are," he said. "A wise man once said you are what your record says you are."