Trouba gets match penalty for high hit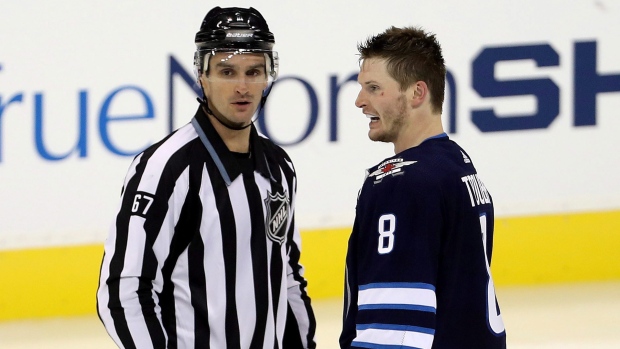 Winnipeg Jets defenceman Jacob Trouba received a match penalty on Monday night for his high hit on Calgary Flames forward Marek Hrivik.
The incident occurred four minutes into the third period, when Trouba hit Hrivik as he entered the offensive zone.
Garnet Hathaway of the Flames dropped the gloves with Trouba immediately after the hit and wrestled him to the ice. Hrivik remained down for several seconds but skated off under his own power.
Trouba was handed a match penalty for an illegal hit to the head and is suspended pending league review of the hit.
Jets head coach Paul Maurice said after the game he doesn't expect Trouba to face further discipline.
"I've looked at it a bunch of times," Maurice said, per NHL.com. "I understand the call on the ice, just the way it looks because of the angles of the referees. And I want that call in exhibition, you don't want to miss something like that and the game gets right out of hand. But I think you'll find it end up being a clean hit."
Trouba was suspended two games in February for a hit to the head of Ottawa Senators forward Mark Stone.