TSN.ca Free Agent Frenzy blog: Follow the latest updates
Happy Canada Day and strap in for a July 1 full of wheeling and dealing. Except Canadian teams to be active throughout the day. Check in here for the latest rumours and confirmed deals.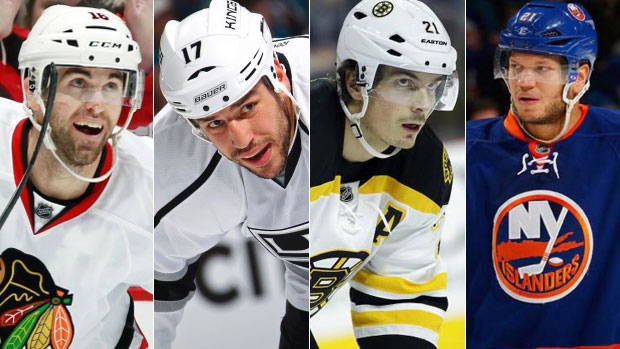 Happy Canada Day and strap in for a July 1 full of wheeling and dealing. Except Canadian teams to be active throughout the day. Check in here for the latest rumours and confirmed deals.
(All times ET)
--
5:29pm - Isles keep one of their own:
5:27pm - A note on the Okposo deal with Buffalo:
5:07 - Mikkel Boedker signs with San Jose:
5:02pm - Teddy Purcell is pulling a Biggie Smalls (or LL Cool J, if you prefer):
4:48pm - What do the reporters have to say?
4:41pm - Jets add to the blue line:
4:36pm - A short-term deal for the Red Wings:
4:30pm - Another signing for the Coyotes:
4:23pm - Depth all day for the Sens:
4:19pm - The next bit of business for Stevie Y. and the Bolts?
4:07pm - Not a free agent, but it's a signing. Aaron Ekblad gets a bumper new deal in Florida:
4:02pm - A note from Kris Russell's agent:
3:44pm - Thomas Vanek heads to Motown:
3:37pm - The Panthers aren't concerned about the health of Roberto Luongo:
3:35pm - Maple Leafs sign Matt Martin:
3:30pm - Another former Leaf to the Oilers:
3:30pm - A depth signing for the Bolts:
3:14pm - Wiercioch's deal confirmed by his new club:
3:14pm - The Canucks add another:
3:05pm - Patrick Eaves is staying in Dallas:
3:04pm - Clarification on Brian Campbell's return to Chicago:
3:00pm - Only the Leafs and Ducks haven't made a move today, but that could be about to change:
2:47pm - Fedor Tyutin joins the Avs' blue-line corps:
2:43pm - The Habs lock up their first-round pick:
2:40pm - Joe Colborne does what Von Miller won't and signs in Denver:
2:39pm - Andrei Vasilevsky re-signs in Tampa:
2:27pm - A fresh start for a former first rounder
2:23pm - It's been depth all day for the Sens:
2:19pm - Lee Stempniak heads to Raleigh:
2:18pm - Flyers stay busy:
2:12pm - Rangers confirm another signing in short order:
2:06pm - Yet another defenceman for the Habs:
2:05pm - Grabner has company in Manhattan:
2:02pm - A former Leafs heads to the Rangers:
2:00pm - They acquired him last week and now the Devils sign Beau Bennett:
1:56pm - Sabres looking for some help in goal:
1:47pm - Stars sign Dan Hamhuis:
1:43pm - Canadiens sign Alexander Radulov:
1:40pm - Devils re-up DSP:
1:35pm - Shawn Matthias is heading to Winnipeg:
1:30pm - Jon Merrill stays in Jersey:
1:28pm - Victor Hedman gets a massive extension:
1:26pm - The Preds sign a defenceman named Weber...just not that one:
1:25pm - The Habs bring in a back-up goalie:
1:16pm - Viktor Stalberg is heading to the 'Canes:
1:14pm - Milan Lucic isn't the only Monster going to Edmonton:
1:13pm - Could Dam Hamhuis be heading to Big D?
1:04pm - Dale Wiese heads to Philly
1:02pm - It appears the Oilers are satisfied with their blueliners after the Larsson deal...well, unless something changes:
12:56pm - Some depth in Phoenix:
12:56pm - David Shlemko is headed west.
12:50pm - Some more details on Lucic's deal with the Oilers:
12:48pm - Stone Cold Steve Austin would be proud:
12:45pm - Vern Fiddler is going to Jersey:
12:44pm - Confirmation on numbers for Ben Lovejoy and the Devils:
12:43pm - Jamie McGinn to the Desert Dogs
12:38pm - Even more depth for the Senators:
12:37pm - After committing to him with the trade of Elliott, the Blues reward Jake Allen:
12:35pm - Some confirmation on the Chimera numbers:
12:34pm - Flames find a back-up for Brian Elliott:
12:32pm: 'Hawks grab a former Leafs prospect for depth:
12:31pm: Chris Stewart goes to the Wild.
12:30pm - It's only been half an hour. Wow.
12:29pm - Jason Chimera stays in the Metropolitan:
12:23pm - Eric Staal heads to Minnesota
12:20pm - Troy Brouwer is a Calgary Flame
12:18pm - Kyle Okposo signs with the Sabres:
12:18pm - John-Michael Liles stays with the Bs.
12:17pm - Even more depth for the Pens
12:16pm - Brian Campbell's return to Chicago is confirmed:
12:15pm - Loui Eriksson signs with the Canucks:
12:14pm - David Backes heads to Boston:
12:12pm - That's a lot of money handed out thus far today:
12:11pm - David Perron re-signs with the Blues
12:10pm - Some depth for the Panthers:
12:09pm - Franz Nielsen to Detroit
12:06pm - Defensive depth for the Sens:
12:03pm - Andrew Ladd is a New York Islander:
12:02pm - James Reimer to Florida:
12:02pm - Milan Lucic is an Oiler:
12:00pm - HERE WE GO
11:58am - Sounding more and more like Wiese to Philly could happen"
11:57am - T-MINUS THREE MINUTES
11:46am - Another confirmed signing for the champs:
11:39am - This could be a really fun Canada Day for Andrew Ladd:
11:38am - Are the St. Louis Blues about to lose their captain?
11:34am - One thing is for sure - Wiese has pared down his options:
11:32am - Could Dale Wiese be staying in the Eastern Conference?
11:31am - A confirmed signing by the Stanley Cup champions:
11:25am - A fresh start for a former Sens D-man?:
11:10am - David Perron has no shortage of options:
11:01am - It could happen really quickly right after noon, folks. Buckle up:
10:56am - The Islanders will likely be active today, but don't expect them to retain any of their own free agents:
10:54am - More non-free agency news, this time out of Manhattan:
10:51am - The Wings are retaining one of their own:
Marchenko appeared in 66 games last season for Detroit, scoring twice and adding nine helpers.
10:43am - A reunion is in the works in Chicago:
Campbell, 37, spent three seasons with the 'Hawks from 2008 to 2011 and won a Cup with them in 2010.
10:42am - Non-free agent news, but news nonetheless:
10:35am - A helpful reminder to not get burned by fake accounts. If you're already following Bob McKenzie or Darren Dreger, you're going to see their tweets in your feed. If you see a tweet purportedly from them retweeted into your feed, it's probably fake. Look at this one:
The account has three followers and one tweet. It's obviously not real. Note the lack of verification checkmark. Be vigilant.
10:28 am - Uh, this is sort of unexpected.
Turning 30 in a few days, Radulov has spent the last three seasons with CSKA Moscow of the KHL.
10:27am - So that Jason Demers-to-the-Oilers deal might not be a lock, after all.
10:26 am - One from earlier this morning: Darren Helm is staying with the Detroit Red Wings for five years and $19.25M
10:25am - Good morning, everybody. I hope you're all listening to Gordon Lightfoot and chugging maple syrup on this most joyous of Canada Days. Steven Stamkos is off the board, but that doesn't mean today won't be fast and furious.