TSN.ca NBA deadline blog - Raps landing Gasol in blockbuster
Welcome to TSN.ca's NBA trade deadline blog. The trade deadline has come and gone. The Raptors landed Marc Gasol, while Nikola Mirotic is headed to the Bucks.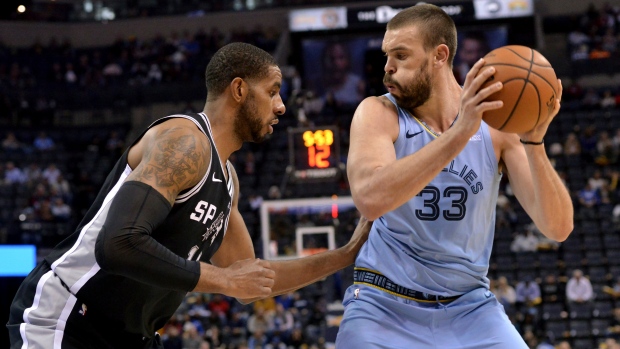 It was a day to remember on TSN.ca's NBA trade deadline blog.
The Raptors landed Marc Gasol, Nikola Mirotic is headed to the Bucks, and former No. 1 pick Markelle Fultz is heading to the Magic.
Take a look at the deals as they happened in real time on TSN.ca.
---
4:20pm - As expected, Z-Bo will never suit up for the Mavs.
Shams reports that Randolph will be waived by the club and head to the buyout market.
---
3:40pm - MORE ON MOOSE - The Athletic's Michael Scotto reports that the Raptors will receive cash considerations for Greg Monroe
Monroe signed as a free agent from the Celtics in the summer.
---
3:36pm - Add Ben McLemore to the buyout market.
Sam Amick reports the Kings are waiving the former seventh overall pick.
---
3:23pm - The Pacers are getting some wing help.
Shams reports that veteran sharpshooter Wesley Matthews will be heading to Indy when his buyout from the Knicks is finalized.
---
3:21pm - Robin Lopez is headed to market.
Woj reports that the Bulls are attempting to buyout the big man who will no doubt be scooped up a playoff-bound team.
---
3:18pm - Look for the Pistons (really?) to be hot on Wayne Ellington.
Woj says Detroit will be among the teams who goes hard on the guard once his buyout from the Suns is completed.
---
3:13pm - RAPS MAKE ANOTHER MOVE: Greg Monroe is headed to the Nets
Shams reports Moose is headed to Brooklyn along with a second-round pick.
---
3:06pm - The Brow is sticking put.
His agent Rich Paul tells The Athletic's Joe Vardon that Anthony Davis has not been traded. What will be interesting to see now is whether or not he steps onto a court for the rest of the season.
---
3:04pm - LATE TRADE - See? I told you - The Boston Celtics have dealt Jabari Bird to the Atlanta Hawks, according to Chris Haynes.
Bird has not played this season due as he's on a leave of absence due a domestic violence arrest in the summer. So why does this matter? Well, he's officially off the Celtics' roster now, which opens them up to get involved in the buyout market.
Bird is expected to be waived and is unlikely to play in the NBA this season.
---
3:00pm - TRADE WINDOW CLOSED
And breathe, everybody. As a reminder, there is a good chance deals could still trickle in over the next little while
---
2:57pm - It looks like the protracted exit of Enes Kanter from the Knicks is finally at hand
Woj reports that the team and the big Turk are "working on a separation" that could be done by day's end.
---
2:44pm - Markelle Fultz is headed south.
According to multiple reports the Philadelphia 76ers are trading the 2017 first-overall pick to the Orlando Magic.
Shams Charania of The Athletic reports the Magic will send Jonathon Simmons, Oklahoma City's first-round pick, and Cleveland's second-round pick to Philadelphia.
Fultz last played on Nov. 19 due to a shoulder injury.
---
2:38pm - Mike Conley is staying put.
According to ESPN's Adrian Wojnarowski, the Memphis Grizzlies have decided to hold on to the point guard after discussing multiple trade options.
---
2:31pm - The Los Angeles Lakers jump into the trade market, but not for Anthony Davis.
The Clippers are trading Mike Muscala to the Lakers for Michael Beasley and Ivica Zubac, according ESPN.
Wojnarowski adds the Lakers will look to sign a player from the buyout market to fill their vacated roster spot. He notes the Lakers will consider Carmelo Anthony, among others.
---
2:31pm - Kings and Blazers swap
The Sacremento Kings have traded Skal Labissiere to the Portland Trail Blazers for Caleb Swanigan, per ESPN.
---
2:26pm - Barring the unforeseen, it appears Anthony Davis is going nowhere.
Marc Stein doesn't believe that the Pelicans will be moving their superstar on.
---
2:14pm - "It's an evil world" NBA players live in.
Nets star Spencer Dinwiddie expresses disbelief at the Raptors' trade of JV on the day he was set to come back
---
2:00pm - ONE HOUR REMAINS
---
1:59pm - What are the ramifications of this trade?
Lowe wonders if that means Serge Ibaka heads back to the four or is he going to the bench?
---
1:53pm - GASOL TO TORONTO - The Raps are close to landing Marc Gasol. More to come.
Hang on.
Jonas Valanciunas, Delon Wright, CJ Miles and a 2024 second will head to Memphis.
---
1:34pm - What exactly are the Raptors up to? Josh Lewenberg says they're getting aggressive:
---
1:30pm - Leo Rautins and Laura Diakun discuss what kind of pressure Masai Ujiri and Bobby Webster could be facing right now:
---
1:21pm - With Harris to Philly and Mirotic to Milwaukee, the gauntlet has been thrown down in the East, but does that mean anything for Toronto or Boston?
As Josh Lewenberg notes, Masai Ujiri isn't a reactionary-type, but surely the Raps will be looking to make their own mark in the next 90 minutes.
---
1:17pm - Look for the Pacers to stay busy.
Stein reports that Indy will be in the market if Wesley Matthews is bought out by the New York Knicks as expected.
They are also expected to waive Stauskas and Baldwin.
---
1:10pm - ANOTHER TRADE - I really hope Nik Stauskas and Wade Baldwin didn't pay this month's rent in Houston.
Days after being traded by the Portland Trail Blazers to the Cleveland Cavaliers...and then to the Rockets, the duo is on the move again.
Mississauga, Ont.'s Stauskas and Baldwin are now headed to the Indiana Pacers...until they're traded again.
The Pacers will also receive a second-round pick and cash from the Rockets.
---
1:00pm - TWO HOURS REMAIN
---
12:55pm - First big trade of the day
The Milwaukee Bucks have acquired Nikola Mirotic from the New Orleans Pelicans, ESPN reports.
Adrian Wojnarowski reports the Bucks will send Jason Smith and Stanley Johnson back to the Pelicans.
Mirotic, 27, is averaging 16.7 points and 8.3 rebounds per game in 32 contests this season.
Woj notes there is more to the deal with the Pistons getting involved.
"Multiple" second-round picks are heading to NOLA.
Stein says it's FOUR picks.
---
12:30pm - Keep an eye on the Hornets.
On top of the continuing negotiations over Marc Gasol, Marc Stein reports that the club is attempting ship out forward Frank Kaminsky in the next couple of hours.
---
12:11pm - ACTUAL TRADE - The Sixers have stayed busy, acquiring James Ennis from the Houston Rockets.
The 28-year-old forward has appeared in 39 games this season, averaging 7.4 points, 2.8 boards and 0.7 assists over 23.6 minutes a night.
---
12:00pm - THREE HOURS REMAIN
---
11:55am - So about Mike Conley not wanting to go to Utah? He says it isn't true.
"I don't know where that came from," Conley said of the report that he only wants to go East.
The 31-year-old says he will play anywhere he's dealt.
---
11:47am - It's all quiet on the AD-to-the Lakers front and that might not change ahead of 3pm.
Woj says - as of now and that could always change - that the Pels are prepared to wait it out.
---
11:27am - It's no secret that the Utah Jazz want Mike Conley and the Grizzlies are more than happy to move their star point guard, but there could be a hitch in that plan.
Conley doesn't want to go to Utah and would prefer a move to the East, hoping for a Raptors or Detroit Pistons move. Any Jazz-Grizzlies deal would involve Ricky Rubio.
The other option, as Stein points out, is to wait closer to draft night to move Conley, who does have another year left on his deal.
---
11:15am - There's at least one person who hopes Tobias Harris's arrival in Philadelphia flames out spectacularly.
"We'll wait and see," said Nurse. "I like and respect his game. I don't really know him personally or anything, but from what I see from afar, he's a nice player. But let's hope he foes in there and screws up all their chemistry."
---
11:10am - That Grizz/Raps deal that didn't happen didn't slip past Jonas Valanciunas, but it also didn't faze him.
"I've been in rumours so many times, I didn't even look at it," Valanciunas said. "I just know one thing, we have a good team, we have a good future in front of us. I just want to go on the court and play ball and win games. I love Toronto and I want to stay here."
---
11:02am - Remember that once the deadline passes, teams can still add from the buyout market. Among those expected to be available to sign for a contending team is Zach Randolph.
Z-Bo was acquired by the Dallas Mavericks in the Harrison Barnes trade last night and he's expected to be bought out before he even reports to the team.
---
11:00am - FOUR HOURS REMAIN
---
10:45am - It's not a trade, but it's significant nonetheless: Jonas Valanciunas will return to the Toronto Raptors' lineup tonight in Atlanta against the Hawks for the first time since December 12 with a dislocated thumb.
Valanciunas's name had been bandied about in recent days when it came to the potential blockbuster between the Raptors and Grizzlies that doesn't seem to have any legs.
Since it's been nearly two months since the big Lithuanian has seen game action, don't expect him to be rushed back.
Coach Nick Nurse says that Valanciunas will be given five or six-minute stints on the court to help get his conditioning back to where it needs to be.
---
10:28am - If you were in bed before last night's trade news broke, here's what you missed out on:
---
10:20am - Two nights ago, it appeared that Marc Gasol to the Hornets was imminent and nearly 48 hours later, there hasn't been any movement on that front. Well, there's a reason for that.
The deal wasn't as close as it first appeared and Woj reports that there are "still gaps needing to be bridged" before the Spanish big man heads to Charlotte. Does that mean there's still time for another team to put in an offer?
---
10:10am - So it was a pretty wild visual seeing Harrison Barnes sit on the Mavericks bench last night when he ad just been traded and was seemingly unaware. Even LeBron was taken aback by it.
But that wasn't so.
As Paul Pierce explained last night on ESPN, Barnes and his agent knew he was close to being moved and he even knew it was going to be the Kings or Hornets. Sports is an ice-cold business at times, but it wasn't that ice-cold last night.
---
10:05am - I shouldn't have to remind people every year, but don't fall for fradulent accounts. There are very simple tells to find out if you're dealing with a fake. Look at follower count. Look for the Verified checkmark. If you follow Marc Stein and all of a sudden you see a tweet purporting to be his pop up in your timeline that you didn't see before, it's likely a fake.
Look here. See, this isn't Shams:
The guy's name is Sharns. Don't be the person who gets fooled.