TSN.ca's Canada 150: Iconic golf, tennis and curling moments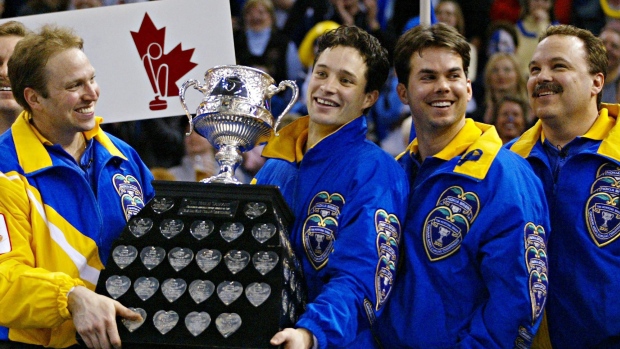 In honour of Canada's 150th birthday, TSN.ca looks at the iconic moments in Canadian sports history.
Here's a look at memorable times from golf, tennis and curling:
--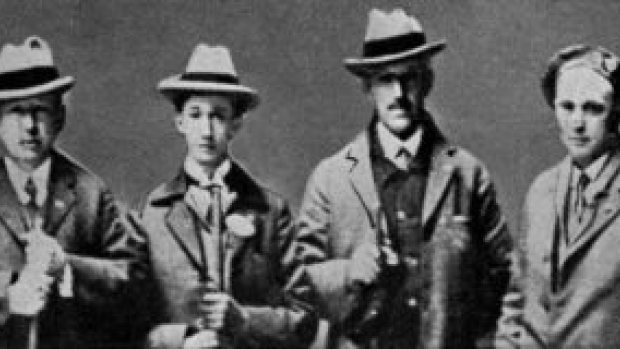 March 3, 1927 – Murray MacNeill and his Nova Scotia rink defeated Ontario 13-9 in the seventh and final draw of the inaugural Brier, then called the Macdonald Brier Tankard, at Toronto's Granite Club. Nova Scotia finished 6-1 to pip Johnny Malcolm and New Brunswick for the title.
--
March 3, 1961 – At the Ottawa Hunt and Golf Club, Joyce McKee's rink from the Hub City Country Club in Saskatoon went a perfect 9-0 to capture the Dominion Diamond "D" Championship, the very first women's national curling championship. The tournament was the precursor to the annual Scotties Tournament of Hearts.
--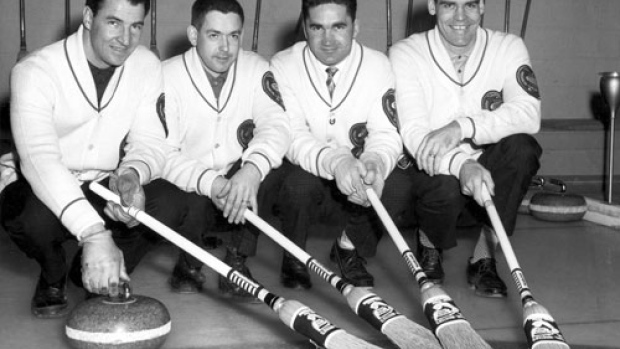 March 15, 1963 – In the sixth and final draw of the 1963 Scotch Cup (which would later become the World Curling Championships) in Perth, Scotland, the Regina rink representing Canada and skipped by Ernie Richardson defeated the host Scots 11-6 to win the title. It was Richardson's fourth title and to this day, he is the only man to have claimed four world curling crowns. Richardson was elected to Canada's Sports Hall of Fame in 1968.
--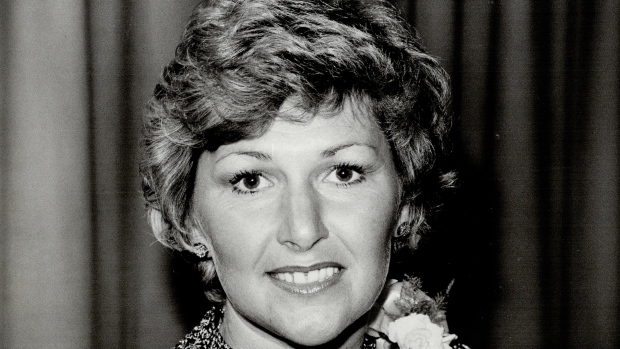 June 24, 1968 – Oakville, Ontario's Sandra Post becomes the first Canadian to win a major tournament, winning the LPGA Championship at Sutton, Massachusetts' Pleasant Valley Country Club in an 18-hole playoff against Kathy Whitworth. At the time, Post became the youngest woman to win a major at the age of 20. She would go on to win eight LPGA tournaments over the course of a 16-year career.
--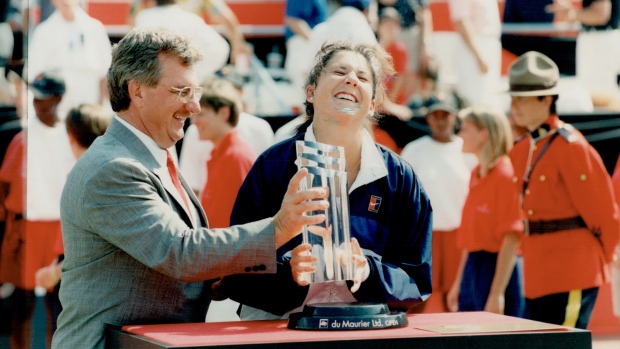 August 20, 1995 – Monica Seles defeats Amanda Coetzer in straight sets (6-1, 6-0) to win the Canadian Open in Toronto in her comeback to professional tennis. On April 30, 1993, Seles, then 19 and the world's top-ranked player, was stabbed on the court in Hamburg by an obsessive fan of Steffi Graf. After her return in Toronto, Seles would go on to win the Canadian Open three more times in 1996, 1997 and 1998.
--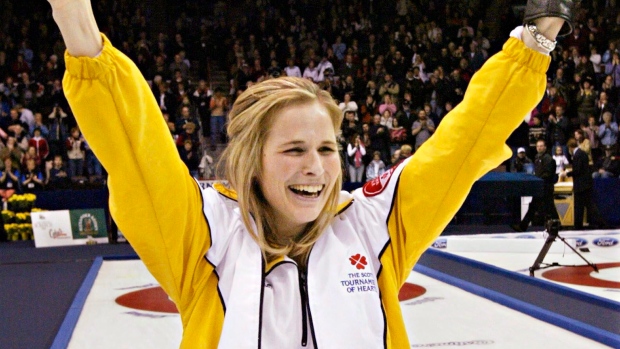 February 27, 2005 – It's now just known as "The Shot." In the last end of the 2005 Scotties Tournament of Hearts final in St. John's, Jennifer Jones and her Manitoba rink were up against it. Down 6-4 to Jenn Hanna's Ontario rink with Hanna sitting shot rock, Jones pulled off the nearly impossible know that if she missed, the draw and the tournament were lost. But Jones managed to hit a rock outside the house and roll to the button to take out an Ontario rock for her first Scotties triumph. Four more were still to come.
--
March 13, 2005 – The famed "Ferbey Four" rink of Alberta's Randy Ferbey, Dave Nedohin, Scott Pfeifer and Marcel Rocque edged Shawn Adams and Nova Scotia 5-4 - with Nedohin drawing in the 10th for the victory – in the 2005 Tim Hortons Brier final in front of a hometown crowd in Edmonton. The win completed a remarkable run for the rink of four Brier crowns in four seasons. The rink would go on to win the world title later that spring in Victoria for a third world title in five years.
--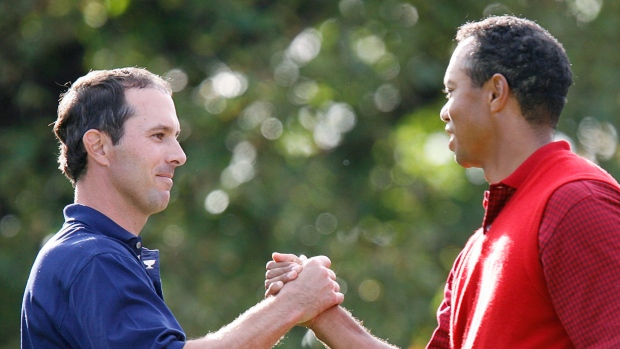 September 30, 2007 – At the 2007 Presidents Cup held at Royal Montreal, Mike Weir did what few had him pegged to do in silencing the world's top golfer in Tiger Woods. Woods mounted a furious comeback on the back nine, winning four of five holes to pull even with Weir. A crucial birdie on 17 when Tiger parred lifted Weir up one. Then on 18, Tiger couldn't pull off an audacious chip, giving the match to Weir.
--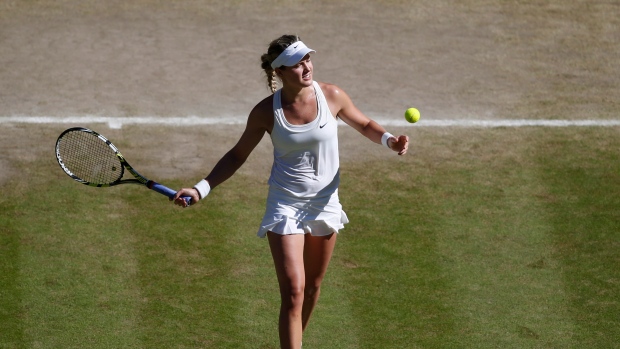 July 3, 2014 – Montreal's Eugenie Bouchard downs Simona Halep in straight sets (7-6 (5), 6-2) to become the first Canadian to advance to a Grand Slam final at Wimbledon. The 21-year-old Bouchard couldn't reach the summit, though, falling to 2011 champion Petra Kvitova in straight sets (3-6, 0-6).
--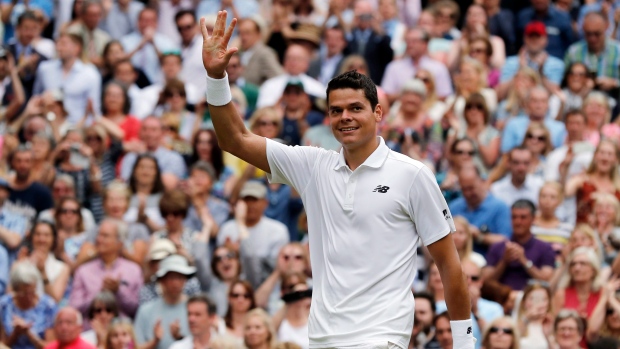 July 8, 2016 – Thornhill, Ontario's Milos Raonic beats Swiss legend Roger Federer in five sets (6-3, 6-7 (3), 4-6, 7-5, 6-3) to become the first Canadian male to reach a Grand Slam final at Wimbledon. It was only Raonic's third career victory over Federer in 12 meetings. Ultimately, though, Raonic would fall to local favourite Andy Murray in straight sets (4-6, 6-7, 6-7) in the final, meaning the wait for the first Canadian Grand Slam title goes on.
--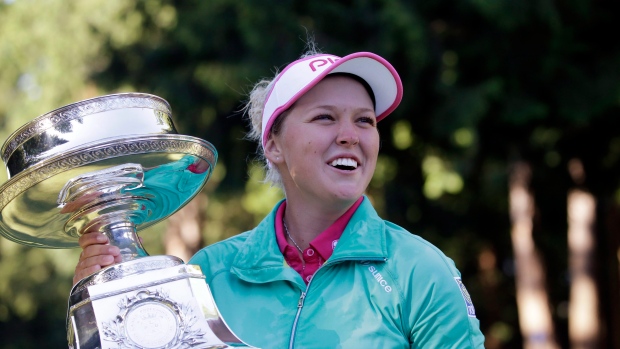 June 12, 2016 – The future of women's golf was on display in Sammamish, Washington at the 2016 KPMG Women's PGA Championship with 20-year-old Ariya Jutanugarn, 19-year-old Lydia Ko and 18-year-old Brooke Henderson of Smiths Fall, Ontario competing in a playoff for the title. The trio managed not a single bogey among them in the final round. Henderson ended matters on the first playoff hole, 18, when her approach landed a few scant feet from the hole. An easy birdie putt gave Henderson the title and made her the youngest woman ever to win a major.