TSN delivers exclusive coverage of UFC Fight Night in Ottawa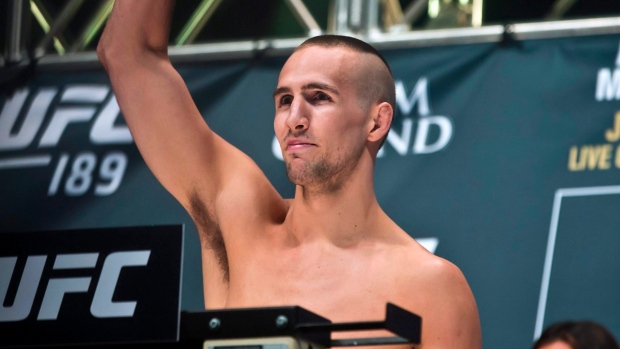 With a stacked card featuring top Canadian fighters, TSN delivers exclusive live coverage of UFC FIGHT NIGHT®: MACDONALD vs. THOMPSON on Saturday, June 18 at 10:30 p.m. ET on TSN4 and TSN5. UFC's first-ever event in Ottawa, which set a new record for fastest sell-out ever at TD Place Arena, is headlined by a main event featuring the welterweight #1 contender, Canadian Rory MacDonald, taking on five-time kickboxing world champion Stephen Thompson.
UFC FIGHT NIGHT® marks MacDonald's first fight since his loss to welterweight champion Robbie Lawler in 2015's Fight of the Year. Thompson returns to the Octagon® on a six-fight win streak, following his dominant victory over former champion Johny Hendricks.
TSN delivers seven consecutive hours of exclusive live UFC coverage, priming fans for all the evening's action with the UFC FIGHT NIGHT® PRE-FIGHT SHOW, airing Saturday, June 18 at 7:30 p.m. ET on TSN5.
Live coverage of the preliminary card for UFC FIGHT NIGHT® is available through Fight Network.
In total, TSN airs live coverage of five bouts at UFC FIGHT NIGHT®, all of which feature at least one Canadian fighter, including:
• Rory MacDonald (18-3-0) vs. Stephen Thompson (12-1-0)
• Patrick Côté (24-9-0) vs. Donald Cerrone (29-7, 1NC)
• Steve Bossé (11-2-0) vs. Sean O'Connell (17-7-0)
• Olivier Aubin-Mercier (8-2-0) vs. Thibault Gouti (11-1-0)
• Valérie Létourneau (8-4-0) vs. Joanne Calderwood (10-1-0)
Immediately following the event, TSN recaps all the action with the UFC FIGHT NIGHT® POST FIGHT SHOW, airing Sunday, June 19 at 1 a.m. ET on TSN5.
TSN subscribers can access live streaming and on-demand viewing of UFC FIGHT NIGHT® through TSN GO.
TSN Digital
TSN bolsters its live coverage of UFC FIGHT NIGHT® across the network's digital platforms, delivering video features and previews, as well as a running live blog of the event with must-see highlights. TSN Digital content is available on TSN.ca and the TSN GO mobile app.
TSN also delivers comprehensive coverage of UFC FIGHT NIGHT® across the network's slate of official social media accounts, with live behind-the-scenes coverage on Snapchat, as well as frequent updates on Instagram, Facebook, and Twitter.
Broadcast Schedule
TSN's UFC broadcast schedule leading up to UFC FIGHT NIGHT® is as follows*:
Wednesday, June 15
• THE ULTIMATE FIGHTER at 11 p.m. ET on TSN5
Thursday, June 16
• UFC 200 GREATEST FIGHTERS OF ALL TIME at 8 p.m. ET on TSN5
• THE ULTIMATE FIGHTER at 9 p.m. ET on TSN5
Saturday, June 18
• UFC MAIN EVENT: LAWLER vs. MACDONALD 2 at 12 midnight ET on TSN2
• UFC ULTIMATE INSIDER at 7 p.m. ET on TSN5
• UFC FIGHT NIGHT PRE-FIGHT SHOW at 7:30 p.m. ET on TSN5
• THE ULTIMATE FIGHTER at 8:30 p.m. ET on TSN5
• UFC 200 GREATEST FIGHTERS OF ALL TIME at 9:30 p.m. ET on TSN4 and TSN5
• UFC FIGHT NIGHT: MACDONALD vs. THOMPSON at 10:30 p.m. ET on TSN4 and TSN5
Sunday, June 19
• UFC FIGHT NIGHT POST FIGHT SHOW at 1 a.m. ET on TSN5
*Schedule subject to change