TSN Hockey Bobcast: McKenzie on Leafs and pre-Karlsson deal (?) Sens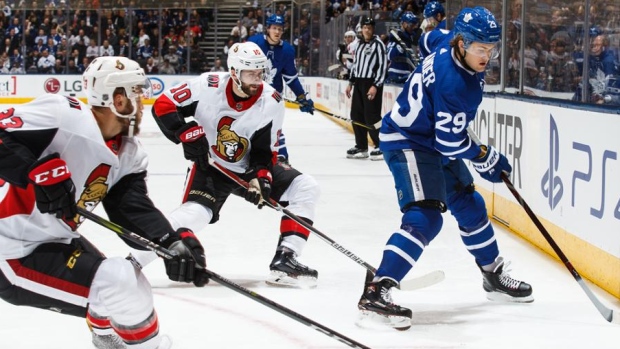 With training camp set to begin this week, TSN Hockey Insider Bob McKenzie provides previews for each Canadian NHL team in his TSN Hockey Bobcast.
Check out Bob's thorough look at the Ottawa Senators and Toronto Maple Leafs.
OTTAWA SENATORS
"Where do we even begin with the Ottawa Senators this season? Well, whatever we say - we'd better say it damn fast, because this projection of what the Senators look like overnight could get dated pretty quickly if - as somewhat expected but by no means guaranteed - Erik Karlsson gets traded by opening night. With or without an 'EK65' trade, the Sens have some major holes in their lineup...
"I do believe that Pierre Dorion and Guy Boucher - and their various staffs - are doing everything they can to keep this together. But there just might be way too much to overcome, especially post-Karlsson trade and depending on what the return is. And if the return is fair to middling - maybe even below average and doesn't have a lot of sizzle - man, oh man, that's going to be even more deflating for an organization that the air's already come out of.
"In any case, if that trade gets made sooner rather than later, we may have to drastically revise the opening night lineup projection - because maybe there will be a lot of bodies coming in. Either way, everybody knows the score in Ottawa coming in - it's going to be a long, hard year in the nation's capital."
TORONTO MAPLE LEAFS
"Even if the Toronto Maple Leafs didn't sign John Tavares this summer to that seven-year, $77 million contract, you knew there were going to be some pretty high expectations this season for the Leafs. But when they snagged Tavares on July 1, well then, the optimism is off the charts. So too, are the expectations for a team that went from 69 points to 95 points to 100-plus points over the last three seasons, but - I think an important thing to note - has posted back-to-back first-round exits in the playoffs...
"I think there is a tendency on the part of some - probably me - to say pump the brakes a little, or maybe a lot, on this runaway train talk of the Leafs being legit Stanley Cup contenders. I mean, if you want to use conventional hockey wisdom, the Leafs may want to sprinkle a playoff series win or two before there's all this justified of winning a Cup or even getting to the Cup Final..."