With the puck about to drop on the 2015-16 season, TSN's Hockey Insiders and contributors provide a comprehensive season preview of all seven Canadian teams. Read up on the opening night analysis of the Edmonton Oilers.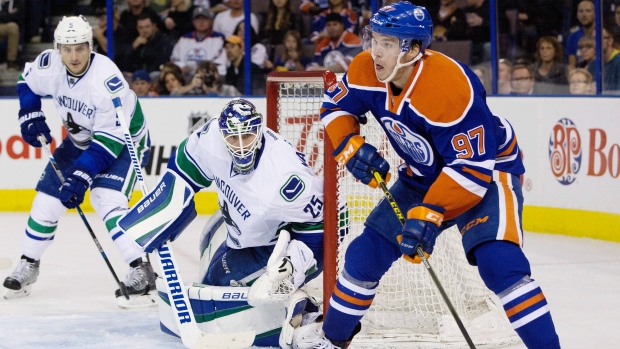 TSN Hockey Consensus: 5th in Pacific
While they'll be much improved, the Oilers will miss the playoffs for a 10th straight season.
Three Key Oiler Questions
1. Few prospects have experienced the hype that Connor McDavid did coming out of junior hockey, where he scored 120 points in 47 games last season. Can he make a significant impact right away?
McDavid is considered the next great franchise player in the NHL, and he joins an Oilers team that has some young talent already in place. Projections have ranged all over for McDavid, including 40 points (by Peter Chiarelli) and 70 points (by yours truly), but if his production is closer to the high end, then that's the kind of significant immediate impact that a team might hope to get with a franchise player.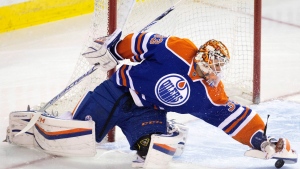 2. The Edmonton Oilers had the league's worst goaltending last season, and addressed it with offseason trades, getting Cam Talbot from the Rangers and Anders Nilsson from the Blackhawks. Can Talbot run with the starter's ball?
It's risky putting the goaltending on the shoulders of a 28-year-old who has played in 57 career NHL games, even if he posted an impressive .931 save percentage in those games. It's possible Cam Talbot is ready to prove he's a legit No. 1 goaltender, but his lack of track record brings uncertainty, and it's not like Nilsson's NHL history is any more encouraging – he has an .898 save percentage in 23 career games. It's possible that the goaltending will be better, and it's hard to be worse than 30th, but Edmonton is relying on relatively unproven options.
3. Defence has been regarded as the weak spot on this team, and the Oilers have made improvements, signing Andrej Sekera as well as trading for Eric Gryba and Griffin Reinhart. Will it be enough?

Adding Sekera will surely help and, if nothing else, Gryba and Reinhart could be tougher on opposing forwards than veterans Nikita Nikitin, who was waived, and Andrew Ference, who may be on his way to being the seventh defenceman. Is that going to be enough to get the Oilers where they want to go? Probably not, but they are steps in the right direction.
2015-16 Edmonton Oilers
TSN's Projected Lineup
| | Opening Night | |
| --- | --- | --- |
| G | LD | RD |
| Cam Talbot | Andrej Sekera | Mark Fayne |
| Anders Nilsson | Oscar Klefbom | Justin Schultz |
| | Griffin Reinhart | Eric Gryba |
| | Andrew Ference | Brandon Davidson |
| LW | C | RW |
| Benoit Pouliot | Ryan Nugent-Hopkins | Teddy Purcell |
| Taylor Hall | Connor McDavid | Anton Slepyshev |
| Lauri Korpikoski | Anton Lander | Nail Yakupov |
| Rob Klinkhammer | Mark Letestu | Matt Hendricks |
| Luke Gazdic | | |
Injuries: RW Jordan Eberle (shoulder)
Travis Yost's Analytic Storyline
The hype around Connor McDavid is real and this team feels loaded in the forward ranks, but it's hard to see the Oilers going anywhere without significant improvement in net. Case in point: the Dallas Stars last year out-shot and out-chanced their opponents on a fairly-regular basis, and had the league's 4th-best shooting percentage (8.77 per cent) at 5-on-5. And that ended with...no playoff appearance. Why? They had dismal goaltending, really only comparable to the likes the Oilers received last year with the Viktor Fasth/Ben Scrivens combination. Let's see if Cam Talbot and Anders Nilsson have a bit more luck.
ESTIMATED PAYROLL vs. CAP – $65.2M/$71.4M
The Oilers have quite a bit of cap room, even though they have dropped defenceman Nikita Nikitin and goaltender Ben Scrivens, a combined $6.8-million cap hit, to the AHL. Additionally, since Connor McDavid is likely to earn some entry-level performance bonuses (up to $2.85-million), that could eat into some of the cap room. Whether bonuses were a concern or not, 2014 No. 3 pick Leon Draisaitl will also start the year in the AHL.