TSN Hockey's Top 10 Storylines of the Week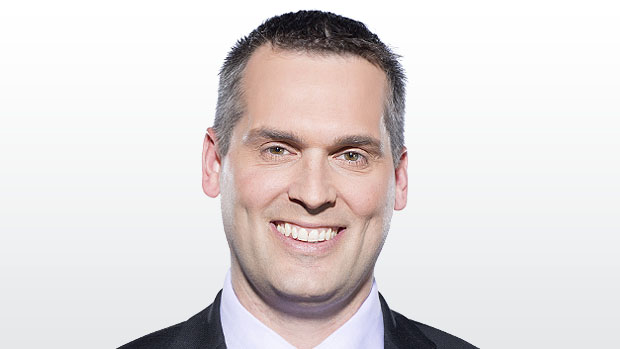 Change in Carolina, sniper Laine, Panthers, Devils, Avalanche, Malkin and more in TSN Hockey's Top 10 Storylines of the Week.
HURRICANES FIRE FRANCIS
The Carolina Hurricanes made a somewhat surprising move in removing franchise legend Ron Francis from the general manager position, a post he held since 2014-2015. Francis has been moved to President of Hockey Operations, but new owner Tom Dundon stated that the new GM will report directly to him, so the president role can't really be seen as anything but a demotion.
2009 was the last time that the Hurricanes reached the playoffs, so it's not as though it's unreasonable for the new owner to want changes. It is however, more than a little disingenuous to look at the team's record over that time and not put it into the context of a team that was consistently at the bottom of the league's payroll structure.
According to Cap Friendly, the Hurricanes have a cap hit of approximately $59.2-million this season; this in a league with a $75-million salary cap in which 29 of 31 teams are paying at least $66-million against the cap.
Could the results have been better under Francis? Of course. Could the results have been better with the team spending another $10-million per season? Of course.
Those financial limitations make it difficult for any team. The Hurricanes, a strong possession team, made a bet on Scott Darling to be their starting goaltender last summer, which was not an unreasonable move given his play in Chicago, and it didn't work out this year, leading to less-than-ideal results.
Maybe Dundon will consider investing in payroll and, additionally, may find a new general manager who makes smart decisions. That would seem to give the Hurricanes the best chance to achieve success, but if the new GM is going to have similar financial constraints, they will be fighting the same uphill battle.
LIFE IN THE FAST LAINE
Winnipeg Jets sophomore winger Patrik Laine scored 36 goals in 73 games as a rookie, an impressive feat and it wasn't altogether unexpected because he entered the league with a reputation as an elite shooter.
After scoring on a lofty 17.6% of his shots as a rookie, it was reasonable to think that he might be due to regress at least a little in his second season. No such luck, for opposing goaltenders, it seems, as Laine has tallied 40 goals in 68 games, burying an outrageous 20.4% of his shots.
Again, it might be too much to expect that Laine can maintain that shooting percentage over the long haul, but he's leading the league with 18 power-play goals and is tied for the overall lead with Alex Ovechkin.
Laine has 19 goals in the past 19 games, and his early results put him among the very best when it comes to goal-scoring teenagers.
PANTHERS PLAYOFF PUSH
In late January, the Florida Panthers were stumbling along, with a 19-22-6 record, and they were down to using third-string goaltender Harri Sateri while veterans Roberto Luongo and James Reimer were injured. At that point, there were no real expectations aside from another lottery pick for Florida.
But, Sateri managed to hold the fort and once Reimer and Luongo returned, the Panthers were in business. They have a 15-3-1 record in the past 19 games and while they are two points behind Columbus for the last playoff spot in the Eastern Conference, Florida has played three fewer games, so they are positioned to earn a playoff spot, and seven of their next nine games are against teams outside the playoffs, with one of the other two games a head-to-head matchup against the Blue Jackets in Columbus.
DEVILS UNDER PRESSURE
Florida's surge in the standings has opened up some vulnerability to teams in the Metropolitan Division, including the New Jersey Devils, an early-season surprise that has slumped to a 14-17-3 record since Christmas.
The Devils have obviously received great production from left winger Taylor Hall, who recorded points in 26 straight games in which he dressed, but there hasn't been a lot from the supporting cast and goaltending has been an issue. Cory Schneider has missed a bunch of time due to injury, and in his past 10 starts, he has a .875 save percentage. That will make any team vulnerable, let alone a team running with 48.7% of score-adjusted shots at 5-on-5.
They don't have an easy way out of this slump, either. While Nashville did take a shootout win in Nashville Saturday, the rest of their road trip hits Vegas, Los Angeles, Anaheim, San Jose and Pittsburgh before returning home for games against Tampa Bay, Carolina and Pittsburgh again. If they're still in playoff position at the end of that stretch, they will have earned it.
AVALANCHE PUSHING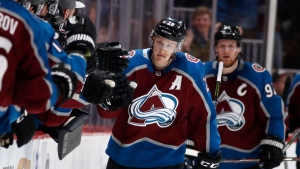 After mustering a meagre 48 points last season, the Colorado Avalanche didn't have many expectations entering this season. They were 12-13-2 in early December and that felt like a significant step forward.
In late December, they embarked on a 10-game winning streak and, suddenly, this team had a previously unforeseen chance to make the playoffs.
They've been relentless, earning points in nine of the past 10 games and, at this moment, are one point ahead of the Los Angeles Kings for the final playoff spot in the West.
Nathan MacKinnon's emergence as a star has carried the Avs forward, and they are probably playing it house money at this point, but now they're locked in the fight for a playoff spot, and it's an impressive turnaround given where they finished last year.
FLAMES FLICKERING
With the Avalanche forcing their way into the playoff picture, the Calgary Flames have been fading. Since mid-January, the Flames are 9-10-6, and now sit a couple points out of a playoff spot despite playing two more games than the Avalanche.
A notable reason for the slump was that goaltender Mike Smith was out due to injury, and he's back for the stretch run, but the Flames don't have much wiggle room at this point.
EVGENI MALKIN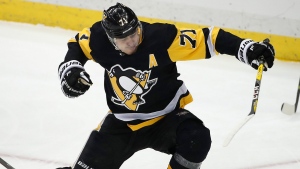 Since the calendar turned to 2018, the star Penguins centre has piled up 51 points (25 G, 26 A) in 30 games, ten more than the second-best scorer (incidentally, teammate Sidney Crosby, who has 41 points) and has pulled to within a single point of Tampa Bay's Nikita Kucherov for the scoring lead.
This is only the second time in the past five years that Malkin has played at least 65 games, but his 1.32 points per game is his best since 2011-2012, and 3.14 shots per game counts as his best since 2013-2014.
Not only is Malkin within one point of Kucherov for the scoring lead, he's also just two goals behind Alex Ovechkin for the goal-scoring lead. This production is forcing Malkin into the Hart Trophy discussion.
THE RACE FOR LAST
For much of the season, the Arizona Coyotes were comfortably in last place, which is obviously not great, but with star defence prospect Rasmus Dahlin available to the team picking first, there was a consolation prize on the horizon.
However, the Coyotes have compiled a 10-3-2 record in the past 15 games and are now one point behind the Buffalo Sabres for 30th place, while playing one fewer game.
This tank battle could also include the Ottawa Senators, who have two more points than the Coyotes, in one fewer game, and the Vancouver Canucks, who have four more points in one more game.
All of this jockeying is focused on having the best lottery odds for the right to pick Dahlin. While there is a drop off after Dahlin, getting wingers like Filip Zadina, Andrei Svechnikov and Brady Tkachuk will help those teams that don't secure the big lottery prize.
PLAYOFFS - MVP CONSIDERATION
As teams enter the stretch run, there is naturally some discussion about who might be in line to win season-ending awards and while in some years the top candidates can be quite obvious, it appears to be a little more open this year, which has created more discussion.
Specifically, one point of contention has been whether or not a player needs to be on a playoff team in order to qualify for the Hart Trophy as the league's most valuable player.
The last time the Hart Trophy was won by a player on a team that missed the playoffs, it was Mario Lemieux in 1988, when he led the league with 70 goals and 168 points.
Should that preclude someone like, say, Connor McDavid from winning? The Oilers are missing the playoffs anyway, but how much worse would they be without McDavid. It's certainly possible to argue that McDavid's positive contribution to Edmonton's record is at least the equivalent of anyone else in the league. If he wins the scoring title, given that suspect supporting cast, would that force voters to re-evaluate how they've been handing out the award? My guess is no, but I also had McDavid as the runner-up through the first three quarters of the season, because I try to avoid conflating individual performance with team accomplishments.
INJURIES
With less than a month until the playoffs, any injury news takes on greater significance, because players could either not be ready or, at the very least, be less than 100% when the postseason arrives.
Boston's been missing centre Patrice Bergeron (broken foot) and rookie defenceman Charlie McAvoy (knee) and star left winger Brad Marchand suffered an upper-body injury over the weekend.
Colorado is still making their playoff push without defencemen Erik Johnson (upper body) and Mark Barberio (lower body), though both may be making some progress in their recovery.
Dallas' Martin Hanzal had his injury-plagued season ended by a back injury, and starting goaltender Ben Bishop is dealing with a knee injury.
New Jersey's Marcus Johansson has been out since late January with a concussion, but centres Pavel Zacha and Travis Zajac suffered upper-body injuries last week. Of the three, Zajac appears to be closest to returning.
Pittsburgh, already without starting goaltender Matt Murray, have added forwards Bryan Rust (potential concussion) and Dominik Simon (lower body) to the injured list in the past week.
San Jose is still playing the waiting game with centre Joe Thornton, who has yet to skate since suffering a knee injury in late January.
Tampa Bay did get Ryan McDonagh into their lineup over the weekend, leaving Ondrej Palat (lower body) as their most notable injury.
Toronto's Auston Matthews is making progress in his return from a shoulder injury, but he's just starting to practice with the team, so it may take some time before he's ready for game action.
Vegas has lost a couple of stalwart wingers, James Neal and Reilly Smith, to injuries over the past few weeks.
While Winnipeg expects to get defenceman Jacob Trouba back soon, they are also missing top centre Mark Scheifele (upper body) along with defencemen Dmitry Kulikov and Tobias Enstrom.
Scott Cullen can be reached at scott.cullen@bellmedia.ca