TSN Hockey's Top 10 Storylines of the Week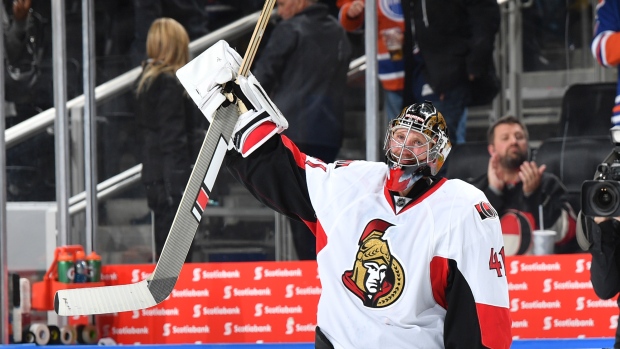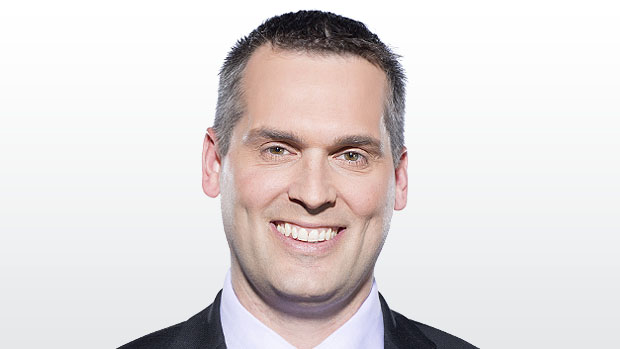 Scott Cullen takes a look at the top hockey stories from October 28th through November 4th, including Craig Anderson, the unbeatable Habs, McDavid vs. Matthews, Vesey, crashing Canucks and more.
FAMILY FIRST FOR ANDERSON
It was announced late last week that Nicholle Anderson, the wife of Ottawa Senators goaltender Craig Anderson, had been diagnosed with cancer, and Anderson would be stepping away from the team for an indefinite period.
That indefinite period suddenly ended when Senators backup Andrew Hammond was injured in his first start after Anderson stepped away.
Thus, Anderson returned and delivered a 37-save shutout in Edmonton, followed a couple of nights later with a 32-save, 2-1 win over Carolina. Under the highly-charged emotional circumstances, Anderson's performances were remarkable, and he has a .929 save percentage in seven starts this season (he has a .919 save percentage in 260 games for the Senators).
Even so, Anderson is once again taking a leave from the team to be with his wife. It must be an impossibly difficult time for them.
The Senators have acquired Mike Condon, a 26-year-old who started 51 games for Montreal last season, and he recorded a 27-save shutout against Vancouver in his Ottawa debut.
UNBEATABLE HABS
The Montreal Canadiens have continued their sensational start, still unbeaten in regulation (9-0-1) through their first 10 games.
There are a few issues to cover here, beyond an amazing start that has the Habs at the top of the league.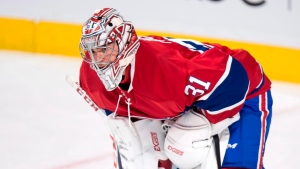 One, after 10 games last season, Montreal was 9-1-0, on top of the league with 18 points. Obviously, Carey Price's injury sent the season into a much-documented tailspin, so the record after 10 games certainly doesn't guarantee success.
Perhaps the more important note is that the Canadiens have had outrageous percentages so far this season. In all situations this season, they have a 107.2 PDO (combined SH% and SV%) and while it's reasonable to believe that Carey Price will provide them with a better-than-most (or all?) save percentage, teams simply can't maintain such outlier percentages over the course of the year.
In the Behind the Net era (since 2007-2008, when advanced stats started being tracked consistently), the team with the highest all situations PDO is the 2008-2009 Boston Bruins, and they were at 103.4; that's the best in eight seasons.
What this tells us is that the Habs aren't going to keep rolling like this, but we knew that already – of course no one expects them to win 72 games – but it's worth understanding how this phenomenal record of 19 points in 10 games has been compiled.
(While we're at it, then, note that Edmonton, Minnesota and Detroit are all sitting above 104.0 all-situations PDO.)
MCDAVID-MATTHEWS
This week brought a hugely-hyped regular season matchup between the Toronto Maple Leafs and Edmonton Oilers, mostly because it involved the past two No. 1 overall draft picks, Connor McDavid and Auston Matthews.
The game also represented McDavid's first game in his hometown because he was injured for Edmonton's lone game in Toronto last season.
At a time when brilliant young talented players are front and centre in the league, there may not be any more impressive than McDavid and Matthews, so the lights shone brightly on the marquee for this one.
And how did it play out? Matthews and McDavid were both held off the scoresheet and Nazem Kadri won the day, shutting down McDavid and scoring twice, including the winner in OT.
BURNS SHOOTING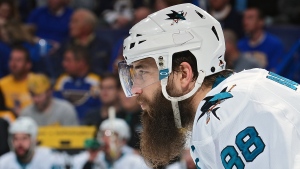 Last season, San Jose Sharks defenceman Brent Burns was a Norris Trophy finalist as one of the league's top defencemen, finishing with 75 points in 82 games. He averaged 4.30 shots on goal per game, the most by a defenceman since 1995-96.
Burns has kicked his shooting into overdrive early in the 2016-2017 season. In Tuesday's loss at Arizona, he fired 22 shots (11 shots on goal) in a loss at Arizona, then added 16 shot attempts (7 SOG) in Thursday's loss to Calgary.
Through 11 games this season, he's scored four goals and added seven assists, recording a league-leading 63 shots on goal. Yes, the 6-foot-5, lumberjack-bearded defenceman is currently averaging 5.73 shots on goal per game, up 33% over last year when he had the highest pe-game shot rate by a defenceman in 20 years.
DECISION TIME FOR ROOKIES
Once NHL rookies have played 10 games in an NHL season, their contract kicks in, so it's seen as something of a deadline for teams (40 games on the roster means that the contract counts for things like arbitration and free agency in future years, so that's another deadline of sorts).
Anyway, there are lots of junior-eligible players sticking in the league. Philadelphia has winger Travis Konecny and defenceman Ivan Provorov, the Maple Leafs have Matthews, William Nylander and Mitch Marner, Tampa Bay is keeping right winger Brayden Point and Boston is using defenceman Brandon Carlo in a top-pair role.
Calgary let left winger Matthew Tkachuk know that he'll be sticking around and he responded with a pair of goals in San Jose Thursday. Arizona has also indicated that defenceman Jakob Chychrun, the 16th pick in the draft, will be staying in The Show.
New Jersey's Pavel Zacha looks like he'll be staying too. The Islanders have a pair, Anthony Beauvillier and Mathew Barzal, that have been in and out of the lineup (Beauvillier more in, Barzal more out) early in the season.
Arizona has two more junior-aged CHL forwards, Lawson Crouse and Dylan Strome, that appear to be holding spots on the roster bubble.
A couple of defencemen, Ottawa's Thomas Chabot and Montreal's Mikhail Sergachev, have been returned to their junior clubs.
VESEY'S STRONG START
With all the talk about amazing skilled teenagers taking over the game, it's noteworthy that the player tied for third among rookies in scoring is 23-year-old Jimmy Vesey, the Harvard grad who won the Hobey Baker award as the top player in U.S. college hockey before electing free agency in the summer, ultimately choosing the New York Rangers.
Vesey has six goals and nine points in 11 games, playing 14:53 per game, which makes him a solid contributor among the Rangers' deep forward corps. The one obvious warning sign is that Vesey has scored on 30% of his shots on goal, and that's not going to continue, but he's far exceeded the expectations I was setting for him in the summer.
CANUCKS CRASHING
Entering the 2016-2017 season, expectations (at least outside of Vancouver) were not high for the Canucks. They had the lowest over/under point total at Bet365.com, and took residence in 30th spot in the preseason Power Rankings.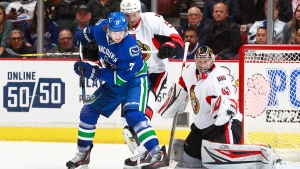 Then they went out and won their first four games and, never mind that only one of those wins was in regulation, all four games were at home, and three were against non-playoff teams from last season, but suddenly the possibility was considered that the Canucks might not be bad.
That perception has been corrected, as they are winless in seven, scoring a total of seven goals in that time. It prompts questions like "Where has Vancouver's offence gone?" The answer being that, even under ideal circumstances, they weren't likely to have much of one, and they happen to be going through an abysmal shooting stretch (a league-low 5.9 SH%) in the first eight games, with Loui Eriksson, Sven Baertschi and Brandon Sutter combining for one goal (by Sutter in the second game of the season).
Their next four games are on the road, too, so this may not be easy to correct, and if the scoring woes continue like this for much longer, it will be easy to start playing with an eye towards next season.
HOT STARTS
The beauty of early-season small samples is seeing unexpected results. You know, like league-leading scorer Artem Anisimov, the Blackhawks centre who has 14 points (7 G, 7 A) in 11 games. The 28-year-old has never had more than 44 points in a season, though, so he's a longshot to remain at the top of the table.
Some other sizzling starts? Philadelphia's Wayne Simmonds has 12 points (6 G, 6 A) in 12 games. He tied a career-high with 60 points last season, but has seen his ice time jump to a career-high 20:27 per game this year.
Florida's ultra-value free agent, Jonathan Marchessault, has 12 points (6 G, 6 A) in 11 games, taking over for an injured Jonathan Huberdeau on the Panthers' top line.
I was a little skeptical of Rangers winger J.T. Miller's 22-goal season last year, but he's off to a great start this year, with 12 points (4 G, 8 A) in 11 games, and has upped his shot volume, from 1.65 to 2.55 per game.
After scoring seven points in three games in Western Canada, Capitals winger Marcus Johansson has 11 points (6 G, 5 A) in 10 games. He tied a career-high with 46 points last season, but he's also generating more shots than he did in previous years.
SLOW STARTERS
Just as there are players living the good life early in the year, there are others that can't buy a goal. Columbus' Boone Jenner scored 30 goals last season, and has yet to score (with only one assist) in eight games this season. His ice time has been cut by a couple of minutes per game too.
The Islanders lost Kyle Okposo and Frans Nielsen as free agents in the offseason, so they felt a need to spend on a veteran free agent winger. Enter Andrew Ladd, a five-time 20-goal scorer who inked a long-term deal, and has no goals and one assist in his first 11 games for the Islanders.
After shooting 6.3% last season, it seemed reasonable to expect Carolina's Elias Lindholm to bounce back a bit, but not so fast. Lindholm is playing a career-high 18:28 per game, but has no goals and one assist to show for it.
Washington's 35-year-old winger, Justin Williams, has been a reliable performer for a long time, but he's off to a tough start, with two points (1 G, 1 A) in 10 games, and his shot rate has crashed, from 2.45 to 1.40 per game.
TROUBA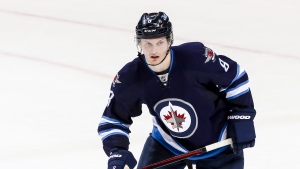 The lone restricted free agent still waiting for a contract is Winnipeg Jets defenceman Jacob Trouba, a 22-year-old first-pair defenceman, who would like to ply his trade elsewhere.
Bob McKenzie notes that there isn't much trade chatter, which seems insane given how many teams could use a player of Trouba's skills.
At the same time, the Jets are 4-6-1 with score-adjusted possession that ranks 24th in the league, so while there might be some inclination for Trouba to just buckle and accept a deal in Winnipeg, the Jets are hardly dealing from a position of strength, unless winning enough to make the playoffs this season isn't a priority.
One way or another, this will come to a head by December 1, the deadline for Trouba to sign if he's going to play this season.
Scott Cullen can be reached at scott.cullen@bellmedia.ca