TSN Hockey's Top 10 Storylines of the Week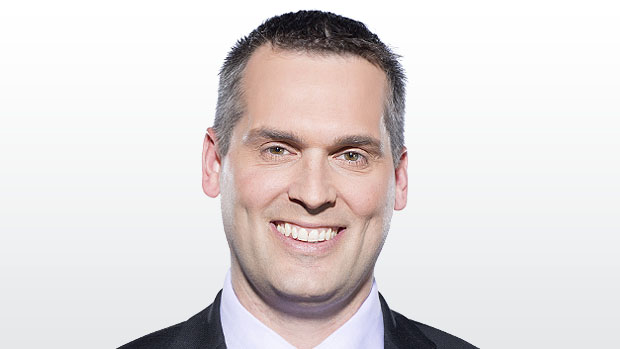 Scott Cullen takes a look at the top hockey stories from January 6th through January 13th, including a big week for Ovechkin, All-Stars, Matthews-McDavid, Avs, Ryan, Hall and more.
OVECHKIN MILESTONES
Washington Capitals superstar left winger Alex Ovechkin has had a remarkable career and the 31-year-old hit a couple of milestones this week, first passing Montreal Canadiens great Maurice Richard, who scored 544 career goals. Ovechkin is a six-time winner – including the last four – of the trophy bearing Richard's name as the league's leading goal scorer. His goal production puts him in all-time elite class.
He tied the goal-scoring mark against Montreal then, in the next game, scored two goals against Pittsburgh putting him over the 1,000-point plateau. Among active players, only Sidney Crosby and Evgeni Malkin have a better points-per-game rate than Ovechkin (1.14). He's the sixth active player to hit 1,000 points.
CAPITALS STREAKING
Ovechkin was off to a relatively slow start this season, but as he's come on lately (scoring nine points in the past seven games), the Capitals have stormed towards the top of the standings, winning the past seven games.
The Capitals ran away with the Presidents' Trophy last season, finishing with 120 points, and now they are on pace for 118 points this season. Of course, regular season success is effectively irrelevant for the Capitals these days – they need to translate it to playoff results at some point – but the Capitals are once again tearing up the league, just barely behind the Columbus Blue Jackets.
ALL-STAR TEAMS NAMED
We already knew the division captains for this season's NHL All-Star Game: Carey Price (Atlantic), Sidney Crosby (Metropolitan), P.K. Subban (Central) and Connor McDavid (Pacific), but the rest of the rosters were announced this week.
The top two picks in the 2016 Draft, Toronto's Auston Matthews and Winnipeg's Patrik Laine, are going to be there, and they are entirely deserving of the accolade, which is great for the league.
There are some mild surprises, but once team representation is covered off there aren't too many that stand out. Jonathan Toews is a great player, but he's certainly not having a great season. Sharks goaltender Martin Jones is a borderline case and Detroit's Frans Nielsen seems like he's going in place of a more deserving Henrik Zetterberg (but then Zetterberg might prefer to have the time off anyway).
Even so, that does leave some quality players home (or Cabo) for All-Star weekend. Chicago's Artemi Panarin, Pittsburgh's Phil Kessel, Philadelphia's Jakub Voracek and Columbus' Cam Atkinson all have at least 40 points and could very easily fit into this game. Given his breakout campaign for the surprising Blue Jackets, Atkinson seems like the hardest omission.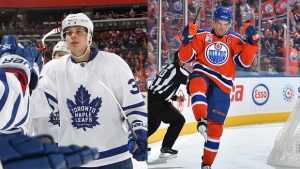 MATTHEWS-MCDAVID COMPARISONS
Player comparisons are inevitable and the one that took centre stage this week was Auston Matthews vs. Connor McDavid, especially once Pierre McGuire and James Duthie started singing Matthews' praises.
I still have Sidney Crosby and Connor McDavid 1-2 in the league right now – a tier above everyone else – and Matthews is coming off a brilliant 20-game run during which he's scored 15 goals so, understandably, he's earning this high praise, but I'm not pushing him into the top two just yet.
I will acknowledge, however, that day may not be too far away, because Matthews has very repeatable skills – his ability to generate shots (and high-quality shots) means he's likely to be a high-end scorer, in addition to the rest of his well-rounded game.
LAINE CONCUSSION
The second pick in last summer's draft, Winnipeg Jets right winger, Patrik Laine suffered a concussion when Sabres defenceman Jake McCabe stepped up on him in the neutral zone.
Laine is a big dude and went down hard, but provided this doesn't linger long-term, it should just be a bump in the road for the skilled rookie.
It didn't prevent Laine from doing a solid for one of his fans this week.
AVALANCHE TRADE RUMOURS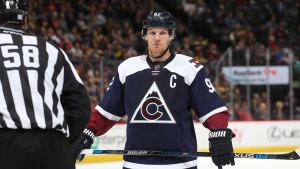 The way this Colorado Avalanche season is going, it comes as no surprise that there could be major changes on the way and, according to Pierre LeBrun, that could include trades involving Matt Duchene and/or Gabriel Landeskog, both of whom have had their names linked to trade rumours previously.
Colorado's glaring need is to upgrade their defence, and they can still build around forwards Nathan MacKinnon, Mikko Rantanen and last year's first-rounder Tyson Jost (currently a freshman with 22 points in 19 games at the University of North Dakota), but something needs to be done on the blueline, where Erik Johnson is their only bona fide top-pair option, possibly their only top-four, depending on your evluation of Tyson Barrie.
These deals don't have to be done now. There will be time in the offseason to make a significant overhaul, but the Avs are apparently listening.
BOBBY RYAN BENCHED
The Ottawa Senators scratched their highest-paid player last Saturday, and that's notable enough in its own right. It's not unreasonable, as Ryan had a modest 14 points (7 G, 7 A) in 32 games at the time of the lineup decision.
What makes the decision curious, however, is how vague the Senators were about explaining the move, with the truth falling somewhere between "personal" and "complex" issues. That makes it sound as though the reason is related to an off-ice situation, rather than for lack of on-ice production, but it bears watching either way.
HALL RETURNS TO EDMONTON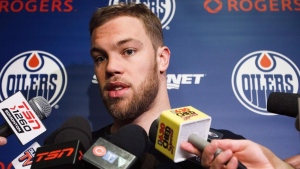 Traded to New Jersey in the summer, Taylor Hall made his return to Edmonton to play the Oilers and registered an assist in a 3-2 overtime loss.
Hall's Devils aren't good – currently 27th in points per game – but he's provided what was expected, matching last season's 0.79 points per game despite a recent slump after returning from injury.
Hall's standout moment of the game may have been when he delivered an elbow to the chops of Oilers winger Zack Kassian, earning a high-sticking double minor.
Write a letter to your younger self and tell them about Oilers fans cheering while Kassian goes after Hall.
HABS LIT UP AGAIN
Thursday's 7-1 loss in Minnesota was unbecoming for the top team in the Atlantic Division, the Montreal Canadiens. It wasn't an ideal situation for the Habs, by any means, taking their injury-ravaged lineup to face the Wild a night after thumping the Jets 7-4.
Nevertheless, Carey Price stayed in for the whole ride, allowing seven goals on 24 shots. The troubling part of it is that this is the second time this year that the Canadiens have been routed so soundly. (Who can forget a 10-0 thrashing in Columbus? Certainly not Al Montoya.)
Consider it a warning. The Canadiens are missing several important players – Brendan Gallagher, Alex Galchenyuk and Andrei Markov among them – but that victory in Winnipeg was only their second regulation win in the past 11 games.
MIDSEASON AWARDS
The midpoint of the NHL season was reached this week, so I broke down my award picks to this point. The most notable changes since the first quarter were moving Brent Burns atop the Norris Trophy race and Auston Matthews overtaking Zach Werenski for the Calder. I discussed the picks on TSN radio too.
Scott Cullen can be reached at scott.cullen@bellmedia.ca