TSN Hockey's Top 10 Storylines of the Week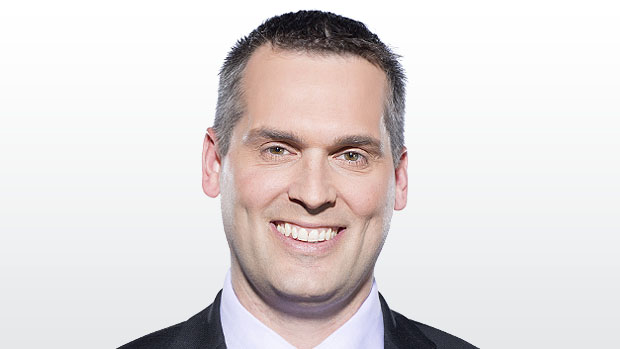 Scott Cullen takes a look at the top hockey stories from February 24th through March 3rd, including the trade deadline, Subban, Capitals, Blackhawks, Flames and more.
TRADE DEADLINE
The 2017 NHL Trade Deadline came and went with a whimper. Sure, there were trades, but not many to move the needle.
Martin Hanzal and Ryan White add some bite to the Wild lineup. Thomas Vanek may help the Panthers. P.A. Parenteau could add some scoring to Nashville and Patrick Eaves should be a good fit for Anaheim, while Brian Boyle and Alex Burrows are useful additions for Toronto and Ottawa, respectively.
Jannik Hansen and Valtteri Filppula both have another year remaining on their contract and ought to represent upgrades for San Jose and Philadelphia.
If veteran forwards Drew Stafford (Boston), Jarome Iginla (Los Angeles), Dwight King and Steve Ott (Montreal), David Desharnais (Edmonton), Viktor Stalberg (Ottawa) and Lauri Korpikoski (Columbus) manage to help their new teams then that's great, but expectations should be modest.
On defence, Pittsburgh made a couple of savvy veteran additions, Mark Streit and Ron Hainsey, to shore up a blueline currently beset by injuries. Johnny Oduya (returning to Chicago), Kyle Quincey (Columbus), Greg Pateryn (Dallas), Brandon Davidson and Jordie Benn (Montreal) could all be of some assistance, but aren't exactly game-changers.
Brendan Smith might have a bit more upside for the New York Rangers and Michael Stone is getting a new start in Calgary after a tough year in Arizona.
Goaltenders Ben Bishop and Peter Budaj swapped places, but it appeared to be a tough market in which to move a veteran netminder.
The more interesting deals involved some younger players. I can't get over Calgary giving Ottawa a second-round pick for Curtis Lazar, who needs to be protected in the expansion draft, and Vancouver seemed to make out well in acquiring prospects Nikolay Goldobin, from San Jose, and Jonathan Dahlen, from Ottawa. Tomas Jurco probably needs the fresh start that he's looking at in Chicago.
So, in the days leading up to the deadline, quite a few bodies were shuffled, but few if any are likely to make a difference in this season's results.
SUBBAN RETURNS TO MONTREAL
In one of the more shocking trades of this generation, the Montreal Canadiens dealt defenceman P.K. Subban to Nashville last summer, getting Shea Weber in return. Thursday marked Subban's return to Montreal's Bell Centre, and the Habs did produce a retrospective video.
It's still hard to fathom that the Canadiens chose to get rid of a really talented player, who is great in the community, and beloved by the fan base.
Incidentally, Subban is coming on after a slow start, putting up 13 points (1 G, 12 A) in the past 11 games and, as usual, has stellar possession stats.
CAPITAL GAINS
The one deal before the deadline that involved a difference-maker was even more important because it involved the league's first-place team, when the Washington Capitals acquired top-tier power play quarterback Kevin Shattenkirk from St. Louis.
Shattenkirk has scored 20 of his 42 points this season on the power play and has been among the very best at the job in recent seasons.
This kind of addition, the top player on the trade rental market, is a serious boost to a team that is 22-4-2 since January 1. Not only does Shattenkirk make them better, but acquiring him also prevents other contenders from closing the gap.
The best team doesn't always win the Stanley Cup, but the Capitals leave the trade deadline as clear favourites.
BLACKHAWKS UP
When the season started, the Chicago Blackhawks were winning games despite a middling possession game. It wasn't an entirely shocking turn of events – they were forced to press a bunch of rookies into the lineup in order to fit under the salary cap, because they have spent big money on the core players that have led them to three Stanley Cups.
But, as the season has progressed, the Blackhawks have evolved. They have won 10 of the past 11 games (with the loss coming against Edmonton, with the Blackhawks outshooting the Oilers 39-22) and, more promisingly, they rank third in the league with 54.7% score-adjusted Corsi in that time.
Since the All-Star break, Patrick Kane is tied for the scoring lead, with 19 points (12 G, 7 A) in 11 games, and Jonathan Toews is tied for third, with 18 points (7 G, 11 A), so the big-ticket performers are doing their thing.
At the same time, the Blackhawks are getting production from the likes of Richard Panik (6 G, 6 A in the past 11 GP) and rookie winger Nick Schmaltz (3 G, 9 A in the past 11 GP) and in those 11 games, young forwards like Ryan Hartman (62.7 CF%) and Tanner Kero (58.6 CF%) and rookie defenceman Michal Kempny (58.0 CF%) have been pushing play the right way.
FLAMES HEATING UP
The Calgary Flames had been stumbling along for a good portion of the season – win some, lose some – but they have hit full stride, going 10-2-1 in the past 13 games and charging into a playoff spot. They are currently in fourth place in the Pacific Division, with 72 points in 64 games.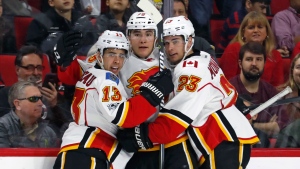 There has been some balance in the attack. During those 13 games, their leading goal-scorer has been Micheal Ferland, who has seven and is skating on the top line with Johnny Gaudreau and Sean Monahan. Gaudreau (14), Mikael Backlund (12), Matthew Tkachuk (10) and Monahan (10) are the leading point producers in that time, and having multiple lines that can score is certainly part of the reason for Calgary's success.
FALLING LEAFS
This is something of a mixed bag, even though the Toronto Maple Leafs have one regulation win in the past eight games. Even so, the Leafs are still clinging to a playoff spot, because they've been able to get beyond 60 minutes, earning points in three of their last four losses.
It says something about the Atlantic Division that the Maple Leafs are still sitting in a playoff spot with six regulation wins in the past 21 games, but once they finish their road trip at Anaheim on Friday night, Toronto's next five games (Detroit, Philadelphia, at Carolina, at Florida, at Tampa Bay) are against teams outside the playoffs right now, so there are points to be gained if Toronto can pull it together.
BLUES LOSING GROUND
Before trading Kevin Shattenkirk to Washington, the St. Louis Blues were sitting in a playoff spot, and they have lost some of that ground with four straight losses (not all post-Shattenkirk, admittedly). They are one point behind the Los Angeles Kings, but the Blues do have two games in hand, so their point percentage is better.
Here is the conundrum for a team like the Blues, who could still be a playoff team, yet had the most desirable rental commodity on the trade market. St. Louis could have played out the season with Shattenkirk and been something of a playoff sleeper – they're a decent team that could do something if their goaltending gets hot – but the Blues were committed to not losing Shattenkirk for nothing as an unrestricted free agent, and that forced their hand. Zach Sanford and a couple of picks could have some long-term value, but if it comes at the cost of making the postseason this year, is that enough for the trade to be worthwhile?
DEVILS DROPPING
This isn't necessarily a sudden decline, because the Devils haven't been a good team this season, but going winless in five puts an end to any real hopes for reaching the postseason.
They have a few talented players, but their forward depth is a problem (and not made any better with the trade of RW P.A. Parenteau to Nashville) and their blueline is a mess, with usually-reliable Andy Greene getting buried (40.2 CF% since Feb. 1).
They will have some work to do in order to fill out this roster, but their recent slide does make it clear that they are playing for next season.
A NEW EXPERIENCE IN DETROIT
The Detroit Red Wings haven't missed the playoffs since 1989-1990, but they're headed down that path, having earned two regulation wins in the past 17 games.
Looking at the roster, this comes as no surprise, but it's not like head coach Jeff Blashill is accepting that a 10-point deficit (with two games at hand) is enough to waive the white towel.
SCORES-BERG
Nashville left winger Filip Forsberg continues to be on a tear. He was held off the scoresheet in Thursday's 2-1 loss at Montreal, but Forsberg had scored 10 goals in the previous five games. He now has 26 goals in 64 games, which is really good, but is unbelievable considering that he started the season with two goals in his first 27 games.
For no reason whatsoever, Martin Erat has 36 points in 39 games with Brno Kometa of the Czech League this season. (Sorry Capitals fans. You're still doing okay.)
Scott Cullen can be reached at scott.cullen@bellmedia.ca