TSN Original feature THE SHIFT explores Browne's dedication to hockey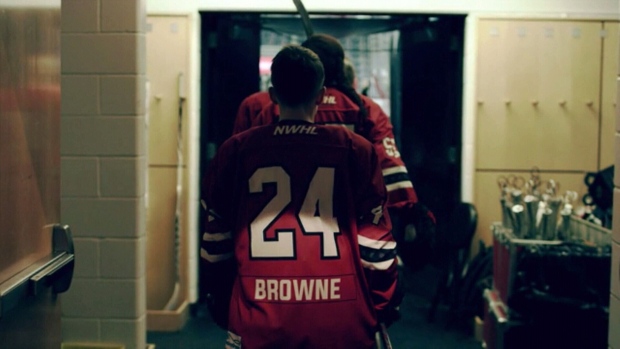 "It's either I continue to play the sport that I love or I start living as myself to everyone."
- Harrison Browne, transgender NWHL player
Harrison Browne is the first openly transgender North American professional athlete. Browne has placed his life-altering procedure on hold in order to play professional hockey. Outlining his journey as the only man in the National Women's Hockey League (NWHL), the TSN Original Feature, THE SHIFT, debuts tomorrow (Wednesday, Nov. 15) in the 6 p.m. ET edition of SPORTSCENTRE. Following the premiere, the feature will be available during the nightly SPORTSCENTRE broadcasts, and on demand at TSN.ca/TSN-Originals.
Fronted by TSN's James Duthie, THE SHIFT follows Browne's choice to play the game he loves while putting his plans to physically transition on hold until the end of his hockey career.
Harrison has been a trailblazer and pioneer for LGBTQ+ rights, helping to form the first-ever transgender policy in professional sports to aid both transmen and transwomen in their participation. As a visible role model for LGBTQ+ youth, TSN followed Browne to Buffalo where he delivered a speech at the Transgender Wellness Conference by Pride Western New York this past October, as well as to New Jersey to cover Harrison's debut with the Metropolitan Riveters.
A decorated domestic and international competitor, Browne previously played on the 2017 Isobel Cup-winning Buffalo Beauts, represented Team Canada in the 2011 U18 Championship, winning a silver medal, and was a part of Team Ontario during the 2011 Canada Winter Games, where he also won a silver medal.