TSN's coverage of Canada vs. U.S. in women's hockey starts Sunday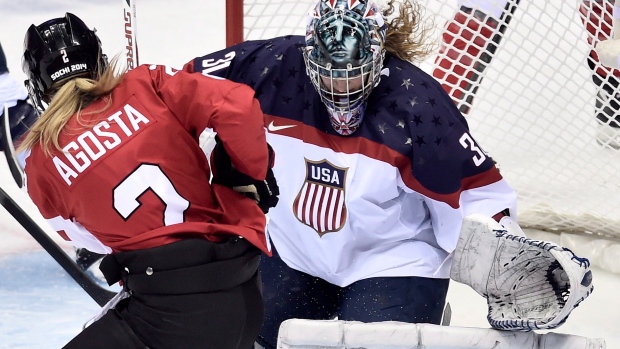 With excitement and anticipation building for the PyeongChang 2018 Olympic Winter Games, Canada's national women's hockey team heads to Québec City to begin a six-game exhibition series versus arch-rivals, Team USA, and TSN has coverage of all the action.
As the official broadcast partner of Hockey Canada, TSN follows Canada's run through the series with all six games starting Sunday, Oct. 22 at 2 p.m. ET on TSN GO, followed by an encore broadcast that evening in primetime at 7 p.m. ET on TSN2.
The series shifts to Boston on Wednesday Oct. 25 for Game #2, live at 7:30 p.m. ET on TSN2, and continues in December with games held in St. Paul, MN (Sunday, Dec. 3), Winnipeg (Tuesday, Dec. 5), and San Jose, CA (Friday, Dec. 15), before the series culminates in Edmonton (Sunday, Dec. 17).
Calling Team Canada's games is TSN's Rod Black alongside analyst and five-time IIHF World Champion Cheryl Pounder. Hosting TSN's coverage is two-time world champion and Olympic gold medallist Tessa Bonhomme and Laura Diakun.
Canada's National Women's Team roster for the six-game series features a highly decorated field of international and domestic tournament veterans, including 14 players who were part of the Canadian women's team that captured gold in the 2014 Sochi Olympic Winter Games, and 21 players who won silver at the 2017 IIHF WOMEN'S WORLD CHAMPIONSHIPS earlier this year. Canada's National Women's Team has captured gold in each of the last four Winter Olympics, and will head to PyeongChang as they look to extend their golden streak.
TSN subscribers can access live streaming and on-demand viewing of the network's exclusive coverage of the Canada vs. USA women's hockey series via TSN.ca/Live and the TSN GO app, where fans can also find news, scores, highlights, must-see clips, interviews, and more. French-language coverage of the six-game Canada vs. USA series is available on RDS.
Broadcast Schedule*
Sunday, Oct. 22
Canada vs. USA: Game #1 at 2 p.m. ET on TSN GO; encore broadcast at 7 p.m. ET on TSN2
Wednesday, Oct. 25
Canada vs. USA: Game #2 at 7:30 p.m. ET on TSN2
Sunday, Dec. 3
Canada vs. USA: Game #3 at 4 p.m. ET on TSN2
Tuesday, Dec. 5
Canada vs. USA: Game #4 at 8 p.m. ET on TSN
Friday, Dec. 15
Canada vs. USA: Game #5 at 10:30 p.m. ET on TSN
Sunday, Dec. 17
Canada vs. USA: Game #6 at 7 p.m. ET on TSN2
*Subject to change