TSN serves up tennis season's first major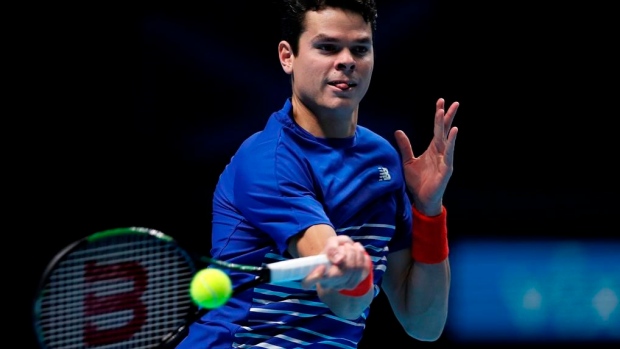 Headlined by Canadian favourites, newly minted World #1-ranked superstars, and defending Grand Slam champions, TSN kicks off the 2017 tennis season with exclusive live coverage of the AUSTRALIAN OPEN, one of 60+ championship events that live on TSN. In total, Canada's Sports Leader delivers more than 220 hours of live multi-court coverage of the tournament across TSN's five national feeds. Coverage begins Sunday, Jan. 15 at 7 p.m. ET on TSN2 and TSN GO with eight consecutive hours of first round coverage.
Coverage culminates with the Women's and Men's finals live across TSN at 3 a.m. ET on Saturday, Jan. 28 and Sunday, Jan. 29, respectively, followed by encore presentations (see below for a complete broadcast schedule).
Hosted by Kelcey Brade, TSN's multi-court broadcasts of the AUSTRALIAN OPEN feature live coverage of multiple matches airing simultaneously, as well as post-match reports, analysis, news conferences, and highlights throughout the day. Fans can visit TSN.ca/AussieOpen for a daily lineup of matches that will be featured in TSN's live multi-court AUSTRALIAN OPEN coverage.
TSN subscribers can access live streaming and on-demand viewing of the network's exclusive live coverage of the AUSTRALIAN OPEN via TSN.ca/Live and the TSN GO app. French-language coverage of the AUSTRALIAN OPEN is available on RDS.
TSN Digital
TSN Digital platforms keep fans up-to-date throughout the tournament with:
• Live streaming and on-demand viewing of TSN's AUSTRALIAN OPEN coverage, including bonus coverage, through TSN.ca/Live and the TSN GO app
• Updated daily match schedule available at TSN.ca/AussieOpen
• Breaking news, highlights, recaps, scores, and stats from Melbourne Park
• Live, in-progress coverage of matches featuring Canadian stars Milos Raonic, Vasek Pospisil, and Genie Bouchard
• Previews, analysis, and bonus video content from ESPN
• Photos, videos, and viral content on TSN's official social media platforms, including Instagram, Facebook, and Twitter
Fans can follow Canadian stars Milos Raonic, Genie Bouchard, and Vasek Pospisil throughout the AUSTRALIAN OPEN on TSN. Raonic enters 2017 coming off a breakout 2016 season which saw him reach the WIMBLEDON final and attain a career-high World #3-ranking. Bouchard enters the AUSTRALIAN OPEN after a run to the semifinals of the Apia International Sydney, while 2014 WIMBLEDON champion Pospisil competes once again in the men's doubles draw with new partner Radek Stepanek.
The men's draw features an all-star lineup, including World #1-ranked Andy Murray looking to capitalize on an electrifying 2016 season which catapulted him to the top of the ATP world rankings. He faces off against 12-time Grand Slam champion Novak Djokovic, who is looking to capture a record-breaking seventh AUSTRALIAN OPEN title, as well as four-time AUSTRALIAN OPEN champion Roger Federer, and 14-time Grand Slam champion Rafael Nadal.
The star-studded women's field is headlined by tennis legend and 22-time Grand Slam champion Serena Williams, 2016 FRENCH OPEN champion Garbiñe Muguruza, and defending AUSTRALIAN OPEN champion and World #1-ranked Angelique Kerber, who is coming off a thrilling 2016 season in which she claimed the US OPEN title and topped the WTA world rankings.
As Canada's undisputed home of the biggest tennis events, TSN delivers extensive court coverage throughout the season, with exclusive coverage of ATP 1000 and 500 events, and every Grand Slam major, beginning with this weekend's AUSTRALIAN OPEN and continuing with the FRENCH OPEN, WIMBLEDON, and the US OPEN.
Broadcast Schedule
TSN's broadcast schedule* for the AUSTRALIAN OPEN is as follows:
Sunday, Jan. 15
• 7 p.m. ET – First Round Coverage: Day #1 on TSN2 and TSN GO
Monday, Jan. 16
• 3 a.m. ET – First Round Coverage: Day #1 on TSN1, TSN3, and TSN4; encore at 1 p.m. ET on TSN4 and TSN5
• 7 p.m. ET – First Round Coverage: Day #2 on TSN5 and TSN GO
• 9 p.m. ET – First Round Coverage: Day #2 on TSN5
Tuesday, Jan. 17
• 3 a.m. ET – First Round Coverage: Day #2 on TSN3 and TSN5; encore at 1 p.m. ET on TSN3 and TSN5
• 7 p.m. ET – Second Round Coverage: Day #3 on TSN2 and TSN GO
• 10 p.m. ET – Second Round Coverage: Day #3 on TSN3
• 11 p.m. ET – Second Round Coverage: Day #3 on TSN1 and TSN4
Wednesday, Jan. 18
• 3 a.m. ET – Second Round Coverage: Day #3 on TSN1, TSN3, and TSN4; encore at 1 p.m. ET on TSN4 and TSN5
• 7 p.m. ET – Second Round Coverage: Day #4 on TSN3 and TSN GO
• 9 p.m. ET – Second Round Coverage: Day #4 on TSN3
• 10:30 p.m. ET – Second Round Coverage: Day #4 on TSN1 and TSN5
Thursday, Jan. 19
• 3 a.m. ET – Second Round Coverage: Day #4 on TSN1, TSN3, and TSN5; encore at 1 p.m. ET on TSN4 and TSN5
• 7 p.m. ET – Third Round Coverage: Day #5 on TSN1, TSN3, and TSN GO
• 11 p.m. ET – Third Round Coverage: Day #5 on TSN1, TSN3, and TSN4
Friday, Jan. 20
• 3 a.m. ET – Third Round Coverage: Day #5 on TSN1, TSN3, and TSN4; encore at 1 p.m. ET on TSN2
• 7 p.m. ET – Third Round Coverage: Day #6 on TSN2 and TSN GO
• 11 p.m. ET – Third Round Coverage: Day #6 on TSN Network
Saturday, Jan. 21
• 12:30 a.m. ET – Third Round Coverage: Day #6 on TSN GO
• 3 a.m. ET – Third Round Coverage: Day #6 on TSN Network; encore at 2 p.m. ET on TSN4
• 7 p.m. ET – Round of 16 on TSN Network and TSN GO
Sunday, Jan. 22
• 3 a.m. ET – Round of 16 on TSN Network; encore at 2:30 p.m. ET on TSN1 and TSN4
• 7 p.m. ET – Round of 16 on TSN2 and TSN GO
• 7:30 p.m. ET – Round of 16 on TSN5
• 9 p.m. ET – Round of 16 on TSN Network
Monday, Jan. 23
• 3 a.m. ET – Round of 16 on TSN Network; encore at 1 p.m. ET on TSN4 and TSN5
• 7 p.m. ET – Men's and Women's Quarter-Finals on TSN1, TSN5, and TSN GO; joined in progress on TSN3 and TSN4
Tuesday, Jan. 24
• 3 a.m. ET – Men's and Women's Quarter-Finals on TSN Network; encore at 1 p.m. ET on TSN1 and TSN5
• 7 p.m. ET – Men's and Women's Quarter-Finals on TSN1, TSN4, and TSN GO; joined in progress on TSN3 and TSN5
Wednesday, Jan. 25
• 3 a.m. ET – Men's and Women's Quarter-Finals on TSN Network; encore at 1 p.m. ET on TSN4 and TSN5
• 7 p.m. ET – Semifinal Bonus Coverage on TSN3 and TSN GO
• 9:30 p.m. ET – Women's Semifinal #1 on TSN1 and TSN3
• 11:30 p.m. ET – Women's Semifinal #2 on TSN Network
Thursday, Jan. 26
• 3:30 a.m. ET – Men's Semifinal #1 on TSN Network; encore at 1:30 p.m. ET on TSN4 and TSN5
• 11 p.m. ET – Mixed Doubles Semifinals and Women's Doubles Final on TSN1
• 11 p.m. ET – Finals Bonus Coverage on TSN GO
Friday, Jan. 27
• 3:30 a.m. ET – Men's Semifinal #2 on TSN Network; encore at 1 p.m. ET on TSN4 and TSN5
• 7:30 p.m. ET – Semifinals Encore on TSN1 and TSN4
Saturday, Jan. 28
• 3 a.m. ET – Women's Final on TSN Network; encore at 12 noon ET on TSN1 and TSN4
• 5:30 a.m. ET – Men's Doubles Final on TSN Network
Sunday, Jan. 29
• 12 midnight ET – Finals Bonus Coverage on TSN GO
• 12 midnight ET – Mixed Doubles Final on TSN1 and TSN3
• 3 a.m. ET – Men's Final on TSN Network; encore at 3 p.m. ET on TSN4 and TSN5
*Schedule subject to change