Tulowitzki not putting timetable on return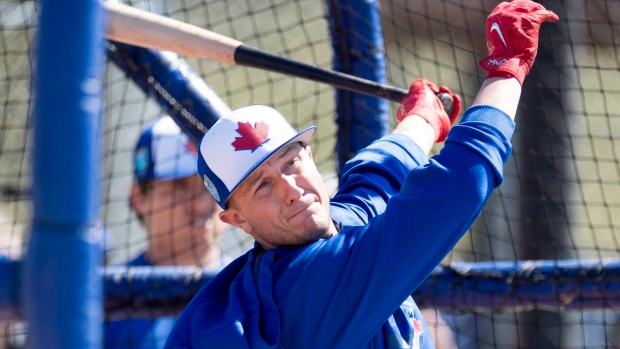 Troy Tulowitzki took batting practice and ground balls Monday morning in Dunedin, Fla., but did not confirm that he would be ready for opening day.
"I'm not going to put any timetables on it. Obviously, that's the goal, but there's still so many days in front of us here in spring training," Tulowitzki said when asked if he will be good to go on March 29.
Blue Jays manager John Gibbons said he isn't sure when Tulowitzki will be fully healthy, but added that it shouldn't be too long.
"I'm not sure when he'll be ready. We don't think it'll be too, too long, but we've just got to make sure he's right. He's one of our main guys. Really, right now, just see how things develop," manager John Gibbons said Monday.
Gibbons said last week that Tulowitzki was dealing with a bone spur, but indicated that he didn't expect it to be much of a problem going forward.
"The ankle feels fine," Gibbons said. "He had a little bone spur in his heel that was aggravating him, but he should be good to go when he gets here."
Tulowitzki is in the seventh year of a 10-year, $157.75 million deal signed in 2011 with the Colorado Rockies. There is a club option for 2020 that includes a $4 million buyout. In 66 games last season, Tulowitzki hit .249 with seven home runs and 49 runs batted in and an OPS of .678.
Acquired by the Blue Jays in the summer of 2015, Tulowitzki was limited to 66 games last season with a variety of injuries. He missed 31 games beginning at the end of April with a hamstring injury. On July 28, Tulowitzki picked up an ankle injury running to first base in a game against the Los Angeles Angels, attempting to beat out a ball hit into the hole for a single. He was placed on the 15-day disabled list the next day, but after he was diagnosed with ligament damage in the ankle, he was transferred to the 60-day DL on August 9, ending his season.
The Blue Jays will play their first official spring training game Friday when they take on the Philadelphia Phillies in Dunedin. They will open the regular season against the New York Yankees on Thursday, March 29, in Toronto.