UFC Notebook: A road map to St-Pierre, McGregor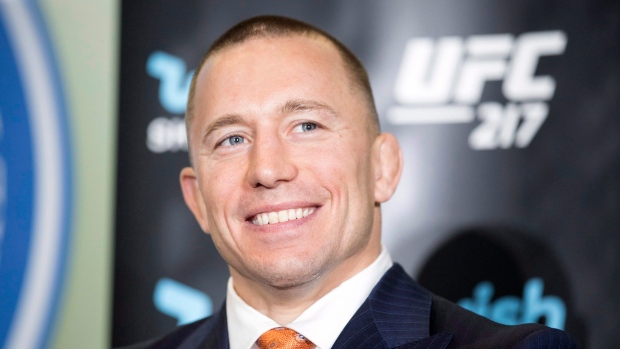 White lays out path where St-Pierre could potentially face McGregor
During an interview with TSN's Kara Wagland, UFC president Dana White was asked about whether a Georges St-Pierre and Conor McGregor super fight could be in the cards sometime in the future.
Rather than shoot down the idea, White provided a road map for what it would take for a fight of this magnitude to take place.
"(St-Pierre) would need to defend his title first at middleweight and Conor has some business to handle himself. It would be a year and a half down the road before we would even talk about that," White said when asked about the potential matchup between St-Pierre, the former welterweight champion and current lightweight champion McGregor.
One thing that White was uncertain about is where the potential fight could happen if it was signed.
"We could do it in Croke Park in Ireland, where there's like 100,000 seats. You could do it here in Toronto, where we had 56,000 people, and you could do it in Vegas, which is always good, too," said White.
In the meantime, St-Pierre is focused on the task at hand, which is trying to capture the middleweight title when he faces current champion Michael Bisping at Madison Square Garden on November 4 at UFC 217.
Bisping and St-Pierre get into backstage scuffle at press conference
St-Pierre and Bisping were in Toronto last Friday for a press conference held at the Hockey Hall of Fame and while things got ugly on stage, with Bisping threatening to beat up St-Pierre as well as every single fan in the crowd that was booing him, it got even uglier backstage following the event.
In a video released by TMZ Sports, St-Pierre and Bisping are seen yelling and cursing at one another after Bisping confronted St-Pierre about touching him during their square off following the press conference.
Later in the day, St-Pierre and Bisping continued their back and forth sparring on Jay and Dan SportsCentre.
"You almost punched me in the face," Bisping said to Georges. "The nerves are getting to you."
St-Pierre responded by accusing Bisping of being insecure.
"This is just another day in the office for me," said Bisping. "Georges has had a fantastic career, he's an amazing fighter."
UFC puts together stacked card in Winnipeg
The UFC has put together a star-studded card for their final network television show of 2017. UFC Fight Night takes place in Winnipeg on December 16th and is headlined by a fight between former welterweight champion Robbie Lawler and former lightweight champion Rafael dos Anjos. The stakes are high as UFC president White confirmed that the winner would be the top contender for the welterweight title, currently held by Tyron Woodley.
The card also contains a co-main event between former featherweight champion Jose Aldo and Ricardo Lamas, a rematch of their title fight that took place in February, 2014 at UFC 169.
Other fights included on the main card are Mike Perry taking on Santiago Ponzinnibio in a welterweight contest and Canadian Misha Cirkunov facing Glover Teixeira in the light heavyweight division.
"Every time the NFL is going, we pull some big numbers, so I love to deliver," White told TSN when asked about the strength of this particular card.
The card airs on CTV2 and RDS in Canada and on FOX in the United States.
Dos Anjos excited about opportunity to become two-division champion
Rafael dos Anjos and Robbie Lawler were in Winnipeg on Wednesday to promote the December event.
When asked about the opportunity to join the elite company of Randy Couture, B.J. Penn and Conor McGregor as the only fighters to become a two-division UFC champion, dos Anjos is clearly relishing the opportunity.
"That means a lot to me, I fight to be the best," dos Anjos told TSN. "100% of my focus right now is on Lawler on December 16, but of course it is a huge opportunity for me."
Lawler, meanwhile, is eager to re-capture the welterweight crown.
"It's a big opportunity, I'm too focused on that," said Lawler. "I think it's more or less for my fans and people who help me along in my career, it will be for them."
Khabib wants Ferguson fight in December
Top lightweight contender Khabib Nurmagomedov joined The MMA Hour with Ariel Helwani on Monday and was quick to call out interim champion Tony Ferguson for a fight on December 30 at UFC 219.
Nurmagomedov feels that the fight that makes the most business sense for the UFC is a trilogy fight between Conor McGregor and Nate Diaz and that he should fight Ferguson for the interim title while that plays out.
Last Friday, UFC president White told The TSN MMA Show that the fight to make is between the interim champion Ferguson and the official champion McGregor and that his aim was to hold that fight on December 30.
Meanwhile, lightweight contender Edson Barboza posted a video that he has been offered a fight with Nurmagomedov on December 30th and was waiting for him to sign the bout agreement to make it official.