UFC Notebook: Cowboy snaps three-fight losing streak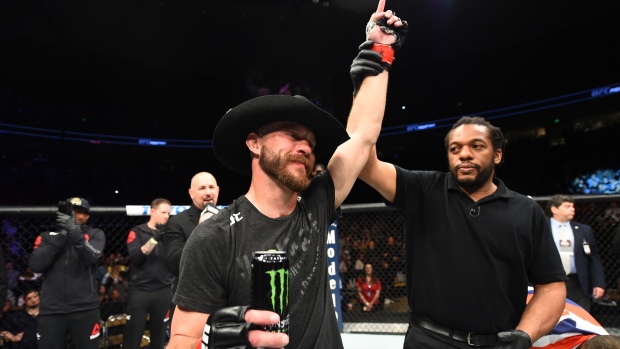 Cerrone back in the win column
Donald "Cowboy" Cerrone had never lost twice in a row over the first 39 professional bouts of his MMA career, but he entered the octagon on Sunday mired in a three-fight losing streak.
In the main event of UFC Fight Night in Austin, Texas, Cerrone faced Yancy Medeiros, who was riding a three-fight win streak.
Both streaks came to an end when Cerrone stopped Medeiros with only two seconds remaining in a back-and-forth first round.
Cerrone's post-fight speech was typical of his personality, asking when the next fight was. Cerrone is known for his prolific penchant for fighting often, averaging nearly four fights per year since joining the UFC.
With the win, Cerrone ties Georges St-Pierre and Michael Bisping for the most UFC wins in history with 20. He also tied Vitor Belfort and Anderson Silva for the most finishes in UFC history with 14.
Following the event, Cerrone stated that he wants to move back to the lightweight division and make another title run.
Bonuses and Attendance
UFC Fight Night at the Frank Erwin Center drew 10,502 attendees for a $794,350 gate.
Performance of the Night bonuses were awarded to Brandon Davis and Steven Patterson for their great three-round fight ultimately won by Davis and to Derrick Lewis and Curtis Millender for their knockout finishes against Marcin Tybura and Thiago Alves respectively.
Each earned an additional $50,000.
Two Brazilian legends collide at UFC 224
Two former UFC light heavyweight champions will do battle in the middleweight division at UFC 224 when Vitor Belfort takes on Lyoto Machida in what may be Belfort's final fight.
Both fighters have stumbled late in their career, with Machida going 1-3 in his last four and Belfort 1-2-1. But with both coming off of wins, the timing seems right for the fight.
The bout will take place on May 12 in Rio de Janeiro, Brazil, where both of these men are heroes and are considered legends in the sport.
At the time of the fight, Belfort will be 41 and among the oldest fighters in the UFC, while Machida will turn 40 later that month.
Former Bellator champion Brooks cut by UFC
The UFC was quick to sign former Bellator lightweight champion Will Brooks after a contractual standoff led to him being cut by the rival organization in May of 2016.
Things have not gone well for the much-hyped Brooks since then. He went 1-3 in the UFC, losing his last three fights by TKO or submission.
Brooks announced on social media Wednesday that he and the UFC have parted ways and that he will be competing in the upcoming $1 million tournament in the Professional Fighters League (PFL, formerly known as the World Series of Fighting).
Brooks has two wins over Michael Chandler, a fighter considered by many to be a top-10 lightweight in the world.