UFC Notebook: Demetrious Johnson chasing history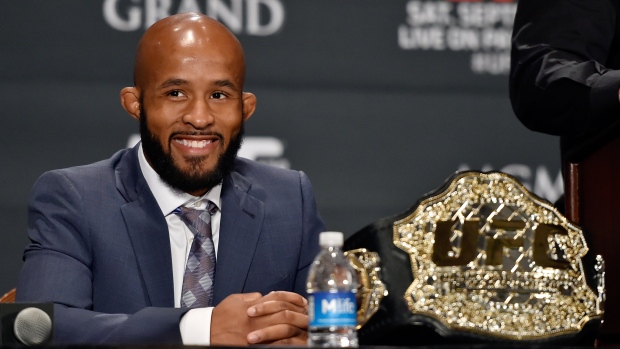 Johnson enters conversation for greatest of all-time
Demetrious Johnson, the only UFC flyweight champion in the organization's history, continues to make a case that he's the best fighter to ever set foot in the octagon.
Currently ranked as the top pound-for-pound fighter in the UFC, as voted on by members of the media, Johnson defended his title for the tenth time on Saturday at UFC Fight Night in Kansas City, Mo., by easily dispatching third-ranked Wilson Reis. The tenth defence ties him with Anderson Silva for most in UFC history.
Last week, Johnson told TSN that he probably has five or six years left in the sport and hopes to retire undefeated with 15 or 16 title defences to his name.
The fight with Reis was as lopsided, with Johnson completely outclassing the former Elite XC bantamweight champion, submitting him with an armbar in the third round. The submission is Johnson's sixth time finishing an opponent in his last nine fights, a staggering feat for anyone to accomplish at flyweight.
The statistics tell the story of how dominant this performance was. Per FightMetric, Johnson landed 108 significant strikes, while Reis landed only 16 significant strikes out of 168 attempts. Reis also failed to land a takedown, going 0-for-6.
The flyweight division still has some potential contenders who could see a matchup with Johnson, including two prospects in fourth-ranked Ray Borg and sixth-ranked Sergio Pettis.
There is also the opportunity for rematches with Henry Cejudo and Joseph Benavidez, the top contender who Johnson has already beaten twice. Another option that has been floated by bantamweight champion Cody Garbrandt is a super fight between the two, which would be a great opportunity for Johnson to garner more mainstream attention.
Namajunas likely earns next strawweight title shot
The co-main event of UFC Fight Night featured a great matchup between two intriguing contenders in women's strawweight division, the fourth-ranked Rose Namajunas and sixth-ranked Michelle Waterson.
After a back-and-forth first round, Namajunas took over in the second, landing a head kick that sent the unsuspecting Waterson flying across the octagon. While attempting to recover from the kick, Namajunas was able to take Waterson's back, get a body lock and then secure a rear-naked choke that earned her a submission victory.
The impressive win likely earns her a shot at the winner of the upcoming title fight at UFC 211 between champion Joanna Jedrzejczyk and challenger Jessica Andrade.
At the post-fight press conference, UFC president Dana White seemed to indicate that was the direction the organization was looking to go in.
"She looked amazing tonight," said White of Namajunas. "She thinks she's ready for a title and I agree with her after tonight's performance."
Jedrzejczyk recently took aim at Namajunas on a recent episode of The MMA Hour with Ariel Helwani. Jedrzejczyk took exception to Namajunas calling her out for a title shot shortly after they had met, shook hands and been friendly with one another.
Namajunas has had a very impressive run since losing her bout with Carla Esparza in the first ever title fight in the women's strawweight division. She is 4-1 since the defeat, with her only loss coming by a split decision to Karolina Kowalkiewicz. Three of her four wins came by submission.
Namajunas has proven to be a dynamic finisher who creates headaches for opponents with her unpredictable style.
Whitaker in the middleweight mix
Ronaldo 'Jacare' Souza has been in the middleweight title mix since joining the UFC in 2013, but a championship shot has always eluded him despite several dominant performances.
At age 37, and coming off of the heels of an eight-fight contract extension, the time appeared to be now for the former Strikeforce middleweight champion. However, that bubble burst on Saturday night at the hands of 26-year-old Robert Whitaker, who made a huge statement by becoming the first person to finish Souza during his UFC tenure.
Whitaker's crisp and powerful striking gave Souza fits and his ability to avoid engaging the incredibly dangerous Brazilian jiu-jitsu practitioner on the ground helped him secure a second-round TKO.
The sixth-ranked Whitaker now enters the muddied waters of the middleweight division, which has left top contenders on hold while they await the outcome of a title fight between champion Michael Bisping and the returning Georges St-Pierre.
One thing that Whitaker has to his advantage over other contenders is time. Whitaker is the only fighter under 30 in the top-5, which is where he will be ranked when the new rankings are released on Wednesday.
After the fight, former champion Luke Rockhold reached out to MMAFighting's Helwani and said that he wants a fight with Whitaker at UFC 213 in July. That bout would certainly clear up some long-term uncertainty about the title picture in the division.
Duquesnoy excites in debut
Highly touted prospect Tom Duquesnoy (pronounced Duke-en-wah) was perhaps the worst-kept secret in MMA.
He opened as a nearly 4-to-1 favourite ahead of his UFC debut against Patrick Williams, and was bet all the way up to a 15-to-1 favourite at some spots by the time the fight took place.
While Duquesnoy had some difficulty with Williams during the first round, he was able to seal it with a late knockdown against his exhausted opponent and then finish the job at 0:28 of the second.
At age 23, Duquesnoy has been undefeated for over four years. During that time he won the BAMMA bantamweight and featherweight titles.
Training at Jackson's MMA in New Mexico and with a vicious striking arsenal, 'The Fire Kid' is definitely one to watch going forward.
Bonuses and attendance
The Fight of the Night bonus went to Tim Elliott and Louis Smolka. The two flyweights had a tremendous fight with incredible grappling exchanges through three frenetic rounds in Elliott's decision victory.
The aforementioned Johnson and Whitaker each earned Performance of the Night bonuses with their wins. Elliott, Smolka, Johnson and Whitaker walked away with an additional $50,000 each.
Attendance for the event was 12,171, which earned a live gate just shy of $1.1 million, a new earning record for a sporting event at the Spring Center in Kansas City. It was also the first event that the promotion has held in Missouri.
The next UFC event takes place this Saturday, April 22 at the Bridgestone Arena in Nashville, Tenn. It features a featherweight fight between fourth-ranked Cub Swanson and Artem Lobov.
The main card airs on TSN this Saturday beginning at 10 p.m. ET.