UFC Notebook: Oliynyk submits Hunt in Moscow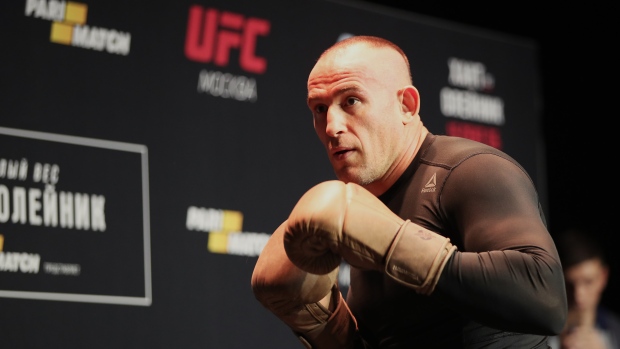 Aaron Bronsteter returns with his UFC Notebook hours after the company's maiden show in Russia that saw Oleksiy Oliynyk submit Mark Hunt in the Fight Night Moscow main event.
---
Oliynyk submits Hunt
In his 69th professional fight, Oleksiy Oliynyk headlined his first UFC event when he faced off against heavyweight veteran Mark Hunt at the UFC's first-ever event in Russia, which took place at Olimpiyskiy Stadium in Moscow on Saturday.
The Ukranian Oliynyk closed the show by earning a submission win over Hunt in the first round.
It was the first time that Hunt had been submitted via choke and his first submission loss since his UFC debut in 2010.
It was Oliynyk's 57th win and his 47th by submission and he improved to 57-11-1, while Hunt fell to 13-13-1.
Fighters from Russia and surrounding countries went 10-3 and only one non-European fighter earned a win at the event.
---
Attendance and Bonuses
Attendance for UFC Fight Night in Moscow was 22,603, which makes it the fifth-highest attended event in UFC history.
The Fight of the Night went to Petr Yan vs. Jim Sol Son, however Son was ineligible for the bonus due to missing weight by one pound. Performance of the Night bonuses went to Oliynyk, Jan Blachowicz and Magomed Ankalaev.
---
Khabib and McGregor will finally be face to face
Last week, the UFC announced the first press conference featuring UFC 229 headliners, lightweight champion Khabib Nurmagomedov and former champion Conor McGregor, who returns to the octagon for the first time since November 2016, will take place at Radio City Music Hall in New York City on Thursday.
UFC 229 has already achieved the second-highest gate in promotional history as many await the much-anticipated return of McGregor, who took a hiatus from mixed martial arts to compete in a boxing match against Floyd Mayweather last August.
Tickets for UFC 230 in New York City go on sale the following week and it is expected that the main event for that card will be announced sometime this week, including potentially at the press conference featuring the UFC 229 headliners.
This will be the first time that McGregor and Nurmagomedov will face off and the first time that they will be in the same room since the highly publicized incident prior to UFC 223 where McGregor threw a hand truck through the window of a bus carrying Nurmagomedov and other UFC athletes competing on the same card in Brooklyn this past April.
---
Carlos Jr. withdraws from matchup with Theodorou
For the second time this month, Antonio Carlos Jr. has withdrawn from an upcoming fight with Canadian middleweight Elias Theodorou.
Carlos Jr. originally withdrew from their fight scheduled for next weekend in Sao Paulo due to injury and the promotion rescheduled it for UFC 231 in Toronto, where Theodorou lives.
This past week, Carlos Jr. said that his recovery has been slower than expected and that he would have to withdraw from UFC 231, as well.
Sources told TSN that Eryk Anders, who has had a public feud with Theodorou in recent weeks, is the likely replacement, but that the fight has not been officially offered.
Theodorou has said that he hopes to remain on the card.
---
BJ Penn gets another UFC fight
BJ Penn, one of the greatest fighters in UFC history, will fight in the promotion once more.
Penn will face grappling wizard and Ultimate Fighter winner Ryan Hall, who has not fought in two years, at UFC 232 on December 29 in Las Vegas.
When Penn enters the Octagon, he will have been without a UFC win in over eight years. He is currently on a six-fight winless streak.
Hall won The Ultimate Fighter 22 when he defeated Artem Lobov in December, 2015 and he has not fought since December, 2016.
Both Hall and Penn are World Jiu-Jitsu Championship gold medalists.
Penn has won belts in both the UFC's lightweight and welterweight division, one of only five fighters to earn titles in multiple divisions.