UFC Notebook: Pettis moving up the flyweight ranks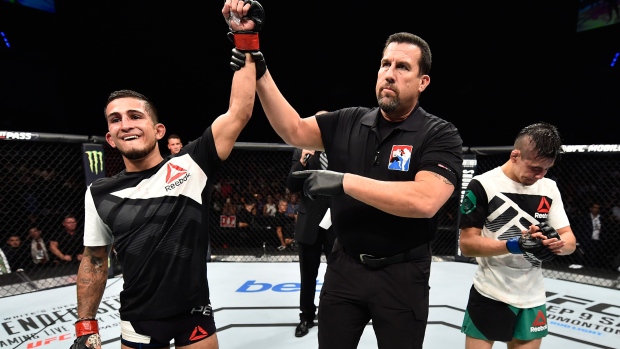 Pettis moves up the flyweight ranks with a win
After five fast-paced rounds in the flyweight main event Saturday night between Sergio Pettis and Brandon Moreno, the two fighters showed why they were so closely ranked with a bout that was closer than the scorecards indicated.
Moreno dominated the first round of the fight, completely neutralizing Pettis and not allowing any offence. Rounds two through four were the opposite, with Pettis showing a marked striking advantage over Moreno. The fifth round was close, with Moreno taking Pettis down and keeping him there for much of the round, but Pettis eventually got up and outstruck Moreno.
Ultimately, Pettis earned a unanimous decision victory and then said that he felt he was ready to compete for the flyweight championship. The flyweight title is up for grabs at UFC 215 on Sept. 9 in Edmonton when Demetrious Johnson faces Ray Borg.
Bonuses and Attendance
Attendance for UFC Fight Night at Arena Ciudad de Mexico was 10,172. The event was tied for the most first-round finishes in UFC history with seven, so the organization had a lot to choose from when it came to performance bonuses.
Ultimately, bonuses went to Niko Price, Humberto Bandenay, Dustin Ortiz and Joseph Morales, all of whom scored first round finishes and walked away with an additional $50,000.
After 11 straight weekends of UFC cards, the organization takes some time off as Conor McGregor's upcoming boxing match against Floyd Mayweather takes centre stage. The UFC returns on Saturday, Sept. 2 with a card in Rotterdam, Netherlands that airs on UFC Fight Pass. The main event is a heavyweight matchup between former Bellator champion Alexander Volkov and Stefan Struve.
Malignaggi leaves McGregor's camp amid controversy
"The Magic Man" Paulie Malignaggi, a former world champion boxer who is part of the Showtime Boxing broadcast team, was invited to train and spar with McGregor in the lead up to his match against Mayweather.
After agreeing to attend McGregor's training camp, the two engaged in some sparring sessions. Photos were posted on social media that made it appear that Malignaggi had been knocked down by McGregor during one session.
Malignaggi took offence to the photos emerging and stated that they were not what they appeared to be.
Both McGregor and Malignaggi claimed to have gotten the better of their sparring partner, but no subsequent video of the sessions have been posted.
Whether McGregor was able to hang with Malignaggi may soon be answered when he finally boxes against Mayweather in less than three weeks.
Many tickets remain available for the match with the low end of tickets costing $3,500 (U.S.) each.
Woodley and White mend fences
After retaining his welterweight title in a fight against Demian Maia that drew negative reactions from fans in Anaheim during UFC 214 as well as UFC president Dana White, Tyron Woodley appeared on The MMA Hour with Ariel Helwani and demanded a public apology from White.
Since then, Woodley said on his podcast that he had spoken with White and that they cleared the air after a heated conversation.
Additionally, Woodley revealed on his podcast that he had torn his hamstring two days before the UFC 214 weigh-ins.
Woodley finished his podcast by saying that he planned on shooting a movie and would decide based on several professional opinions whether or not he would get surgery to repair a torn labrum. He also said that he wanted to see how the welterweight division shook out during his absence so that he could fight whoever emerges as the top contender.
Next opponent named for Canadian Cirkunov
After suffering a setback in May when he lost in less than 30 seconds to the now top-three ranked Volkan Oezdemir, Canadian Misha Cirkunov has another chance to inch closer to the top five of the light heavyweight division.
Cirkunov will face fourth-ranked former title challenger Glover Teixeira on his home soil in Sao Paulo, Brazil on October 28th.
Prior to the loss to Oezdemir, Cirkunov had won eight in a row, including four straight in the UFC.
A win over Teixeira would vault Cirkunov back into the title picture in the division.