UFC Notebook: Poirier continues success at lightweight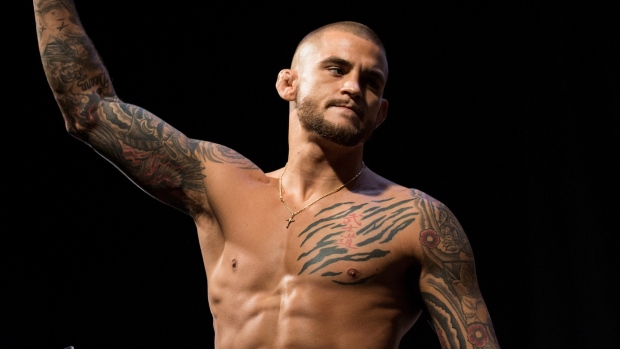 After suffering a loss to Conor McGregor in September, 2014, Dustin Poirier vowed to never fight at featherweight again and moved to the lightweight division.
Since making that move, Poirier has won six of eight fights (6-1-1), including his win over former lightweight champion Anthony Pettis in the main event of this past weekend's UFC Fight Night card in Norfolk, Virginia.
The win occurred due to an injured rib, which forced Pettis to submit while Poirier had top control.
Pettis has now lost five of his last seven fights, which have been contested at both featherweight and lightweight.
Poirier is tied for the second-most UFC finishes since 2011 with nine.
In other fights on the card, Matt Brown, who may have been fighting for the last time in his career, stopped Diego Sanchez in the first round with a vicious elbow knockout.
The main card also featured rare finishes from Clay Guida and Raphael Assuncao, who hadn't won by TKO in nine and a half and five years respectively.
Bonuses and Attendance
The main event between Poirier and Pettis earned the Fight of the Night bonus with each fighter earning an additional $50,000, while Brown and Assuncao each earned $50,000 Performance of the Night bonuses.
The event in Norfolk drew 8,442 attendees for a $642,070 gate.
Silva flagged for potential doping violation, replaced by Bisping
The UFC announced on Friday that former middleweight champion Anderson Silva was flagged by USADA for a potential doping violation.
Silva had previously tested positive for a banned substance in 2015 before the USADA program was implemented, but under USADA rules would be treated as a repeat offender, which could result in a multi-year suspension for the 42-year-old.
The positive test stemmed from an out-of-competition test administered on Oct. 26 and results in his removal from his main event matchup against Kelvin Gastelum at the UFC Fight Night card in Shanghai, China scheduled for Nov. 25.
While Silva's removal from the card is somewhat surprising, his replacement was what really turned heads around the mixed martial arts world.
Silva is being replaced by Michael Bisping, who lost the middleweight title to Georges St-Pierre at UFC 217 on Nov. 4. Bisping will now turn around and fight less than three weeks later on the other side of the world against Gastelum.
Aldo replaces injured Edgar in UFC 218 main event
UFC 218 suffered a blow as former lightweight champion Frankie Edgar was forced to withdraw from his main-event bout against featherweight champion Max Holloway.
According to MMA Junkie, sources told them that Edgar suffered a fractured orbital bone.
Edgar will be replaced by longtime featherweight champion Jose Aldo, who had held the title for over 2,000 days and was defeated by Holloway in June.
Since joining the UFC, Aldo has only fought on pay-per-view, but was slated to fight on network television against Ricardo Lamas this December in Winnipeg.
The UFC is searching for a replacement for Aldo to fight at Bell MTS Place on Dec. 16.
The 25-year-old Holloway is on an 11-fight win streak since losing to Conor McGregor in August, 2013.
McGregor reprimanded by Association of Boxing Commissions
On Friday, Conor McGregor made headlines once again, but this time, it was in a rival organization's cage.
After his teammate Charlie Ward earned a victory at Bellator 187 in McGregor's hometown of Dublin, Ireland, McGregor leaped over the cage and jumped on his teammate to congratulate him.
Referee Marc Goddard urged the commissioners and employees in the cage to remove McGregor, who proceeded to charge at and shove Goddard.
After his removal, McGregor then came back to the cage and made contact with a Bellator employee.
Mike Mazzulli, the President of the Association of Boxing Commissions, who were overseeing the event, released the following statement on Saturday:
"While the Mohegan Tribe Department of Athletic Regulation (MTDAR) was regulating Bellator 187 in Dublin, Ireland, on November 10, 2017, the following events took place during the Ward vs Redmond bout.
Mr. Conor McGregor who was a spectator at the time, disrupted the event by scaling the cage prior to the conclusion of the bout. Mr. McGregor's conduct jeopardized the health and safety of the bout participants by delaying necessary medical attention to the fighters that were injured during the round.
In addition, Mr. McGregor assaulted Referee Mark [sic] Goddard and a Bellator staff.
The MTDAR has been in consultation with the upper management of the UFC regarding Mr. McGregor's inappropriate and unacceptable behavior.
The MTDAR has also contacted members of the Association of Boxing Commissioners that have licensed Mr. McGregor in their jurisdictions to inform them of Mr. McGregor's behavior."
The UFC has not released a statement regarding the incident at this time.