UFC Notebook: Rockhold has winning return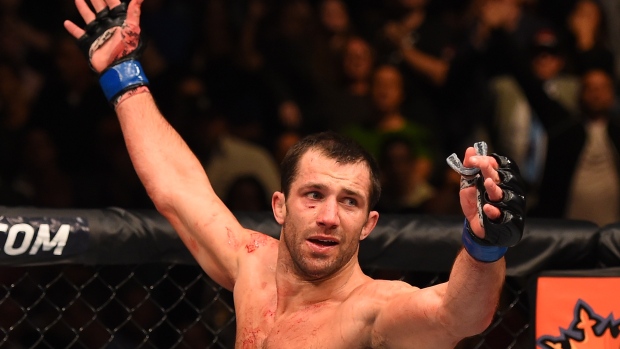 Rockhold successful in return
After more than a year layoff since dropping his middleweight title to Michael Bisping, Luke Rockhold made his return to the UFC with a win.
In the main event of Fight Night in Pittsburgh on Saturday, Rockhold rebounded after dropping the first round to David Branch, a former two-division champion in the World Series of Fighting, to finish Branch with strikes in the second round.
After the fight, Rockhold called out Georges St-Pierre and requested the Canadian star pull out of his upcoming fight against Bisping at UFC 217.
Eight of the 10 bouts at Fight Night ended inside the distance in an event that provided many exciting moments and big wins for divisional up and comers like Kamaru Usman and Gregor Gillespie.
--
Cormier reinstated as light heavyweight champion
After Jon Jones was flagged by USADA for a potential doping violation and both his "A" and "B" urine samples tested positive for the banned substance Turinabol, an anabolic steroid, Daniel Cormier has been reinstated as the light heavyweight champion.
On the day that he was reinstated as champion, Cormier made a heartfelt post on Instagram:


"Guys now I call upon you to take a breathe [sic], lay off of Jones. Let him and his team figure out what's going on and what happened. I was down and some may have kicked me but the majority of you showed compassion and love. After the fight Jones showed compassion, regardless of what has happened as humans we must show compassion. Jon is not on this ride alone, remember this man has a family. Let's respect that."
On Thursday, Jones posted on Twitter that he swore on his children and his "Heavenly Father" that he would never do steroids.
Jones faces a maximum suspension of four years given his past history with banned substances. Jones was previously suspended for one year by USADA in 2016 after being flagged for two banned estrogen blockers, Clomiphene and Letrozole.
Cormier told Luke Thomas of SiriusXM Radio that he expects to return in January or February of 2018.
--
Rua out of Fight Night Tokyo main event, Okami returns
This Friday's Fight Night card at the Saitama Super Arena in Tokyo took a major hit on Saturday when it was announced that Mauricio "Shogun" Rua had to withdraw from his main event rematch against Ovince St Preux due to injury.
The UFC announced that former middleweight championship contender Yushin Okami would be Rua's replacement.
Okami makes his return to the octagon in the light heavyweight division riding a four-fight win streak at welterweight.
The 36-year-old Okami was released from the UFC after amassing a 13-5 record. He makes his return after more than four years of fighting outside of the organization where he went 5-2.
--
Covington has harsh words for dos Anjos and Woodley
Welterweight contender Colby Covington joined the TSN MMA Show last week and did not hold back when it came to Rafael dos Anjos wanting to wait for a title shot after his recent win over Neil Magny.
"He thinks because he's an ex-champ that he's owed something. Go out there and earn it. I'm earning it. I've got Demian Maia next. I'm willing to fight Robbie Lawler next. I'm willing to fight Rafael dos Anjos next. Whoever they want to give me, I'll knock them all down until I get my title shot. You won't see me waiting on the sidelines," said Covington.
Covington also had harsh words for his American Top Team teammate and welterweight champion Tyron Woodley.
"He's the type of guy that's always the victim. His end's near, I promise you that. He was the same guy that was barking up the tree trying to get a title shot against Robbie Lawler when he was at ATT [American Top Team], but now I'm in that same position trying to get my title shot and you're going to hate on me for that. It's just real hypocritical and fake," Covington told The TSN MMA Show.
Covington will be facing Maia at UFC Fight Night in Sao Paulo, Brazil on October 28.