UFC vet Condit: 'Maybe my time has passed'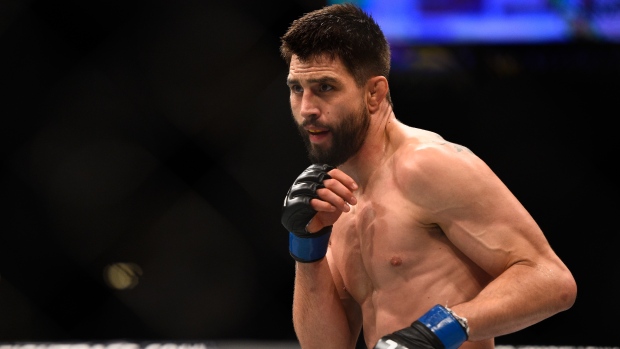 Former interim Ultimate Fighting Championship welterweight champion Carlos Condit is contemplating his future in mixed martial arts following Saturday's submission loss to Alex Oliveira at UFC Fight Night 29 in Glendale, AZ.
Oliveira took the fight on short notice when Condit's original opponent, Mike Brown, was forced to drop out with an ACL tear. Oliveira put Condit away in the second round with a guillotine.
With the loss, Condit, 33, has now dropped his last four fights and fell to 2-7 in his last nine. He took to Instagram on Monday night to address what comes next for the Albuquerque, NM native.
"I've posted plenty of pictures looking like a badass. Triumphant and powerful," Condit wrote. "But here's the flip side, crumpled and weak in defeat. Rough day at the office."
Condit indicated that he will take some time to contemplate his next move.
"I don't know what's next guys... I still love this game, and most days I still feel that fire, I absolutely love what it do, but maybe my time has passed," he wrote. "I don't know the answer. This is what I know, this is my passion. I will never stop training, and If that leads me back to the the Octagon, you know I'll try to make it bloody for ya."
Condit also offered praise for Oliveira.
"Much respect to my opponent and his team," Condit wrote. "Thank you for taking the fight on short notice."
With the loss, Condit's career record falls to 30-12 (7-8 in UFC). A former WEC welterweight champion, Condit won the interim UFC title by unanimous decision over Nick Diaz at UFC 143 in 2012. Later that year, he fell to Georges St-Pierre in Montreal at UFC 154 in a unification bout, also by unanimous decision.