Underdog Blues capture first Stanley Cup with Game 7 victory
Ryan O'Reilly and Alex Pietrangelo both had a goal and an assist and rookie goaltender Jordan Binnington stopped 32 shots to lead the St. Louis Blues to their first Stanley Cup victory in franchise history in a Game 7 showdown over the Bruins in Boston Wednesday night, Frank Seravalli writes.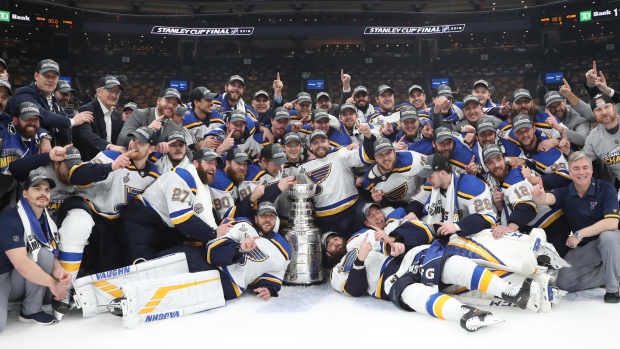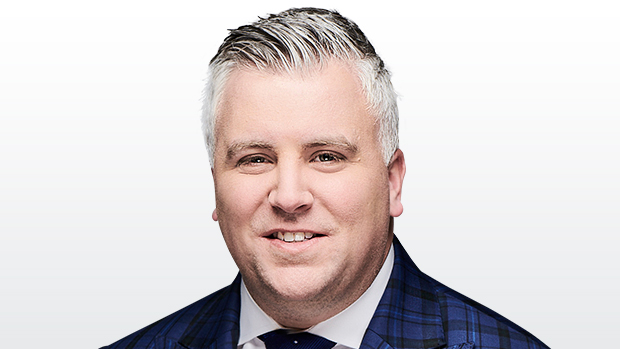 BOSTON – Patrick Maroon skated around searching, sifting through the chaos that is a Stanley Cup celebration.
"Where is my family?" Maroon asked. "I can't wait to give him a huge hug."
Tears were already streaming down his face before he found his 10-year-old son Anthony. He bet on himself and signed a one-year deal with the hometown Blues so he could be near Anthony, after living apart for most of his entire eight-year career.
Anthony was barely on the ice before Maroon bear-hugged him in the embrace of a lifetime.
"These are memories I'll never forget," Maroon said. "This will be something that we can talk about for the rest of our lives."
Pick a category and the deck was stacked against the St. Louis Blues in Game 7. The Boston Bruins had the edge in experience, scoring depth, and the best goalie in the playoffs at the other end of the home team's ice.
Did they look nervous?
Jordan Binnington and the Blues didn't blink. Not for one second.
Now the nickname given to him in the AHL – Jordan "Winnington" – has a whole new ring to it. Literally.
Binnington was nearly flawless in a 4-1 victory over the Bruins as he became the first rookie netminder to win all 16 games to hoist hockey's ultimate prize.
The Blues' fourth goalie back in training camp, the one who hadn't made an NHL start prior to January, helped wipe away 52 years of frustration in one wild night as the Blues knocked off the Bruins in Game 7 Wednesday night to claim their first Stanley Cup in franchise history.
"They welcomed me in and I just tried to battle, do my job and keep my mouth shut," Binnington said. "I can't believe we're here now."
Ryan O'Reilly took home the Conn Smythe Trophy as the most valuable player in the playoffs, as voted by members of the Professional Hockey Writers Association, after playing through the final two rounds with a cracked rib.
"There was a couple tough games, but once you kind of get going and the adrenaline takes over, I didn't notice it," O'Reilly said.
Captain Alex Pietrangelo, who collected the game-winning goal, lifted the Cup amid a fireworks display and passed it first to Jay Bouwmeester, who won for the first time in his 1,184-game career.
Gloria? More like Glorious.
Back in America's Heartland, a sold out Enterprise Center crowd that spilled over into Busch Stadium erupted in a sing-along to the 1982 Laura Branigan hit that became the anthem of the NHL's only team styled after a musical note.
"To bring it back home to St. Louis, it couldn't be better," Maroon said. "Being from St. Louis, I was one of those fans when I was young. Even when I played for other teams in the NHL, I still watched those Blues, how they suffered, how those fans suffered.
"Not anymore."
The Blues found Branigan in a South Philadelphia watering hole, of all places, on Jan. 6 – the night before Binnington made his first NHL start against the Flyers, earning a shutout.
Four days before that start, the Blues were in 31st place in the NHL – dead last, behind even the Ottawa Senators.
A team with Central Division title aspirations, after adding O'Reilly, Tyler Bozak and David Perron in the off-season, had hit rock bottom. Six players were on TSN's Trade Bait list and GM Doug Armstrong admitted he nearly blew up the Blues.
On Wednesday, the Blues became the first team in professional sports history to be in last place after a quarter of the season to go on and win it all.
"We were all questioning each other and we got frustrated," O'Reilly said. "We kept working though. We figured out how to have success by being a tough team to play against."
What a fitting end to a Stanley Cup playoffs in which down became the new up. All four No. 1 seeds were eliminated in the first round for the first time ever, with the last team to qualify for the playoffs (Columbus) eliminating the Presidents' Trophy-winner Tampa in a sweep no one saw coming.
That opened the door for an incredible story unfolding in St. Louis.
"I thought Tampa was the clear-cut favourite early and everything else was wide open," Armstrong said. "We went into every series and I thought we had a chance to win."
The 107-point Bruins were the best regular season team still standing over the final three rounds. They fell short in Game 106 of the season, blowing the chance to win their first Stanley Cup on home ice since 1970, when through the Garden air with "The Goal" against these same Blues.
St. Louis hadn't made it back to the Final until this year, the Blue Note being the NHL's oft-kicked also-ran after qualifying for the playoffs 42 times in their 51 seasons.
Wednesday's loss left Beantown one win short of the Boston Hat Trick – as the city attempted to become the first city to stake claim to the Stanley Cup, World Series and Super Bowl at the same time. Zdeno Chara's heroic effort playing through a broken jaw was for naught.
"Just disbelief that it didn't come together," an emotional Brad Marchand said. "That's not how you play it out. It's heartbreaking. You never know when you'll get that chance again. It could be the last one."
The NHL's longest Cup drought is only part of what made St. Louis such loveable underdogs. (The Toronto Maple Leafs now hold the longest drought at 53 years.)
No matter the obstacle, no matter the odds, the Blues always found a way to overcome.
"Honestly, you feel like you're floating and dreaming," said Brayden Schenn, who celebrated on the ice with his older brother, Luke, and family.
A team that once beat the piss out of each other ­– Robert Bortuzzo fought Zach Sanford at a December practice while the Blues were scuffling ­– somehow found magic at a urinal in the Stanley Cup Final.
The first team to win the Stanley Cup with a losing record on home ice in the playoffs (6-7) went 10-3 on the road and a staggering 7-3 after a brutal missed hand-pass put them in a 2-1 hole in the Western Conference Final.
Coach Craig Berube said the difference was "the team." It showed in the ice time, because Berube made a habit of playing whichever lines were going on a given night. Seniority or salary didn't factor into the decision.
"They put the team first," Berube said. "That's been the message for quite some time. They've done a real good job of that. They believe in it. We're champs."
When it mattered most, the Blues dug in, taking their cue on mental toughness from their coach who is tougher than nails. Binnington, the Bounce Back Kid, improved to 13-2 in his career following a loss. The Blues went 8-2 in Games 5, 6 and 7 of series, including two Game 7 victories.
"These guys showed a lot of heart in a lot of different times," Armstrong said. "In Game 1, we looked a little awestruck. In Game 6, they weren't ready for it. The way they were able to rebound and do this in Game 7, I'm really happy and proud of them."
Schenn said he told teammate Jaden Schwartz that the Blues were "going to get Game 7 for Mandi" ­– Jaden's sister who passed away in 2011 at the age of 23.
"I know she was watching somewhere," Schwartz said.
Tears aren't just for the losers.
"I cried a few today," said Jaden and Mandi's father, Rick Schwartz. "Very emotional. What a feeling to see Jaden raise that Cup, how big that was for my family, especially my daughter. What a proud day."
They've got a lifetime of memories now, a story and a song that will never go out of style in St. Louis.
Contact Frank Seravalli on Twitter: @frank_seravalli​