USA edges Canada in SO for world junior gold
Presented by:

Call it a Hartbreaker. Troy Terry played the role of shootout hero for the second time in as many days, as the United States erased two separate two-goal deficits to knock off Canada, 5-4, in an instant classic at a sold-out Bell Centre.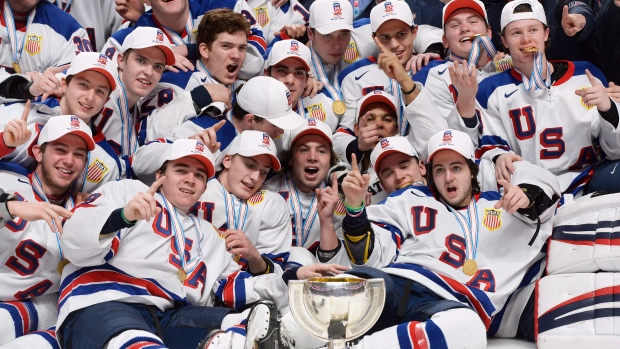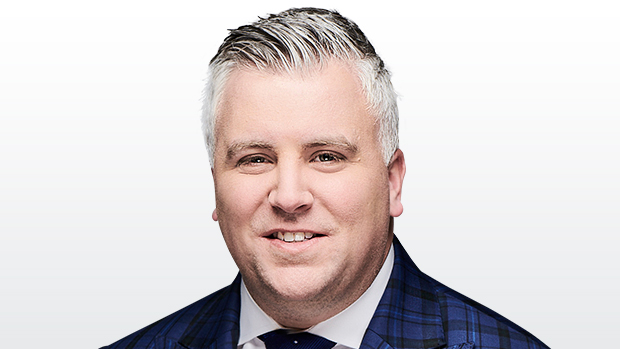 MONTRÉAL — Mitchell Stephens emerged from the pin-drop quiet Team Canada dressing room with his silver medal tucked into his suit pants.
He may not be ready to show it off for a while, if ever, with the tears welling up behind his eyes a window into the pain that just played out in front of a nation.
"It's a pretty terrible feeling right now," Stephens said. "It's one of those things where it's a skills competition at the end. You could flip a coin for who is going to win."
Gold was within Canada's grasp for the 17th time. All they had to do was escape the final 15 minutes with their second two-goal lead of the game.
They couldn't do it, opening the door to the coin flip. It was a Hartbreaker.
Team USA's Troy Terry played the shootout hero for the second time in as many days, as the United States prevailed over Canada, 5-4, at the Bell Centre in one of the best World Junior Championship gold medal games ever played.
The Americans (7-0) ran the table at the World Junior Championship, skating off to the Star Spangled Banner. The win marked USA Hockey's first gold medal since 2013.
"It sucks losing in a shootout," Mathew Barzal said. "You can't really write up a worse way to lose."
Canada won't get another crack at the United States until Dec. 29 in the first-ever world junior game played outdoors at New Era Field in Buffalo.
The only crime was that the night, a rollercoaster of gut-wrenching swings, was decided by a shootout. Eighty minutes weren't enough to savour the raw emotion on the ice.
Hart fought back tears, saying: "I love all those guys. It's tough losing like that."
"Rules are rules," captain Dylan Strome said. "If we were on the winning end of it, we'd be happy there was a shootout."
Canada's Thomas Chabot, who was named the tournament's most valuable player, said a shootout doesn't determine who is the better team on the ice. Chabot played 53:13 more than any other Canadian skater over the seven games and led all defencemen in scoring. He became the first defenceman to win MVP since the award was established in 2002.
"Night after night, we put everything we could on the ice to represent our country as good as we could," Chabot said. "Obviously to lose a game it's hard, but to lose it in a shootout is harder. I kind of wish there was maybe another overtime and see what would have happen."
Terry scored the shootout winner, the only shooter to score on Carter Hart, in the second-ever skills competition to decide a World Junior Championship. He scored on all three attempts to down bronze medalist Russia one day earlier in the semifinal, then beat the Canadians with yet another five-hole dagger.
Terry said he wasn't planning on going five-hole for the fourth time in a row. Teammate Kieffer Bellows, who missed on his shootout attempt, said Terry "would score 11 times out of 10."
"I didn't think it would work again, honestly," Terry said. "I had something else in mind. I saw there was a little hole between his stick and his pad. I hoped for the best.
"I didn't think anything would top (the semifinal), but today definitely did."
The Americans said it meant just a little bit more to beat their northern neighbour on Canadian soil, to quiet the 20,380 jammed inside Bell Centre, where the tension could be cut with a knife. Bellows said he found his parents, including his dad and former NHLer Brian Bellows, in the crowd during the shootout.
"Mom wasn't watching. She couldn't," Bellows said. "Dad was staring, watching the game, freaking out probably. It was such a surreal atmosphere. (With) 22,000 people in Montreal screaming for Canada and the chants of 'Canada,' it makes it tough. We never panicked. We stayed calm."
Terry's cool under pressure drew comparisons to T.J. Oshie and Jonathan Toews, but United States coach Bob Motzko said the credit really belonged to Parsons, who kept Canada off the board.
"He stopped five guys in a row in the shootout," said Strome, who was Canada's first shooter. "He deserved to win."
The win delivered the United States' third consecutive victory over Canada in gold medal matchups (2004, 2010, 2017). They also completed the rare feat of beating Canada and Russia twice in the same tournament.
Canada has now medaled all 12 times when hosting the tournament, but this silver will sting for a while. Chabot said Canada "got kind of too excited," so close to tasting gold.
"We wanted to win the gold. That was our sole purpose of being here," Stephens said. "We didn't do that. It's probably going to haunt us for a while now."
It will be difficult to digest now, but silver is no small feat. This was a Canada-by-committee built roster, one devoid of stars and maybe even talent when compared to the others in the tournament. There were questions abound. But they saved their best for when it mattered most, upsetting top-ranked Sweden, lifting Canada back to the podium on a night few will forget.
"We gave it everything we had," Strome said, choking back tears. "I'm proud to be Canadian."
Contact Frank Seravalli on Twitter: @frank_seravalli