Valanciunas looking to keep rolling after career night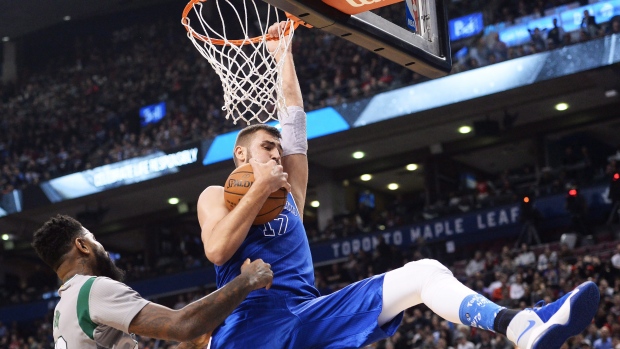 Jonas Valanciunas' breakout game Tuesday came at the perfect time for himself and the Toronto Raptors.
With the seven-footer struggling and the team on a two-game losing streak, Valanciunas found a level of play that had been lacking, putting up 18 points and a career high 23 rebounds as the Raps came back in the fourth quarter to top the rival Boston Celtics.
Valanciunas was relieved the team was able to get back to playing some good basketball.
"Definitely most needed [victory of the season], Valanciunas told TSN.ca in a recent visit. "We struggled for the last couple games. We played hard, we played good. We did a great job on defence. We still have a lot of areas to correct, but that's why we're working, that's why we're having practices."
"Nobody likes games were you struggle, but it's about how you're going to learn from that and how you're going to make a difference next game."
After the game, head coach Dwane Casey told the media that Valanciunas played to his full potential against the Celtics.
"I was just doing my stuff. Trying to get those rebounds, trying to set good screens, be a threat down low in the post. I'm going to keep doing that," said Valanciunas.
Some of that success could be attributed to the fact that he played heavy fourth quarter minutes, a rarity of the big man.
"Sometime it's different matchups. Teams going small in the fourth, funky matchups, but I was happy to be there and happy to help the team win," he explained.
The breakout performance was much needed as the 24-year-old has been unable to consistently replicate the dominant play fans fell in love with during the Raps' playoff run last season. Valanciunas averaged 15 points and 12.1 rebounds over 10 games before going down in Game 3 of their second round series against the Miami Heat. He was sidelined until Game 5 of the Eastern Conference Final against the Cleveland Cavaliers, but was unable to regain his form.
After getting a taste of what Valanciunas is capable of, fans were hoping they'd see something similar heading into this campaign. The former fifth overall pick is averaging 12.1 points, 9.8 rebounds and 0.8 blocks per game over 36 contests in 2016-17. Solid numbers, but not the step forward some were expecting.
Valanciunas will have the chance to expand on his solid performance against the Celtics as Toronto has some potentially favourable matchups on their upcoming schedule. Take a look at who Valanciunas will be battling for rebounds against in the near future.
JV's Upcoming Matchups
| Date | Opponent | Opposing Centre | PPG/RPG |
| --- | --- | --- | --- |
| Jan. 13 | Nets (8-30) | Brook Lopez | 20.1/5.1 |
| Jan. 15 | Knicks (18-22) | Joakim Noah | 5.7/8.9 |
| Jan. 17 | Nets (8-30) | Brook Lopez | 20.1/5.1 |
| Jan. 18 | at 76ers (11-25) | Joel Embiid | 19.4/7.5 |
| Jan. 20 | at Hornets (20-19) | Cody Zeller | 10.7/6.3 |
Despite facing lowly teams, Valanciunas will have his hands full with some of his combatants at centre, namely Brook Lopez and 76ers young superstar Joel Embiid.
However, the Raptors will be playing against some of the worst defences in the NBA with the Nets (113.8) and the Knicks (105.2) ranked 30th and 25th respectively in points allowed per game. Furthermore, Brooklyn and Philadelphia are ranked in the bottom 10 of rebound differential.
It will be interesting to see what Valanciunas brings to the table over the next stretch of games starting with a clash against the Nets Friday night from the Air Canada Centre.