Valanciunas making progress in recovery from thumb injury
The Raptors centre is believed to be at least a little ahead of schedule after undergoing surgery to repair his dislocated left thumb, Josh Lewenberg writes.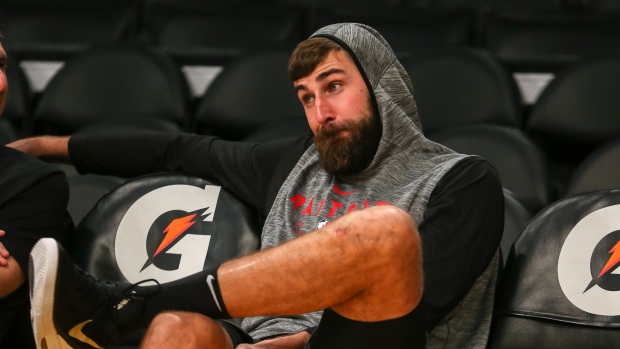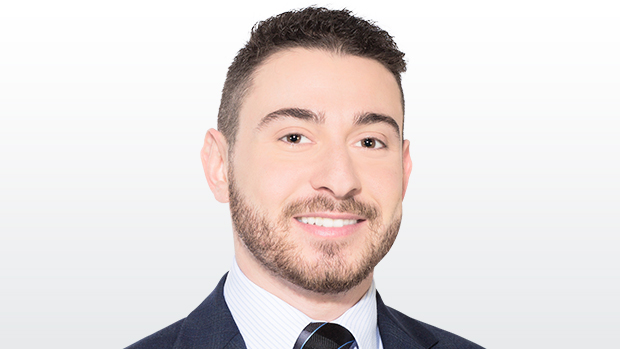 TORONTO – Just over halfway through their season, the Raptors have lost 77 man-games due to injury.
To put that into perspective, they lost 67 games to injury all of last season.
It should be noted that the Raptors still aren't even among the most injury-riddled teams in the NBA this year. Other teams have actually had it worse, 12 of them to be exact. The Denver Nuggets, who are at the top of that list, have lost a whopping 175 man-games to injured players.
However, according to a metric on the site mangameslost.com, which weighs the value of players that have missed time, only one NBA team – the Nuggets – have lost more wins to injury than Toronto.
The Raptors, who have won a league-most 31 games, could have four or five more victories to their name if not for the players they've been without, the website says – and that doesn't factor in Kawhi Leonard's rest nights.
All that is to say: The Raptors aren't just missing guys, they're missing important guys.
Even with Kyle Lowry battling a nagging back injury, Danny Green walking around with ice packs wrapped around his knees and Fred VanVleet's medical chart resembling the man on the board game Operation, it's been a while since the team's injury report has been this clean. They finally appear to be getting healthy, with just one name left on the inactive list: Jonas Valanciunas.
Valanciunas has missed the last 13 games after undergoing surgery to repair his dislocated left thumb. Wednesday marked the four-week point since he sustained the injury at Golden State, but the Raptors' big man says it's felt like he's been out a lot longer.
"[It's been] really boring," he said on Thursday. "Really boring. No competition. [I'm] working hard to maintain my conditioning but it's not the same as playing in games. You want that competition, you want the matchups, you want that, you know, kicking ass. That's what you miss the most."
Valanciunas has made steady progress in his recovery and is believed to be at least a little ahead of schedule. The original timetable, issued by the team, anticipated he would be in a cast for a full month. Instead, Valanciunas got the hard cast removed a couple weeks ago and replaced with a small and lighter brace, which he has also graduated from. Now, his left hand only requires the protection of a splint when he's taking part in basketball activities.
He hasn't been cleared for contact, but he's ramped up his on-court work in practice and before games, participating in shooting, dribbling and conditioning drills with assistant coaches and team trainers.
Head coach Nick Nurse estimates that was able to participate in 60-70 per cent of the team's admittedly light practice on Thursday, though they held him out of any drill that could put him at risk of aggravating the injury.
"There's not a lot of contact going on this time of this year, but you want to be careful," Nurse said. "The last thing we want to do is have Jonas at 11:30 on a Thursday [morning] hurt himself on a 5-on-0 drill or a 5-on-5 block-out drill."
The team's latest injury update, released on Wednesday, indicated that Valanciunas would be out at least another four weeks, but Nurse is hopeful he'll be able to return sooner.
They're not going to rush him, to be sure. The Raptors will surely play it safe, as they have with the health of Leonard, Lowry and others, but they're certainly looking forward to welcoming their centre back.
Often, it's hard to fully appreciate a player's value to their team until said team is forced to play without them for an extended period of time. We saw it last month when Lowry missed 10 of 11 games and Toronto's once prolific offence began to look disjointed. Valanciunas' importance has also been apparent, at least on certain nights.
Valanciunas has become more of a situational player in today's smaller and faster NBA, but that's exactly how Nurse has used him this season, platooning him with the more mobile Serge Ibaka at centre. Still, depending on the matchup, there are nights when Valanciunas is more than just a useful player – he can be a game-changer.
It just so happens that Valanciunas' absence has coincided with a bunch of matchups with big, physical centres – Jusuf Nurkic in Portland, Nikola Jokic in Portland, Joel Embiid in Philly, Hassan Whiteside in Miami and Nikola Vucevic in Orlando, to name a few. The Raptors went 1-4 in those games with Ibaka, Greg Monroe and Chris Boucher having difficulty containing opposing bigs.
They miss Valanciunas' size and physicality, his rebounding and screening, and his ability to generate efficient offence from the low post, whether he's playing with the starters or coming off the bench.
The good news is that when he is ready to return it shouldn't take him long to get back into rhythm. He's been working to stay in shape and even trying to find the silver lining in being hurt by using this time to sit on the bench and study the game – how the team is playing and what they need from him when he's back.
"I'm trying to put myself in the game and see what I can do better and what I need to do better when I come back," said the 26-year-old centre. "I'm trying to simulate myself playing the game. There's not much you can do right now, but watch and learn, try to stay in tune and be ready to come back."
"Me and JV joke all the time about the process of rehabbing and just the conditioning," said Norman Powell, who recently returned from an extended absence with his shoulder injury. "I'm always asking him, 'How's the conditioning and rehab going? Are you bored yet?' Things like that, because after like the third day of mine I was bored out of my mind, bugging guys on the team, giving the training staff a hard time, joking around with them.
"But's he's been really good, he's been here every day working, getting his conditioning in. You see him itching and hungry to get on the floor, even with his splint on but he's been putting the work in and I think he's really ready to come back."