Van Riemsdyk finds comfort in trade deadline uncertainty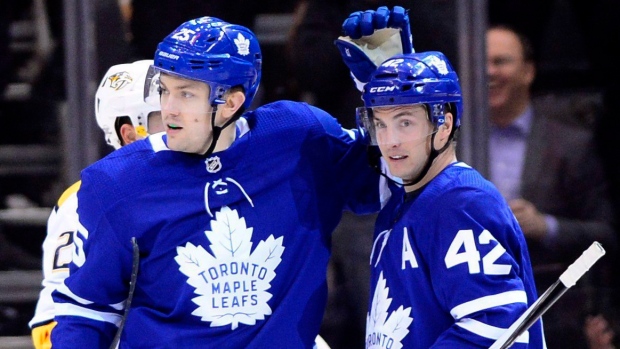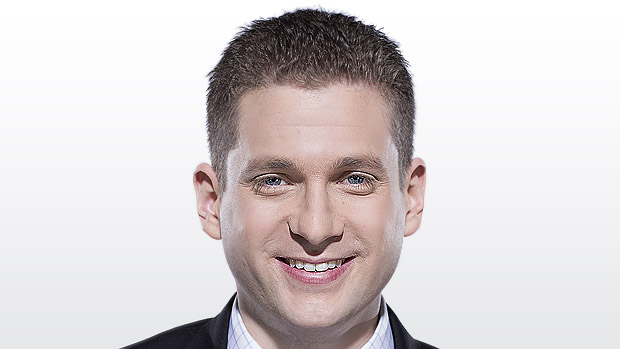 TSN Toronto reporter Mark Masters checks in daily with news and notes from Maple Leafs practices and game-day skates. The Leafs practised at the Mattamy Athletic Centre on Tuesday.
James van Riemsdyk has the second most goals (23) on a Leafs team that has won eight of nine and is gearing up for what they hope will be a long playoff run. And yet the pending unrestricted free agent insists he feels no greater security when it comes to the looming trade deadline.
"You've seen different trades over the years and you realize that no one's safe ever no matter what so, with that in mind, it kind of eases your mind, knowing that it's really outside your control," van Riemsdyk said. "Obviously, there's a degree of humanity in it, because we all are human so some of that can creep in sometimes, but at the end of the day it's out of your control."
One thing that may give van Riemsdyk some pause is his ice time. Only Dominic Moore played fewer minutes than JvR in Monday's win against the league-leading Tampa Bay Lightning. Down the stretch in the third period Leo Komarov replaced van Riemsdyk on a line with Tyler Bozak and Connor Brown.
"I wouldn't do it if we were behind," Leafs coach Mike Babcock explained. "We were ahead and there's no one better in our zone without the puck and getting it out along the wall, getting on the forecheck, making sure the other team doesn't score than Leo."
JvR's ice time has dipped to 14:39 per game this season, which is down from 15:53 last year. The 28-year-old was vague when asked if he's met his personal expectations for this season.
"Every day you just try to put your best foot forward and go from there," he said after pausing to think for a moment. "You just try and do your best and go from there."
When van Riemsdyk was dealt to the Leafs just after the draft in 2012, he had a sense something was coming. Nothing seems imminent these days, but he's been around long enough now that he doesn't take anything for granted.
"That was a little different," van Riemsdyk said of getting dealt by the Philadelphia Flyers. "I think I kind of knew something was going to happen so, in that sense, I was a little more prepared for it … I think the longer you play the more you really realize how far out of your control that sort of stuff is. There's different things that happen over the course of these things. You just keep showing up where they tell you to show up and put your best foot forward and go from there. That's kind of the approach I take for it."
Bozak numb to Toronto's deadline drama
"It's our job, as a team, to put as much pressure as we can on [general manager] Lou [Lamoriello] to help us," Babcock said on Jan. 31. "The better you play and the more you look like you got a chance, the more opportunity you have for your GM to help you."
Since then the Leafs have won six of seven including victories over top contenders like the Lightning and Nashville Predators.
"You look at the teams that we've played in this last little bit and beat, those are all very good hockey teams," said Bozak, "and teams that we wanted to put ourselves up against and see where we stand. I thought we did a really good job ... There's always pieces available that could help your team, so if that's the route we're going to go that'd be awesome. We've been playing great hockey with who we have in here so whatever happens, happens."
It certainly seems like Toronto is positioned to be a buyer, but even the coach admits this can be a trying time for pending UFAs like van Riemsdyk and Bozak.
"It doesn't matter what I say, they're going to listen to speculation," Babcock noted, "and most of it is speculation, because the people who think they're in the know aren't in the know. The only people who are, are general managers and the general managers don't know what's going to happen so you can speculate 'till you're blue in the face. I've been through a ton of them and even when you think you know what's going on you don't know what's going on."
One area where the Leafs may be looking to improve is at centre where Moore has been in and out of the lineup this season. Last year, Brian Boyle was acquired before the deadline to bolster the fourth line. Considering the team's lack of depth down the middle, Bozak appears likely to stay at this year's deadline.
Bozak has spent his entire NHL career in the centre of the hockey universe and has experienced some uneasy trade deadlines when the team wasn't playing well. Does it feel much different this time with the Leafs securely in the playoffs?
"Yeah, probably," he said. "Whenever you're out of it at this time of year you know that there's going to be moves and your buddies and teammates, probably a few are going to be traded, but, I mean, that could still happen. It could happen now. We don't know what's going to happen."
At this point, the 31-year-old is numb to all the chatter that comes with this time of year in Toronto.
"I, personally, don't think about it," he said before breaking into a huge grin. "(It's) probably my sixth year here that they've been saying I'm getting traded."
It was pointed out that these days his name doesn't come up quite as much as in the past.
"OK," he said with a skeptical look. "Yeah, who knows."
Returning to Maple Leaf Gardens – 19 years later
Nineteen years to the day of the last NHL game at Maple Leaf Gardens (Feb. 13, 1999 – a 6-2 loss to the Chicago Blackhawks), the Leafs returned to the site for their annual open practice. Fans crammed the stands at the Mattamy Athletic Centre, which is now home to the Ryerson University Rams.
Patrick Marleau, 38, actually played in the building as an NHL rookie.
"It was a while ago," he told LeafsTV. "Obviously, with those older buildings there's a lot of memories, a lot of nostalgia. Being able to go there in my first year was pretty special."
"I've always been raised having an appreciation for (hockey history) stuff," said van Riemsdyk. "So it's cool always to get a little taste of it, even though it's completely revamped from what it was when the Leafs used to play there.
"But still, that being said, it's a pretty cool building to be in, and obviously, to practise in there was pretty fun."
Lines at Tuesday's practice:
Forwards
Hyman-Matthews-Nylander
Marleau-Kadri-Marner
van Riemsdyk-Bozak-Brown
Komarov-Moore-Kapanen
Martin, Soshnikov
Defencemen
Rielly-Hainsey
Gardiner-Zaitsev
Dermott-Polak
Leivo-Carrick
Goaltenders
Andersen
McElhinney