VanZant eyes flyweight title, possible WWE appearance
Aaron Bronsteter, TSN.ca Staff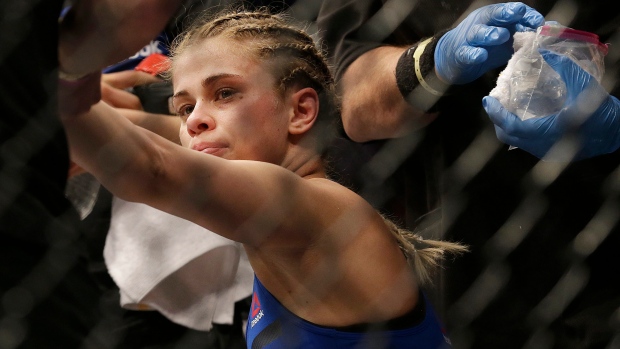 Paige VanZant has been one of UFC's most visible stars, given her mix of beauty and fighting skills, not to mention her appearances as a contestant on popular reality television shows Dancing with the Stars and Chopped.
With a 4-2 record heading into her women's flyweight debut against Jessica Rose-Clark this Sunday at UFC Fight Night in St. Louis, VanZant doesn't worry about her image in the eyes of fans. Rather, she answers any questions fans may have about her in the octagon.
"Public support doesn't really matter to me because there are just fans out there watching the sport and they aren't really as educated in the fight game as most people," said VanZant. "At the same time, I'm kind of used to being the underdog. But I know how talented I am and I know what I'm capable of."
After excelling in her forays outside of the cage by making it to the finals of Dancing with the Stars and winning her celebrity episode of Chopped, VanZant wouldn't rule out making an appearance in the WWE. Dave Meltzer of the Wrestling Observer wrote in 2016 that VanZant was going to appear at the WWE's SummerSlam event (she pulled out), but the 23-year-old Oregon native may finally give it another shot if the opportunity arises again.
"I would love to (do) something with the WWE, they are an amazing organization," VanZant told The TSN MMA Show. "Obviously, it's my love; I love some of the looks behind it, I love everything they do with these girls. It's about being beautiful and badass and I think that's something that I emulate as well and I would love to show off. So, yeah, hopefully that opportunity does come up."
One reality program VanZant had hoped to appear on was The Ultimate Fighter – she was originally supposed to make an appearance during the 20th season – but was removed from the show because she was under 21 and signed to a UFC contract.
With a move to flyweight, VanZant could have tried out for The Ultimate Fighter, Season 26, which crowned the UFC's first women's flyweight champion, but she opted against it.
"I think it would have been an awesome experience, especially because I would have been able to fight for a title. But I know that my path is the one that I'm meant to be on and whatever happens to me is for a purpose and there's a reason behind it," said VanZant.
Aside from moving up a weight class, another change VanZant made was with her training camp. She moved to Portland to be closer to her family and is now training exclusively with men, including Chael Sonnen and jiu-jitsu fighter Fabiano Scherner.
"I feel like when you train with all men, a man is going to be way stronger than any female that I fight, so I've got great training partners. I get amazing training down in Portland, Oregon, and I get everything that I need and everything that I could ask for," VanZant said.
Since going 1-2 during the last two years, with losses to Rose Namajunas (current strawweight champion) and Michelle Waterson, VanZant is looking to start anew in the flyweight division after having major issues making weight in the 115-pound strawweight division.
And a win over Rose-Clark Sunday could vault VanZant into the top five of the divisional rankings.
"I'm just excited for this fight coming up on Sunday. I'm excited to get back in there and show off what I can do, and especially since my home is in the 125 (pound) division and I think people will definitely be able to see that."