Varlamov leads Avalanche over Blues
Jack Skille and John Mitchell scored in the first period and Semyon Varlamov made a season-high 42 saves to lead the Colorado Avalanche to a 3-1 win over the St. Louis Blues on Sunday.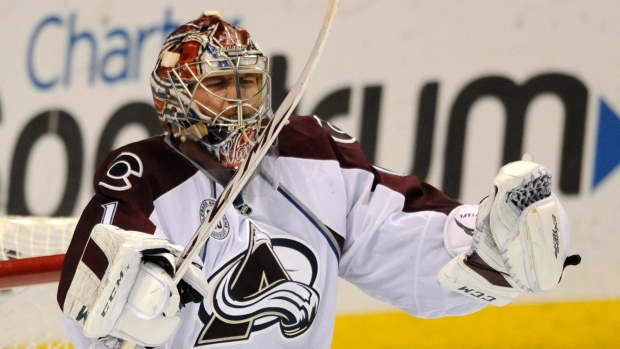 ST. LOUIS - After totalling 76 saves while playing on consecutive nights, Semyon Varlamov is ready for a little rest.
Varlamov had a season-high 42 saves Sunday and Jack Skille and John Mitchell scored in the first period to lead the Colorado Avalanche to a 3-1 win over the St. Louis Blues.
"I'm pretty tired," said Varlamov, who stopped 34 shots in a 3-2 win at Nashville on Saturday night.
"Lots of shots," he added. "I saw most of them which is important for me."
Carl Soderberg added an empty-net goal with 22 seconds remaining to seal Colorado's fifth win in seven games.
Varlamov stopped the first 36 shots until Vladimir Tarasenko spoiled his shutout bid with a power-play goal with 7:05 remaining. It was Tarasenko's team-high 18th of the season.
Colorado coach Patrick Roy is used to seeing game-changing performances from Varlamov, who is 4-1 in his last five starts and has not allowed more than two goals in any of them.
"He was our best player tonight," Roy said. "He's a strong man and he's capable of taking a lot of shots."
Varlamov made 35 stops over the final two periods against the Blues, who fell to 2-4-1 in December. He robbed Jori Lehtera and Troy Brouwer from close range in the second period while protecting a 2-0 lead.
"He certainly won us that game tonight," Mitchell said.
Skille and Mitchell scored in a span of 5:41 in the first period as Colorado converted twice on its first five shots against St. Louis goalie Jake Allen, who made 26 saves in a 3-0 shutout of Dallas on Saturday.
Allen finished with 15 saves against Colorado.
Both teams were coming off games on Saturday, but the Avalanche showed little fatigue in controlling play early..
"We had great legs early in the first period, it felt good," Mitchell said. "Every line was buzzing around and doing well. So they were a little flat and we took advantage of it."
Skille converted on a wrist shot from the slot for his third goal of the season. Mikhail Grigorenko started the play by picking off an errant pass.
Mitchell scored from in front of the net off a pass from Alex Tanguay with 8:10 remaining in the opening period.
Varlamov, who improved to 7-6-2 in his career against St. Louis, stopped 17 shots in the second period highlighted by a pad save off a drive from Lehtera..
The Blues had a season high in shots, but could not solve Varlamov.
Still, St. Louis coach Ken Hitchcock was not impressed.
"I think when you start giving credit to the goalie, you're in trouble," Hitchcock said. "At the end of the day, it doesn't really matter. You've got to outwork the goalie and we didn't.".
The Blues had won seven of their previous nine games against Colorado.
"We got behind early and that first period wasn't our best until we were down 2-0," St. Louis centre Paul Stastny said. "Which can't happen when we're at home."
NOTES: Colorado LW Gabriel Landeskog returned to the lineup after missing the previous two games with back spasms. He played 19:58 and had four hits. ... The Avalanche have played 17 of their last 24 games on the road. St. Louis will play 11 of its 41 home games in December. ... Tarasenko celebrated his 24th birthday on Sunday. ... The Blues have killed off their last 21 penalties... St. Louis D Kevin Shattenkirk had a game-high five shots.