Varlamov strong as Avs beat Wild
Semyon Varlamov stopped 29 shots, Zach Redmond had a goal and an assist, and the Colorado Avalanche beat the Minnesota Wild 3-2 on Sunday night.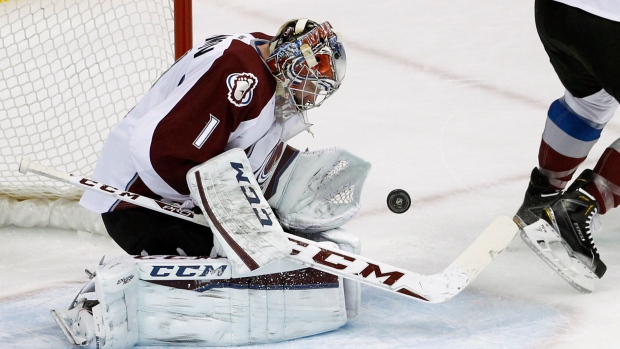 ST. PAUL, Minn. - One week after charging the undersized Mikael Granlund and fighting Charlie Coyle with only seconds left in a game, Colorado's Cody McLeod knew he was in for a hostile reception in Minnesota.
So the Avalanche enforcer, who was fined for his actions in that last game against the Wild, defused the situation by dropping his gloves just 43 seconds into the game with former teammate Chris Stewart.
"After last game, he knows coming into this game that there might be someone coming after him, and he handled it great," teammate Nate Guenin said after the Avalanche beat the Wild 3-2 on Sunday. "He went out there and did a great job and the bench was real lively after that."
Semyon Varlamov stopped 29 shots and Zach Redmond had a goal and an assist. McLeod and Gabriel Landeskog — who was also fined for late fisticuffs in last week's 3-1 loss to the Wild — also scored for Colorado, which won its third straight and beat Minnesota for the first time in five tries this season.
Stewart and Thomas Vanek both scored late for the Wild, and Devan Dubnyk had 18 saves in his 24th straight start for Minnesota. The Wild had won five straight.
But Varlamov — who had a season-high 44 saves Saturday night in Columbus — stayed hot. He has stopped 100 of the 102 shots he's faced the past three games, after allowing 11 goals in his previous three games.
Some chippy play was expected after the physical ending to last weekend's game between these two teams in Denver. Avs coach Patrick Roy even reportedly took issue with a local newspaper writer before the game, calling his story about the physical series between the two division rivals in Sunday's paper "unhealthy for the game of hockey" and saying "'it's almost like he suggested somebody go after Cody McLeod.'"
Few, then, were probably surprised when McLeod quickly fought Stewart to start the game.
"I played with him for three or four years, good buddy of mine and he's doing his job, I was doing mine. That's the way she goes in hockey," McLeod said.
Minnesota responded by dominating puck possession for most of the first two periods, but couldn't solve Varlamov.
McLeod gave Colorado a 1-0 lead with 1:55 remaining in the first period when he redirected a shot from Jarome Iginla that lazily flipped over Dubnyk's stick side.
"Like I said before the game, it was sad to read those article, but at the same time he stepped up," Roy said. "He is who he is and that's what he does every night for us. It was nice for him to score the first goal of the game."
Then, Redmond fired a slap shot from the point that bounced off the post and in with 1:52 left in the second period.
Colorado made it 3-0 with a power-play goal to start the third when Ryan O'Reilly poked the puck through Dubnyk's pads and found a wide-open Landeskog, who scored his 19th goal.
Varlamov was 5:56 from his second shutout in two nights before Stewart whiffed on a rebound off the boards that went into the net off Tyson Barrie's skate. Roy replaced Varlamov after that with Reto Berra, who allowed Vanek's goal with 19.4 seconds remaining.
"Obviously, it's one thing to play well but we've got to find a way to score a goal along the way," Wild coach Mike Yeo said.
NOTES: The Wild activated D Jared Spurgeon from in the injured reserve list. Spurgeon had missed eight games with an upper-body injury. ... Colorado has killed off 19 straight power plays and 26 of the last 27. ... The two teams were a combined 0 for 35 on power-play opportunities before Landeskog's goal to start the third. ... Jordyn Leopold, the daughter of Wild D Jordan Leopold, led the crowd in the traditional "Let's-Play-Hockey" chant. The 10-year-old made headlines last week with her hand-written note to the Wild, asking them to trade for her Minnesota-born father.