Vegas isn't getting a lot for $500M
As TSN Senior Hockey Reporter Frank Seravalli writes, Vegas is highly unlikely to ice a competitive team in the 2017-18 season, no matter what the NHL has said about this being the deepest expansion draft in league history.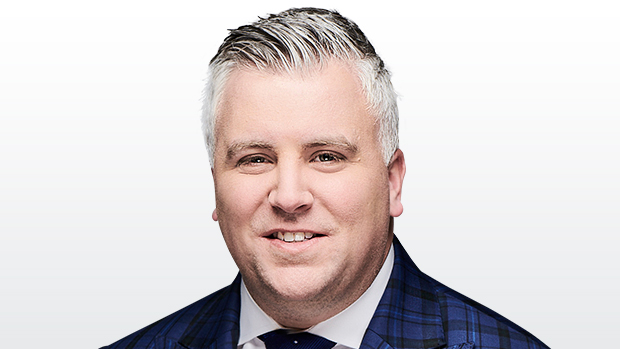 LAS VEGAS - As Bill Foley stood before nearly 3,000 fans and realized a years-long dream by presenting the Vegas Golden Knights, he offered a guarantee bolder than bringing a hockey team to Sin City.
Foley's original promise was to bring a Stanley Cup to Las Vegas within seven years.
"It's six now," Foley said. "I've lowered it."
On this night, Foley wasn't playing to the masses with bravado. He doubled down after the show, saying he is serious. Stanley Cup within six years for an NHL expansion team. He does know that the last eight NHL expansion teams averaged just 28 wins in their third season, right?
"I never fail at anything I've ever gotten involved in," Foley said. "I always succeed. I have my timeframes. We're going to be a very successful team."
It isn't going to be easy. The Philadelphia Flyers won seven seasons into their existence; it took the New York Islanders eight years. More recently, it took Tampa Bay and Anaheim an average of 13 seasons. Vegas wants to set a new record.
But the one thing TSN has learned by simulating the 2017 expansion draft is that Foley and the Vegas Golden Knights aren't really getting a lot of help from the NHL for $500 million.
Vegas is highly unlikely to ice a competitive team in the 2017-18 season, no matter what the NHL has said about this being the deepest expansion draft in league history.
It is a fact Foley and McPhee are resigned to now after running through their own first mock draft last month, scouring projected protected and exposed lists from all 30 clubs. Foley and GM George McPhee are believed to have aired some of those concerns to NHL commissioner Gary Bettman and Bill Daly at a lunch meeting in Vegas this week.
"I wish the expansion draft was a little more favourable," Foley admitted Tuesday night. "But we've got to outsmart 30 GMs and 30 owners. We're prepared to do that."
Both Foley and McPhee carefully chose their comments about the process.
"I wasn't sure going in," McPhee said of what his first blush roster might look like. "Now, I have a better understanding of it. And … I'll leave it at that."
The troubling issue for Vegas is that whatever the mock draft boards look like now, the quality of players available to the Golden Knights in June is expected to be significantly lower. For example, TSN is expecting Anaheim will maneuver to protect Jakob Silfverberg, potentially the best forward available, ditto Anthony Mantha in Detroit, among the best prospects on the board, as well as Ryan Dzingel, a revelation in Ottawa.
McPhee called it what he expects to be a "redistribution of players."
It's expected many, if not most transactions made in the NHL this season will have a negative impact on the Golden Knights. That's because the 30 other NHL GMs are conducting business differently this year with expansion in mind.
The NHL would dispute that notion, saying there will be contending teams searching to better their Stanley Cup chances near the March 1 trade deadline that will make moves without concern for expansion. Maybe so, but they will also have until June to reduce vulnerability.
The commissioner remains steadfast in his belief Las Vegas will have a strong pool of talent from which to draw.
"It's a deeper draft than we've ever had for an expansion team," Bettman said Tuesday. "If you compare this expansion draft in terms of the requirements and eligibility, this team will be getting a selection of players that other teams did not have an opportunity to take."
By numbers alone, that is true. For Tampa Bay and Ottawa in 1992, teams could protect 14 skaters and two goaltenders. For Florida, Anaheim, Nashville, Atlanta, Minnesota and Columbus from 1993 through 2000, the protection schemes were reduced to nine forwards, five defencemen and one goaltender or seven forwards, three defencemen and two goaltenders.
The 2017 protection setup - seven forwards, three defencemen and one goaltender or eight skaters and one goaltender - is more favourable to Vegas. Vegas is guaranteed a great goaltender, a bevy of bottom pair NHL blueliners, but very little scoring.
TSN's projection afforded Vegas just two 20-goal scorers in Silfverberg and Matt Read. One running joke among Vegas scouts has been "Hey, did you see our third line? We've got about five of them."
When pressed whether he thought the initial Vegas mock drafts met the league's intended goal of icing a competitive new team from the jump, Bettman said that is not up for the league to decide.
"That's something we leave to the team," Bettman said. "That's not really for the league to get involved in. It's up for the league to enforce the (expansion draft) rules."
One NHL executive acknowledged for the league to make Vegas more competitive would have been to simply cap the protection scheme at eight skaters, regardless of position, and one goaltender. But Vegas hasn't spent much time thinking about what could have been.
"The rules are what they are," Foley said. "They've been released. They're done. We're going to live with those rules. That's the way it is. We have a couple ideas that we can use in the expansion draft to our benefit. I wouldn't want to say anything - I don't want to give our military secrets away before we launch our attack - but I'm pretty confident that we'll be OK."
So, it will be up to McPhee and Co. to outsmart the other 30 GMs. Vegas needs to find their Milan Hejduk, a 22-year-old rookie left unprotected by Colorado in 1999. Atlanta took Tomi Kallio from the Avalanche instead. Kallio played 140 NHL games; Hejduk netted 805 points.
"Unless somebody really has upside that their own team didn't see and we didn't see, it's going to be hard to get a difference-maker," McPhee said. "It's going to be a guy that develops that no one expected - a hidden surprise."
Vegas' concentration, instead, is on the Entry Draft. Those Flyers hit home runs with Bobby Clarke and Bill Barber. The Islanders loaded up on Denis Potvin, Bryan Trottier and Mike Bossy.
This spring, the Golden Knights will receive draft lottery odds equal to the third seed, the 28th place finisher in the standings. Who knows, maybe Vegas will get lucky and land the No. 1 pick and a potential star such as Nolan Patrick or Timothy Liljegren?
"It's going to come down to how we do in the Entry Draft," McPhee said. "That's how we're going to build this team. That's how it's always been in this league. Teams that have one have built through the Entry Draft - it's not through free agents, it's not through the expansion draft."
Contact Frank Seravalli on Twitter: @frank_seravalli