Vegas seeks to be first team without captain to claim the Cup since 1972
Nothing about the Vegas Golden Knights has been normal, so it's no surprise really that they are four wins away from bucking an old NHL tradition. They don't have one singular captain to grab the Cup, TSN's Senior Hockey Reporter Frank Seravalli writes.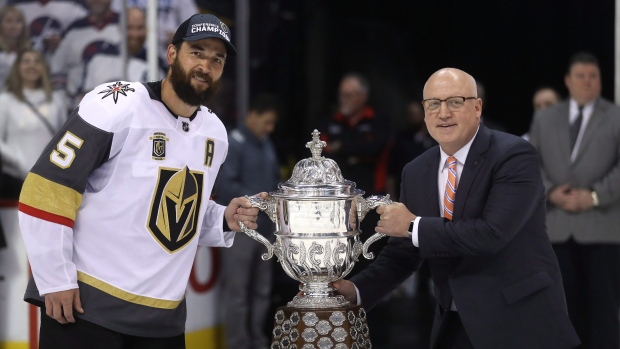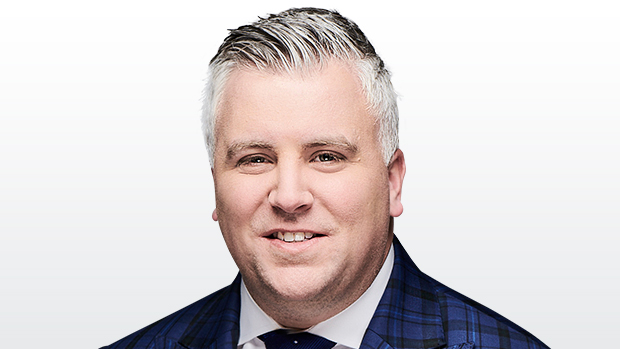 LAS VEGAS — No matter how long it's been, you can play back from memory the moment almost every captain received the Stanley Cup from commissioner Gary Bettman over the past couple decades.
From Mark Messier to Steve Yzerman, from Rod Brind'Amour and Dave Andreychuk to Jonathan Toews and Sidney Crosby, they are indelible images burned into the brain.
Nothing about the Vegas Golden Knights has been normal, so it's no surprise really that they are four wins away from bucking an old NHL tradition. They don't have one singular captain to grab the Cup.
The Golden Knights are seeking to become the first team without a captain to win the Stanley Cup since the Boston Bruins did it in 1972.
It was easy to see why those Big Bad Bruins did it by committee. With three Hall of Famers like Bobby Orr, Phil Esposito and Johnny Bucyk in the lineup, how do you pick just one?
These Golden Knights, they didn't have that same problem.
The bigger issue was finding one Golden Misfit they could bet on to be in town for the long haul.
"We really didn't think we'd be grabbing the trophy the other night in Winnipeg," Vegas coach Gerard Gallant said Sunday. "George [McPhee] and I talked late in camp and said let's leave it without a captain this year. Let's go with the six guys out there, the leadership group, and I think it's been the best decision we ever made."
Gallant called an "easy solution" to have defenceman Deryk Engelland accept the Clarence S. Campbell Bowl as Western Conference champions. The four other alternate captains - Reilly Smith, James Neal, David Perron and Luca Sbisa - decided it would be Engelland.
It was such a fitting scene for the Vegas resident who grabbed the microphone on the night of the franchise's first home game to tell a reeling city this new hockey team would help be its rock during some its darkest hours.
"He's our Vegas guy," Jon Merrill said. "We were all extremely emotional about what happened. I think that he spoke beautifully with the words he used to show the community that we're a part of this community now and we're going to do everything that we can to make them proud."
In 1970 and 1972, it was Bucyk who accepted Lord Stanley of Preston's mug as Boston's senior alternate captain. He was captain for Orr's first season in 1966-67 and it wasn't his idea to give it up.
"No, that was management's idea," Bucyk said Sunday when reached by phone. "We talked it over with Harry Sinden and I said 'Let's do it.' Heck, we went so long without winning the Cup [29 years] that I would do anything to win it. What it really did was take a lot of responsibility off my shoulders."
That is exactly what not naming a captain has done for the Golden Knights. No one player has had to wear the weight of being the face of the franchise.
"It's been a good thing," said Pierre-Edouard Bellemare, who was an alternate captain in Philadelphia last season. "Everybody had to step up. Everybody had to make an effort to get to know each other and learn the story of each guy. The fact that no one had to carry the team at one time I think made us grow up as a team big time."
One person who does not wear a letter for the Golden Knights but is every bit a part of the leadership group is goaltender Marc-Andre Fleury. He always has a smile on his face, even during some of the tensest moments of the season.
"He's our backbone," Neal said. "He's an unbelievable person. He's had something to prove this year with the way he's playing. Everything that he's doing this season and for this season has been special."
Engelland met his wife while playing for the ECHL's Las Vegas Wranglers in 2003-04 and has made this his permanent home. He said the Golden Knights did not need a captain.
"We didn't know what was going to happen this year," Engelland explained. "To not name someone, I don't think anyone really cared. Our group definitely doesn't need a 'C' to show your leadership out there. If they give you one, it's great. Even our young guys, the guys that don't get a letter, they lead in their ways too."
Engelland and Bucyk were born in Edmonton some 42 years apart and now Engelland is trying to do what Bucyk last did 46 years ago.
Bucyk, now 83 and in his 57th consecutive season of employment by the Bruins, has been following the Golden Knights' run from afar. What he felt with those Bruins teams similar to how the Golden Knights describe themselves, too.
"We were a very close-knit team. We had three assistants and no one needed to be the guy," Bucyk said. "I had basically the same role as captain, but I wasn't as vocal as those guys. They picked up the slack for me. I've been watching Vegas. They've got a tough series coming up. They've been fun to watch, a lot of enjoyable stories. What they're doing is good for hockey."
Contact Frank Seravalli on Twitter: @frank_seravalli​