Vegas Watch: Which players would you protect and expose?
The NHL's 31st franchise in Las Vegas reveals its name and logo on Tuesday night. Before that, TSN Hockey's Frank Seravalli, Craig Button and Pierre LeBrun provide an early projection at what could play out next June for Canadian NHL teams.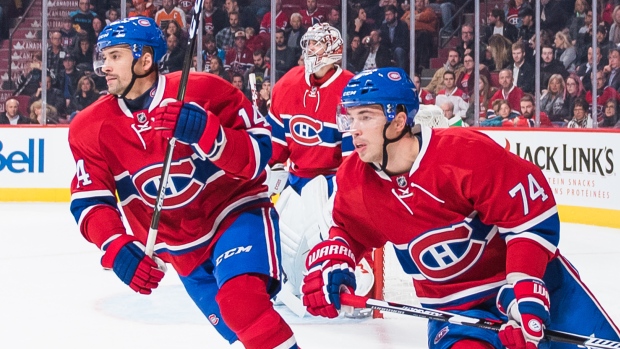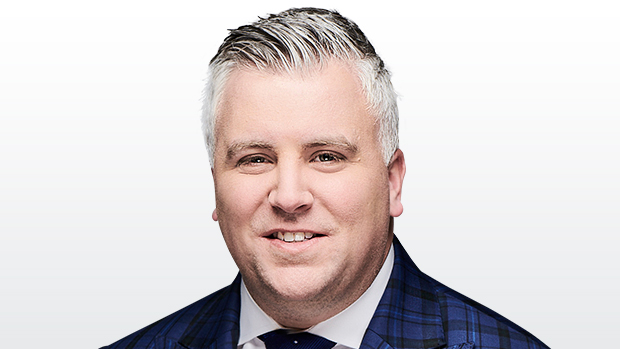 LAS VEGAS - Canada's seven NHL general managers aren't likely to be sweating much heading into the 2017 expansion draft.
By and large, all seven Canadian clubs are expected to emerge from June's draft relatively unscathed, according to projections made by TSN Hockey this week. Ottawa, Edmonton and Winnipeg stand to lose the most, while Toronto and Calgary will be much more focused on the Entry Draft in June when Las Vegas fills out its roster.
A lot can change between now and June, but the projections are likely only going to get more favourable as Canadian-team GMs continue to work the system and shape their rosters with the exposure requirements and regulations in mind.
Each of the 30 NHL teams will lose exactly one player. Those teams are required to submit a list of protected players on June 17, 2017. They may choose to protect seven forwards, three defencemen and one goaltender, or eight skaters and one goaltender for those teams flush with talented blueliners. All first- and second-year pro players are exempt from the draft.
Led by GM George McPhee, Las Vegas will then have 72 hours to submit their expansion draft selection list. The announcement of their selections will be released on June 21.
The NHL's 31st franchise will reveal its name, logo and colour scheme with a glitzy party in front of its arena just off the Strip on Tuesday night.
Before that, here's an early look - with the help of TSN Hockey Insider Pierre LeBrun and TSN Director of Scouting Craig Button - at what could play out next June for Canadian teams:
CALGARY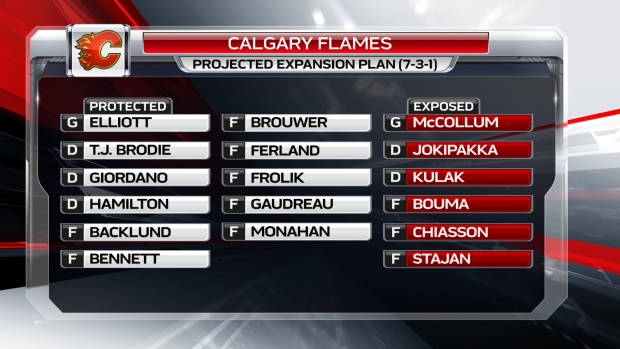 Projected Protection Scheme: 7-3-1
Scoop: No Canadian club may be better positioned for the upcoming expansion draft than the Flames. All of their key forwards, plus the core of their defence, are exempt or able to be protected in the 7-3-1 scheme.
Notably Exempt: D Oliver Kylington F Matthew Tkachuk, Mark Jankowski
Stay Tuned: Will the Flames need to find a way to keep Brett Kulak? Currently, the 22-year-old defenceman is projected to be unprotected - a decision the Flames probably wouldn't have given much thought to three months ago. But Kulak's play has the Calgary brass wondering if he will need to be protected and what impact that will have on their plans.
EDMONTON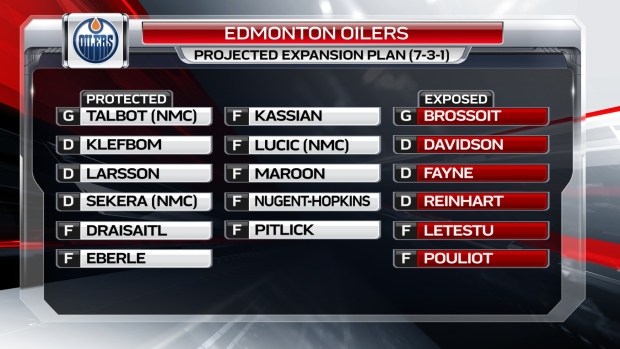 Projected Protection Scheme: 7-3-1
Scoop: Twenty-five-year-old left-shot defenceman Brandon Davidson jumps off the page as the Oilers' most vulnerable asset. His game took a huge leap last season with his ability to play the off-side on defence. But Davidson has been out since the season opener and rookie Matt Benning, who plays the right side naturally, has capably filled in, leaving Davidson potentially expendable.
Notably Exempt: D Matt Benning, Darnell Nurse; F Drake Caggiula, Connor McDavid, Jesse Puljujarvi, Anton Slepyshev.
Stay Tuned: Tyler Pitlick has played himself onto the protection list this season. Benoit Pouliot will likely be exposed because of his contract (two more years at $4 million per season).
MONTREAL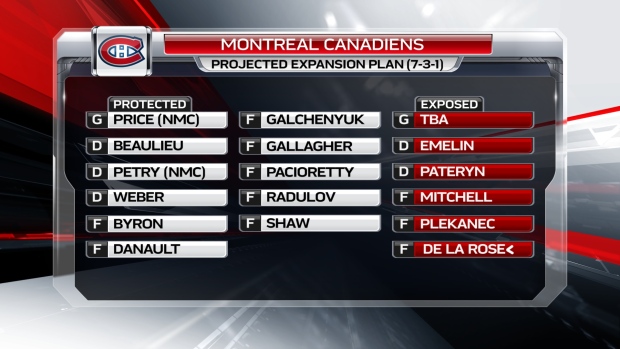 Projected Protection Scheme: 7-3-1
Scoop: The names will be big. But will Las Vegas want to take a flyer on either Tomas Plekanec or Alexei Emelin, who are both on the wrong side of 30, for an expansion club? The Habs are likely banking one of those names will keep Vegas away from 21-year-old forward like Jacob De la Rose.
Notably Exempt: F Artturi Lehkonen, Michael McCarron, Nikita Scherbak
Stay Tuned: Who will be exposed in net? With all-world goalie Carey Price protected, the Habs do not have a goaltender under contract for 2017-18 to protect. The problem could be solved as simply as re-signing Al Montoya.
OTTAWA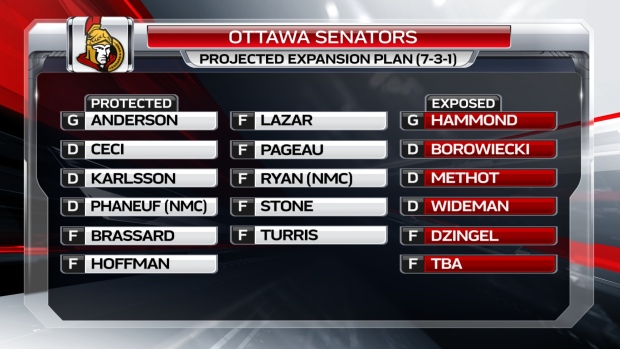 Projected Protection Scheme: 7-3-1
Scoop: The Sens do not want to lose Marc Methot. But switching to a protection scheme with eight skaters instead of seven forwards and three defensemen would likely mean exposing three of Kyle Turris, Derick Brassard, Mark Stone and J-G Pageau just to protect Methot. That is improbable. The only other way to do it would be to convince Dion Phaneuf to waive his no-movement clause to be exposed.
Notably Exempt: None
Stay Tuned: Could Ryan Dzingel's emerge lead to Curtis Lazar being exposed? Ottawa has a lot of time and money invested in Lazar. But Dzingel, 24, is off to a flying start this year and Pageau, also 24, is coming off a 43-point season. That might mean the first-rounder Lazar has a lot to prove this year.
TORONTO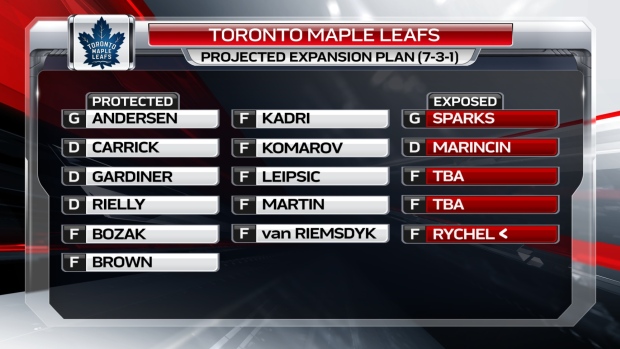 Projected Protection Scheme: 7-3-1
Scoop: Call it the perfect time to be hitting a rebuild in stride. Or an indictment on the lack of experienced talent. Either way, the Maple Leafs don't stand to lose much in the expansion draft because their most valuable assets are all exempt as first- or second-year pros, leaving plenty of room for other key components to be protected.
Notably Exempt: D Nikita Zaitsev F Frederik Gauthier, Kasperi Kapanen, Zach Hyman, Mitch Marner, Auston Matthews, William Nylander, Nikita Soshnikov.
Stay Tuned: Who will Toronto snag on the cheap? The Leafs still need to find two forwards to expose who are under contract in 2017-18 and meet the experience requirements of 40 NHL games played this season or 70 over the last two.
VANCOUVER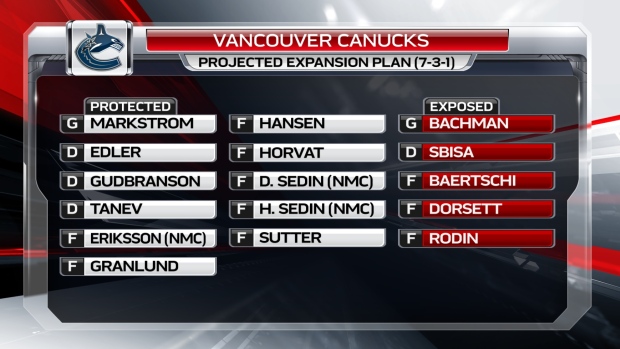 Projected Protection Scheme: 7-3-1
Scoop: The veteran-laden Canucks are tied with Edmonton for the most players with no-move clauses – three – among Canadian teams, which guarantee protection from exposure. That likely means Luca Sbisa, 26, will be up for grabs. Sbisa has experienced more downs than ups in Vancouver, but could find a fresh start in Las Vegas.
Notably Exempt: G Thatcher Demko D Ben Hutton, Nikita Tryamkin, Troy Stecher F Jake Virtanen,
Stay Tuned: Who will earn Vancouver's last forward spot on the protection list? Markus Granlund seems like good bet now, but Sven Baertschi and Brendan Gaunce could make noise between now and June.
WINNIPEG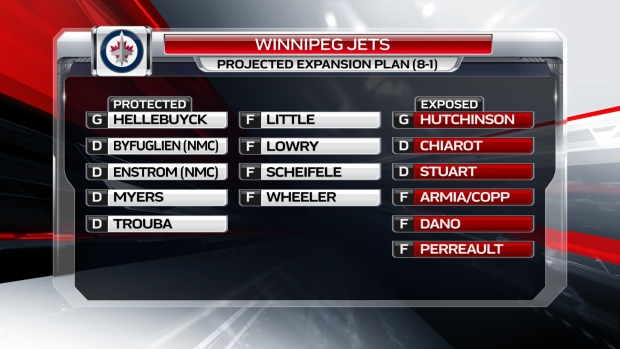 Projected Protection Scheme: 8-1
Scoop: With defence as their bedrock, the Jets are projected to be the only Canadian club to protect eight skaters rather than seven forwards and three defencemen. But there's no way around that — not with no-move clauses held by Dustin Byfuglien and Toby Enstrom.
Notably Exempt: D Josh Morrissey F Kyle Connor, Nik Ehlers, Patrik Laine, Nic Petan, Brandon Tanev
Stay Tuned: Could a side deal be in order? The Jets would not want to lose Mathieu Perreault. It's certainly possible GM Kevin Cheveldayoff offers an incentive draft pick to Las Vegas to pluck someone else from the roster.
Contact Frank Seravalli on Twitter: @frank_seravalli